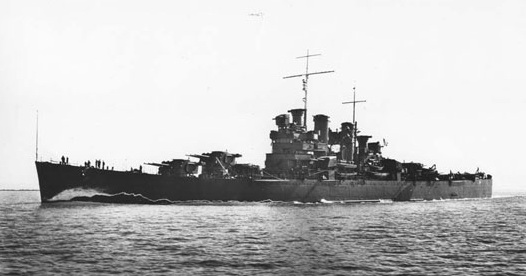 Ship is at Anchor, Camo painting of bow wash. Submarine deterrent hopefully

Journal of R. O. Hudgins
Chief Electrician

Beginning to End War diary

Chief Electrician's Mate, USN
Serving aboard, USS ST. LOUIS CL-49
5-21-41 *** 6-20-46

1941

May 22 Arrived aboard USS ST. LOUIS at Mare Island Navy yard, Vallejo, <strong>CALIFORNIA</strong>. June 4 Underway to Long Beach, Calif.
June 5 Anchored Long Beach, Calif. June 6 Underway to calibrate degaussing cables June 6 Anchored Long Beach, Calif. June 8 Underway to calibrate radio direction finder. Anchored Long Beach.
June 9 Underway to calibrate Picometer log and RDF. Anchored Long Beach.
June 10 Same as June 9.
June 11 Underway to operating area
June 12 Underway for and moored in San Diego, Calif.
June 13 Underway for San Clemente Island to calibrate range finders, but fog too heavy, so we head west to Pearl Harbor, TH
June 20 Moored in Pearl Harbor.
June 5 Underway to fire anti-aircraft battle practice.
July 13 Moored Pearl Harbor, TH
July 16 Underway for gunnery school exercises.
July 23 Moored Pearl Harbor.
Aug. 6 Underway for fleet exercises Pit log reads 65,750 miles.
Aug. 14 Moored Pearl. Harbor
Aug. 22 Underway with USS Henderson for unknown destination at 12 knots.
Aug. 26 Laid to, off Midway Island for about 2 hours while the Henderson went in and returned.
Aug. 27 Crossed 180th meridian at 0800
Aug. 28 Time moved ahead one day at 10800 and Wed. became Thursday.
Aug. 31 Laid to, off Wake Island : while the Henderson went in and returned.
Sept. 6 Laid to, off Guam Island while the Henderson went in and returned.
Sept. 12 Moored to Pier 7 at Manila, P.I. Had two great liberties.
Sept. 16 Underway from Manila at 16 knots.
Sept. 26 Crossed 180th Meridian at 1700 AMD time moved back one day at midnight, making two Fridays dated Sept. 26th .
Sept. 29 Moored Pearl Harbor, TH.
Oct. 1 Underway and moored in Pearl Harbor Navy Yard.
Oct. 8 Underway for Hawaiian operating area for operation with the fleet
Oct. 17 Moored Pearl Harbor, HI
Nov. 1 Underway for Hawaiian operating area.
Nov. 10 Moored Pearl Harbor
Nov. 22 Underway for war games of Black and White Navies.

Nov. 28 Moored Pearl Harbor, an unidentified submarine was reported in our area about 0024 while we were entering the harbor.
Dec. 7, 1941 Pearl Harbor attacked by Japanese planes. ST. LOUIS got underway from navy yard under fire by Japs. We were first capital ship to clear the harbor. small two man sub. Fired two torpedoes at us, both striking the reef to starboard Hawaiian waters lousy with enemy submarines.

(Complete battle log of December 7th , 1941 in separate article)

Dec. 10 Moored at Pearl Harbor
Dec. 12 Underway with USS Phoenix. Submarines again attack, with all torpedoes. Missing Destroyer escorts got two subs in channel.
Dec. 14 Underway from Pearl sight two periscopes. Stayed in San Francisco Bay a few hours then underway with convoy of ships. Three Matson liners: SS LURLINE SS MATSONIA and SS MONTEREY, and two destroyers USS SMITH (DD378) and USS PRESTON (DD-379) sighted more submarines.
Dec. 21 Moored in Pearl Harbor, HI
Dec. 26 Underway with same convoy returning Hawaiian evacuees to the states.
Dec. 31 Anchored in San Francisco, bay had great liberty in San Francisco for new year's eve.



1942
Jan. 2 Underway with same ships (empty) for San Diego, Calif.
Jan. 3 Moored to dock at North Island, in San Diego bay and sure had good liberty here.
Jan. 4 See above statement
Jan. 6 Underway at 1500 for unknown destination with Task Force 17 consisting of YORKTOWN, LOUISVILLE, ST. LOUIS, four destroyers the SIMS (409), RUSSELL (414), HUGHS (410), and WALKER (416). The convoy consists of SS LURLINE, SS MATSONIA SS MONTEREY (with fleet marine Force), KASKASKIA (tanker), LASSEN (ammunition ship) and the JUPITER (cargo ship).
Jan. 14 Entered domain of king Neptune at 1351, crossing the Equator at longitude 151
Jan. 20 Arrived off Pago Pago, Samoa and operated offshore while Auxiliaries went in the harbor.
Jan. 24 Underway with YORKTOWN, LOUISVILLE, SABINE (tanker), and five Destroyers, SIMS, RUSSELL, HUGHES, WALKER and MAHAN. On course 310. Going to attack Japs on Marshall and the Gilbert Islands.
Jan. 27 Crossed equator going north, longitude 160.
Jan. 28 SABINE and MAHAN left our force today.
Jan. 29 Crossed international date line, left the other four destroyers and headed for Marshall Islands at 25 knots.
Jan. 30 Steamed all day at 25 knots towards Marshals.

Jan. 31 At 0445 YORKTOWN began launching planes we are very few miles from the islands. At 0450 we came about on an opposite course still steaming at 25 knots. The planes returned to YORKTOWN at about 0600, refueled and rearmed, And took off to continue the attack. This attack is the first planned naval operation against the enemy, and it sure won't be the last. Planes returned to YORKTOWN. About 0900.very few planes lost during the afternoon. A Japanese patrol bomber came over us it dropped it's bombs but they exploded a long way from us, then the YORKTOWN'S fighter planes made duck soup of it in about two minutes.


Feb. MAHAN and SABINE rejoined our force
Feb. 6 Moored in Pearl Harbor at 1203 — the other Task Force is in port. The CHESTER received slight damage from a bomb hit. The ENTERPRISE was flag ship of the other Task Force under V. Adm. Halsey. R. Adm. Fletcher on YORKTOWN was in command of our group.
Feb. 7 Received all Christmas mail and packages.
Feb. 9 Moved into Pearl Harbor navy yard.
Feb. 18 Underway for states at 0900 screened by two cans till we clear Molokai island them we proceed alone at 20 knots. We have aboard 45 bags of mail, four captains and about 30 men for transfer.
Feb. 23 Anchored in San Francisco Bay at 1050. Underway at 1300 for Mare Island Navy Yard.
Feb. 24 Moved into Dry Dock.
Feb. 28 Last Day in Dry Dock.
Mar. 6 Moved out of Yard at 1200 and docked in San Francisco at 1430.
Mar. 10 Underway at 1430.
Mar. 11 Picked up Liner LURLINE and British Liner AQUATANIA in the Base Course 275 at 20 Knots.
Mar. 15 LURLINE and a Destroyer went into Hilo, on the Big Island.
Mar. 16 Arrived in Pearl Harbor.
Mar. 19 Underway to Fire main battery practice. We have passengers and mail aboard. Met LURLINE and AQUATANIA about 2000 hours.
Mar. 24 Arrived Safely in San Francisco Bay, and docked at Pier 17.
April 1 Underway at 0730 for Mare Island Navy Yard. Ran aground outside of yard channel because of heavy fog. Underway again in about one hour.
April 9 Underway at 1000 hours and moored to Pier 48 in San Francisco at 1000 hours
April 11 Moved out of berth into channel.
April 12 Underway at 1200 to fire 6 inch and 5 inch gunnery practice successful firing. At 1600 we met four freighters and one Destroyer. We have Army mail and personnel of patrol Wing Eight on board.
April 15 Today at about 1000 we passed a large convoy of 24 Tankers, Freighters and Cargo Ships. Only two Destroyers were escorting them
April 23 Met HONOLULU off Christmas Island with a six shp convoy and four Destroyers. We left our ships: PRESIDENT TYLER, KIT KARSON, BENJAMIN FRANKLIN and JOHN PAUL JONES with the HONOLULU. We then headed south with a can, the USS MUGFORD, crossing the equator at 2130 hours on longitude 153 degrees.
April 24 Steaming on course 180 degrees at 16 knot's accompanied by the MUGFORD. A Japanese aircraft carrier is reported to be in our area.
April 25 At about 1900 our radar picked up a target. We went to GQ and headed for the target ship. It was the "JOHN FREEMONT" loaded with refugees bound for San Francisco.
April 26 Arrived at French Society Island of Bora Bora and moored alongside USS RAMAPO (Tanker) our mail and passengers have left the ship. Bora Bora is the most beautiful place I have ever seen. The ideal tropical island.
April 27 Moved out into the lagoon and anchored. All hands overboard for a swim in this beautiful water.
April 29 Under way from Bora Bora at 0700. At 1230 met USS RICHMOND with the liner PRESIDENT COOLIDGE, with President Quezon of the Philippines on board. The RICHMOND turned back we are now escorting the COOLIDGE. COOLIDGE has refugees and we have soldiers from Bora Bora.
May 1 Steaming at 18 and 20 knots on course 020 degrees. Crossed the Equator this afternoon.
May 9 Arrived San Francisco Bay about 0900 and docked at Pier 42
May 10 Underway at 1100. .At about 1300 we picked up our convoy of 13 ships and 2 Destroyers.
May 11 On course 200 to 240 Degrees, speed 12 knots. Two more ships and one old Destroyer have joined us and then have left us.

Ships in the Convoy:
USS JARVIS (DD-393) USS ALDEBARAN USS HENDERSON USS KITTY HAWK
USS. PATTERSON (DD-392) USS LASSEN USS J. FRANKLIN BELL S.S. MORACSTAR
S.S. ETOLIN S.S. PLAGYON S.S. ALCOA PENNANT S.S. ALEXANDER S.S. ANTIGUA
S.S. TALAMANCA S.S. HERCULES S.S. PRESIDENT GRANT S.S. PRESIDENT POLK

May 17 Arrived in Pearl Harbor. The convoy went into HONOLULU.
May 18 Had a 45 minute air raid alarm today about 1300.
May 19 USS MEDUSA moved alongside.
May 22 Received an Admiral and his staff aboard, along with 200 tough looking Marines. (Carlson's Raiders) each is equipped with their choice of weapons. Most have knives, pistols etc, and some have rifles, Tommy guns or browning automatics
May 23 Underway from Pearl at 0500 steaming at flank speed on a northwesterly course, accompanied by the USS CASE (370)
May 25 Arrived at Midway Island at 0900. The Marine Raiders on board and the PBY by personnel have been transferred ashore. Under way at 1900 from Midway Island with the USS CASE. New course 000 degree true at 13 knots. A large enemy task force Is reported to be in these northern waters. This turns out to be true. ( Japs heading for Midway and a disaster for them )
May 28 Steaming northeast at 17 knots.
May 31 Entered Anchorage at KODIAK, Alaska at 1200 hours. At 1600 the USS SABINE moved alongside and refueled us. We transferred flag personnel. At 1800 we were underway alone. Our mission and destination is unknown so far. Course is southeast at 17 knots.
June 1 We are scouting now for the enemy force. Sea is rough and the weather is cold and rainy. Miserable is a better word.

June 2 We are continuing our search and have been joined by the NASHVILLE, two old destroyers and the oiler SABINE. At 1730 a friendly s type submarine broached the. Surfaced at 12000 yards. In this bad weather we are now in condition of readiness at all times.


June 3 Still searching for the enemy fleet. The , LOUISVILLE, HONOLULU, and two old cans. The USS GRIDLEY ( DD-380 ) and USS McCALL ( DD 400 )
June 4 Our force is continuing to patrol the seas around KODIAK we are refueling, one by one from the USS SABINE. DUTCH HARBOR and MIDWAY island were both attacked today.
June 5 Our patrol and search is continuing at 15 knots. The SABINE, NASHVILLE and one of the old cans have gone into KODIAK.
June 6 The NASHVILLE has returned she still has the flag Cruising as before.
June 7 Still cruising no contact with the Japs as yet.
June 8 The NASHVILLE and INDIANAPOLIS have gone into KODIAK.
June 9 The NASHVILLE, INDIANAPOLIS, GRIDLEY, and McCALL have returned with the oiler SABINE. we refueled this afternoon.
June 10 Patrol continued from 57 degrees latitude to as far south as 42 degrees latitude.
June 11 The HONOLULU lost two planes today because of bad weather. We have found no trace of planes or crews as yet.
June 12 Continuing patrol in miserable weather.
June 13 Very dense fog today. Used radar to keep our position. At sundown all ships except destroyers got in column and used a towing spar.
June 14 Weather a little better. Refueled from SABINE at 0900 .
June 15 At 0600 we were joined by eight more destroyers, three new ones and five old ones. Our force now consists of two heavy cruisers, three light cruisers, twelve cans and one tanker.
June 17 Our flagship, the INDIANAPOLIS, has gone to KODIAK
June 18 Another destroyer and the tanker USS KASKASKIA have joined us.
June 19 Refueled today from the SABINE. Also received a few stores and sent our empty powder cases to her, also sent mail too.
June 22 Refueled from KASKASKIA.
June 24 At 0800 was on 50 deg. Latitude, later headed south again.
June 25 The INDIANAPOLIS has returned. The HONOLULU and one destroyer have left. We are steaming north today.
June 28 Refueled from the KASKASKIA this morning. Operations continued as before between 56 and 40 degrees north latitude.

Weather is always cold, and varies between rainy and fair.

June 29 HONOLULU has returned.
June 30 We left the force at 0600, headed for KODIAK at 18 knots accompanied by one Destroyer.
July 2 Arrived at WOMEN'S BAY this morning and at 1300 moved up the bay to the dock.
July 3 The supply ship, USS ARCTIC ( F-7 ) and a Destroyer have moored alongside, and the KASKASKIA and a Destroyer have also arrived in port today.
July 4 "Celebrating the Fourth" by provisioning ship from the ARCTIC.
July 5 Underway to rejoin the force, accompanied by the BROOKS, a destroyer.
July 6 Passed the LOUISVILLE this morning; as she heads in to KODIAK.
July 7 Rejoined our force about 1100. The tanker USS GUADALUPE, now part of our force, brought us our first mail since leaving pearl harbor.
July 8 Refueled from the GUADALUPE today.
July 9 The INDIANAPOLIS, the NASHVILLE and three destroyers have left us.
July 12 LOUISVILLE has returned from KODIAK, with one destroyer.
July 13 Met the KASKASKIA and the AYLWIN (DD-355)!we refueled from KASKASKIA and transferred mail and personnel.
July 14 HONOLULU and KASKASKIA have left us.
July 15 Patrolling with LOUISVILLE and GUADALUPE with two cans. We left them headed 328 deg. true, 15 knots. at 1900.
July 16 Met the NASHVILLE and the REID ( DD-369 )
July 18 Met the HONOLULU, GUADALUPE, a Destroyer and four minesweepers this morning, and refueled from the GUADALUPE this afternoon.
July 19 Met the RIDLEY (DD-380) this morning. We are now headed for KISKA island to bombard the Japs there.
July 20 Met the INDIANAPOLIS, LOUISVILLE and two destroyers. During the rendezvous tile REID dropped depth charges on a suspected submarine, refueled the minesweepers. The GUADALUPE turned back after refueling and we headed southwest, towards KISKA, at 21 knots.
July 21 Refueled the McCALL (DD 400) while the other cruisers refueled a Destroyer each. two PBY planes came over at this time we went to GQ at 1200 to rehearse our battle plan for, attacking KISKA. tomorrow afternoon. Weather permitting.
Task force eight: Composed of two heavy cruisers, three light cruisers, five destroyers, and four minesweepers:

CRUISERS:

INDIANAPOLIS (CA-35) flagship
LOUISVILLE (CA-28)
ST. LOUIS (CL-49)
NASHVILLE (CL-43)
HONOLULU (CL-48)

DESTROYERS:

McCALL (DD-400)
GRIDLEY (DD-380)
CASE (DD-370)
REID (DD-369)
MONAGHAN (DD-354)


Minesweepers: AM-4, AM-9, AM-12, AM-232.

July 22 Bombardment of KISKA called off, because of bad weather. It was scheduled for 1700, but visibility only 500 yds. We are steaming at ten knots not far from KISKA.
July 28 Bombardment again held up by heavy fog. headed east to refuel.
July 25 Refueled the LONG (DD) Met the GUADALUPE and the "Heavies" refueled.
July 2 All ships refueled by 0800. we then left the GUADALUPE and are now steaming toward KISKA at twenty knots for our third attempt to bombard KISKA, planned for tomorrow.
July 27 Refueled a minesweeper. Went to general quarters at 1300 and secured at 2200 without firing a single shot. The fog was so heavy that three minesweepers collided. We advanced to within thirty miles of KISKA but again we were unable to attack because of the fog.
July 28 For the fourth time, we planned to bombard today but the fog still too bad, and bombardment has been indefinitely postponed. Now head east at 20 knots.
July 29 Headed for KODIAK at twenty knots. The three damaged minesweepers have gone to DUTCH HARBOR.
July 31 Entered women's bay at KODIAK in column. ST. LOUIS and LOUISVILLE moved alongside the RAMPO, refueled and then anchored out. NASHVILLE, HONOLULU, and INDIANAPOLIS went to air station dock.
Aug. 1 Moved up with the LOUISVILLE to the dock.
Aug. 3 Underway from KODIAK at 1830 with the task force. headed south at 14 knots. Has been clear so far because winter is approaching the North Pacific area. The task force rehearsed the bombardment plan this afternoon. We attack tomorrow if the weather conditions are favorable. We refueled the
McCALL ( DD 400 ) today. other cruisers are refueling smaller vessels also.
Aug. 7 Today, on our fifth attempt, we bombarded the Jap controlled island of KISKA.

KISKA ISLAND BOMBARDMENT.

We started our approach at 1645 on course 270. At 1750 all cruisers launched two planes each for spotting purposes. At 1755 the nearest land was 25,000 yards (Radar range). We were on our firing course at 19,000 yards, but could not see a thing, so we finished the run and then came about for another attempt. When we were in range, land was sighted at 19,100 yards. We advanced at 20 knots and commenced firing when range was 19,000 yds. The time was 1958 and fifty seconds. The bombardment lasted until 2011 hours. At 2015 we fired our first shells at planes directly overhead. The island was burning in several places by now. There were Bombers, Fighters, and patrol planes reported in the area, we are now steaming east at 25 knots. covered by darkness and thick fog. ammunition expended today main battery (six inch) 1228 rounds. AA battery (five inch) 440 rounds. As well as several thousands of machine gun rounds. Total weight sixty tons.
Ships of the force are:
USS INDIANAPOLIS (flagship)
USS LOUISVILLE CA 28 (heavy cruiser
USS NASHVILLE CL 43 (light cruiser)
USS HONOLULU CL 48 (light cruiser)
USS ST.LOUIS CL-49 (light cruiser)

USS McCALL DD 400 (destroyer)
USS GRIDLEY DD 380 (destroyer)
USS CASE DD 370 (destroyer)
USS REID DD 369 (destroyer)
USS ELLIOT (minesweeper)

This morning we sank a floating mine all our planes have gone to ATKA, 250 miles east of KISKA.

Aug. 11 Moved into women's bay today. moored alongside the USS LOUISVILLE at 1430 all ships moored close by except HONOLULU.
Aug. 14 INDIANAPOLIS, NASHVILLE, and HONOLULU moved out today.
Aug. 15 Not much to do up here one can go get soused or go fishing at "Bell Flats" Trout and Salmon are very plentiful here. Also we see many whales on our operations at sea in this area, crabs are also plentiful here.
Aug. 19 Underway with the LOUISVILLE and escorting destroyers. As we enter the open sea, we pass the INDIANAPOLIS, the NASHVILLE, the HONOLULU and two Destroyers coming in. They have been firing a gunnery practice.
Aug. 24 Arrived KODIAK harbor, anchored and moved alongside USS CUYAMA to begin refueling .
Aug. 22 Fired AA target practice.
Aug. 23 Received small pox inoculation., then moored to a buoy.
Aug. 25 INDIANAPOLIS, LOUISVILLE, HONOLULU and four Destroyers put to sea.
Aug. 26 Underway with the NASHVILLE, four old Destroyers, (DD's 232, 242, 241, 235, ) and two fast troop transports, the J. FRANKLIN BELL and another . They are equipped with landing boats and gear as well as personnel for landing operations (in a few days).
Aug. 28 Passed through UNIMAK pass this morning, into the Bering sea, after passing DUTCH HARBOR, another transport and more tin cans have joined us. We now have eight four stack cans in our group.
Aug. 29 Refueled two cans. then met a large convoy of small craft (25-30 boats) made up of Destroyers, Canadian Corvettes, Tugs, Barges, and Cranes. Landings on ADAK Island begin in the morning.
Aug. 30 Started landing troops and equipment on ADAK at 0400 we have met no opposition so far .the NASHVILLE, ST. LOUIS, and cans are now patrolling the waters around the island. Seas are extremely rough and cold. the transports have gone into two lagoons beyond the bay, together with the PT Boats and balance of the small craft.
Aug. 31 Still patrolling around ADAK island . Met INDIANAPOLIS, LOUISVILLE, HONOLULU and the destroyers this afternoon.
Sept. 2 Fueled the KING and then refueled our self from the USS CUYAMA.
Sept. 3 Steaming east at twenty knots. All day and with HONOLULU and two cans. Arrived off DUTCH HARBOR about sundown and picked up a freighter.
Sept. 4 Two more cargo ships have joined us and we are now steaming towards ADAK. Met INDIANAPOLIS, LOUISVILLE and the NASHVILLE (the HONOLULU left and NASHVILLE took her spot)
Sept. 5 Arrived off ADAK island. A Destroyer detected a sub and dropped depth charges. Results uncertain . Cargo ships went in to unload and we are headed back toward DUTCH HARBOR.
Sept. 6 Met INDIANAPOLIS, LOUISVILLE, HONOLULU and destroyers. We are now patrolling the Bering sea around ADAK. bring on the so-called rough North Atlantic. It couldn't be worse. .
Sept. 9 The ST. LOUIS and two destroyers left the task force last and we are now steaming east (all-day).
Sept. 10 Passed through UNIMAK pass last night. One Destroyer has left us, probably for DUTCH HARBOR.
Sept. 11 ST. LOUIS and KANE entered KODIAK harbor through the small channel and moored at the air station dock at 1000 hours. All ships enter through the narrow channel because the old entrance is mined.
Sept. 13 Underway with the J. FRANKLIN BELL, KANE, ELLIOT and the LAWRENCE. headed for ADAK. the seaplane tender CASCO was torpedoed off DUTCH HARBOR about Aug. 30 a PBY dropped depth charges which caused the submarine to surface. The KANE was sent to take off the crew and destroy the submarine.
Sept. 14 Passed through the Unimak pass daring the eight to twelve watch last night. We always pass through at because of submarines in the area.
Sept. 15 The weather as well as the sea is very rough. North Atlantic could not possibly be any worse. Met the HONOLULU, a Transport and Destroyers just out of DUTCH HARBOR.
Sept. 16 Seas still rough as before with rolls of 30 and 35 degrees. Now and then. off ADAK island. The BELL and Destroyers have gone to ADAK, fifty to a hundred :tiles east of ADAK. At 1500 we were of ADAK and the other transport went in. The beach is in sight for a short time now and then.
Sept. 17 Sent the HONOLULU's plane back to her. We recovered it for her about a week ago. We lost one of ours. The Army has bombed KISKA again on the 15th, doing much damage. I did not know it but we have sailed east to UNALASKA island again and have picked up a transport now.
Sept. 18 Now cruising west again for ADAK. Fueled the KING and the SAND. Passed INDIANAPOLIS, LOUISVILLE, and the NASHVILLE with four destroyers. HELLO, HONOLULU, the Transport, and two cans on course for ADAK.
Sept. 19 Left the transport at ADAK after she nearly rammed us. Caused by wrong translations of signals on her part. We then met the rest of the force and refueled from the CUYAMA. Commander C. K. Fink (the exec) was put on board the CUYAMA. He came aboard with Captain. G.A. Rood at Mare Island over a year ago. we sure hated to see him go, he was very well liked and respected by the whole crew. The HONOLULU left for Mare Island (DAMMIT) wish we could go stateside to.
Sept. 20 A year ago today we were en route from Manila to Pearl Harbor. NASHVILLE left us at sunset to go to KODIAK to change command.
Sept. 30 The ST. LOUIS and NASHVILLE are now proceeding toward the Jap supply route north of ATTU. The HELLO is in command.
Oct. 10 Saw ATTU this morning and her snow covered mountains. We have seen no trace of the enemy so far.
Oct. 15 Passed north by way of straits between KISKA and ATTU Islands. We are not returning to the southern area. Two enemy cans are reported heading for KISKA.
Oct. 19 The B-26's etc. beat us to them. Both destroyers were sunk, and one B-26 was shot down. The Destroyers carried crated planes on deck.
Oct. 25 Arrived at DUTCH HARBOR on UNALASKA island. The NASHVILLE has left us. we got underway at 1300. The seas are so rough that our Destroyer escort can't keep up with us headed for Frisco at 18 knots (no wonder!!!) we record rolls of 35 degrees
Oct. 31 Arrived in San Francisco, and immediately moved up to Mare Island started a four day leave at 1900
Nov. 16 I have two years in the Navy today Captain Rood left the ship today. He has been a great skipper. All hands are sorry to see him go.
Nov 30 Moved out of Mare Island yard up to pier 17, abreast the LURLINE. (Matson liner)
Nov. 31 Begin three days of tests and trial runs in the bay
Dec. 2 All hands called back to ship at 0500 hours, due to unidentified ships off the coast
Dec. 3 Underway from San Francisco (for South Pacific) with one ship.
Dec. 4 Fired five and six inch gunnery practice.
Dec. 5 Two transports and one more supply ship have joined us. Speed fourteen and one half knots
Dec. 11 Crossed the equator for my third time.
Dec. 17 Crossed the international date line for my third time.
Dec. 18 We pass Samoa and one ship has left us.
Dec. 21 Arrived Noumea, New Caledonia ( code name "white lily" )
Dec. 25 Spent Christmas day over on a beach with a recreation party.
Dec. 27 Underway with the New Zealand cruiser ACHILLES, two converted carriers, and four destroyers
Dec. 30 Arrived at ESPIRITU Santo island 114 the New Hebrides.

This is our most advanced naval base at this time.

Jan. 3 Underway from "button" with Task Force 67. Fired a practice then proceeded toward NEW GEORGIA island in the Northern Solomons. Our force consists of seven Cruisers in two units and six Destroyers. the HONOLULU, ACHILLES , COLUMBIA, LOUISVILLE and four Destroyers will cover for us. The ST. LOUIS, NASHVILLE, and HELENA and two Destroyers will bombard MUNDA airfield the submarine "GRAYBACK" and two black painted PBX's will assist in the bombardment.

Bombardment of MUNDA airfield, NEW GEORGIA Island.
JANUARY 5th Time: 0100 to 0150 hours Task Force 67

Bombarding unit: NASHVILLE, ST. LOUIS, HELENA and two Destroyers
Assisting unit: HONOLULU, ACHILLES, COLUMBIA, LOUISVILLE and four Destroyers.

1900 Our ( ST. LOUIS) unit left the others.
2300 Sounded general quarters
2315 Radar contact eighteen miles south of units.
2345 Speed 26 knots land reported on Starboard bow.
0015 "Black Cats" dropping flares on target
0030 Approaching target at 24 knots. Land close on both sides.
0032 USS GRAYBACK challenges the NASHVILLE (4000 yds ahead.)
0033 Affirm received.
0035 ST. LOUIS decreases speed to 13 knots.
0038 GRAYBACK reported at 050̊ range 3500 yds.
0044 GRAYBACK at 0600 range 1000yds.
0045 Coming on range for bombardment of the airfield.
0047 Small island at 0060
0100 NASHVILLE opens fire
0111 NASHVILLE ceased fire.
0114ST. LOUIS opens fire. (doing 18 knots)
0124 ST. LOUIS ceases fire. (we expended 930 rounds six inch ammo.)
0125 HELENA opens fire
0135 HELENA ceases fire.
0136 Our two Destroyers open fire.
0150 Destroyers cease fire
0200 NASHVILLE (flag) signals "well done"
0215 Waiting for Destroyers to catch up with us.
0245 Increased speed to 29 knots
0530 Decreased speed to twenty knots.
0600 Increased speed to 30 Knots.
0630 Four Grumman's overhead.
0930 Met other unit of task Force

1030 Attacked off Guadalcanal by six dive bombers. The ST. LOUIS was credited with shooting down three planes, and the HELENA with one. The HONOLULU received two near misses. the ACHILLES received one bomb on top of her number three turret. It blew the top and port side of the turret off killing nine men, injuring eleven and two are missing.


1830 The O'BANNON, ( DD 450) , attempted picking up two Jap flyers, the pilot fired on his rescuers so he was shot. The gunner was rescued but later died of his wounds.1900 Our units separate again to cover landing operations on Guadalcanal.

Jan.6 Steaming for ESPIRITU SANTOS the ACHILLES buried her dead.
Jan 7 Arrived at ESPIRITU SANTOS.
Jan 15 The LOUISVILLE and the ST. LOUIS get underway and leave port.
Jan 20 Jap planes appear over ESPIRITU and drop a few bombs.
Jan 22 Task Force 67 gets underway to bombard again.

Bombardment of KOLOMBANGARA Island

Jan. 24 1943 Time: 0200
Bombardment: NASHVILLE, HELENA, and two Destroyers
Assisting: HONOLULU , ST. LOUIS, and four Destroyers

Jan. 24 Steaming Towards TULAGI

0530 Other unit zig-zagging at thirty knots due to the continuous attacks by enemy aircraft.
0930 Pass through "Skylark" Channel.
1000 Enter Tulagi harbor and anchor.
1030 Other section enters the harbor and anchors. The RADFORD and O'BANNON come along side for fuel.
1530 Task Force underway for ''Button" at 25 Knots.

Jan 25 Arrived at ESPIRITU

Jan 28 Underway with Task Force 67, the ENTERPRISE and the SAN DIEGO got underway also no dope but plenty of scuttlebutt.
Jan 30 Met the WASHINGTON, the NORTH CAROLINA, and the INDIANA (All Battle wagons) and four Destroyers. Held tactical maneuvers.
Jan 31 Still south of Guadalcanal. refueled the LARSON ( DD 367) this morning.
Feb. 1 Task Force 67 arrived in ESPIRITU at 0800, refueled and got underway again at 1500.
Feb. 2 ESPIRITU was bombed last night. we met the ENTERPRISE, SAN DIEGO and Destroyers and are now operating with them.
Feb. 4 Heavy fighting is going on here, according to the Press News, but we haven't seen any yet!!
Feb. 5 All ships refueled from a tanker today, we fueled at 2130.
Feb. 7 The ENTERPRISE, the SAN DIEGO, and Destroyers have left . We are still operating south of Guadalcanal, waiting, with the rest of our forces, for the Japs to make a move. They are north of the Solomon's.
Feb. 8 Near dusk we move in close to the Battleships.
Feb. 9 Still operating with the NORTH CAROLINA, the WASHINGTON, the INDIANA and the Destroyers. also the SARATOGA, the SAN JUAN, ENTERPRISE, and SAN DIEGO groups quite a lot of power.
Feb. 10 Refueled all Destroyers Attached to T.F. 67 we refueled the LARSON (367)
Feb. 11 Met the SARATOGA and group at dusk. The RADFORD sank a Sub today.
Feb. 12 All ships refueled from a tanker today (#0-24) We refueled at 1630. The SARATOGA group left as well as the tanker.
Feb. 14 T.F. arrived in ESPIRITU.
Feb. 15 T.F. 67 underway from ESPIRITU.
Feb. 19 Refueled the four Destroyers today we refueled the STRONG (467).
Feb. 21 Refueled the T.F. again today
Feb. 22 Arrived in ESPIRITU Santos.
Feb. 28 The HELENA got underway today.
Mar. 3 TF. 18 the old T.F. 67, minus the HELENA, got underway today.
Mar. 6 TF. 12, another Cruiser force, bombarded Munda and Villa last night. In addition they sank two Light Cruisers or two heavy Destroyers.
Mar. 3 Task Force 18 refueled from the SABINE today
Mar. 12 The task Force entered ESPIRITU harbor at Daybreak, took on provisions, and got underway at 1700. We fired illumination practice at 2000. We have seven heavy Destroyers with US flag transferred to the HONOLULU.
Mar. 14 Four of the 2100 Ton Destroyers have left.
Mar. 17 The four that left rejoined us today after successfully bombarding Vella they were the NICHOLAS, RADFORD , STRONG, and TAYLOR. then we all refueled from a tanker (0-39) except for three "Cans" which refueled from Cruisers, we fueled the CHEVALIER .
Mar. 18 The HONOLULU (flagship) left us this morning with four DD's. Her mission is unknown to us.
Mar. 21 Task Force entered ESPIRITU after firing AA battery practice.
Mar. 22 The HONOLULU and Destroyers entered harbor, but no good information.
Mar. 27 The NASHVILLE got Underway.

Mar. 29 The T.F. got underway and fired main battery (Six Inch) practice off ESPIRITU. Our force now comprised of only HONOLULU , ST. LOUIS, and four Destroyers. We are going to look for a Jap convoy, failing to find it we will bombard some lucky island.


Apr. 1 Entered Tulagi harbor and refueled from the KANAWA. At 1600 we got underway at 23 knots. with HONOLULU , RADFORD, STRONG, and TAYLOR. At 2400 after no luck we headed back to Tulagi.
Apr. 2 Underway with same force, plus two Destroyers, with still no luck. bombardment was scheduled but orders were changed as we got underway.
Apr. 3 Entered Tulagi at 0630 and refueled from tanker. Then anchored in regular berth in harbor.

At 1545 we were underway for the third straight to hunt Jap convoys up around Shortland, New Georgia, and Bougainville Islands. We steam at 25 knots. and usually arrive in Tulagi about 0630.
Apr. 4 (2400) headed back to Tulagi because of 80 enemy aircraft over our hunting grounds. Arrived in Tulagi early this morning and anchored as before. Our regular 1100 alert came about 1015 today the Japs usually attack Guadalcanal right across the channel. We got underway at 1345 with HONOLULU and Six heavy Destroyers. going up the "Alley" again to look for the "Tokyo .Express".


Apr. 5 (2400) no luck again, so about face. At about 0200 the O'BANNON ( DD-450) picked up a surface target on her radar. She ran in within a hundred yards of it and fired three salvos. It was an enemy Submarine and as it went (DD 450) the O'BANNON dropped depth charges on it we had contacted it on previous nights. Two more Destroyers were sent back to help pick up survivors if any, and we proceeded on towards "Indispensable Straits" at our usual speed of 24 Knots. At about 1300 the three destroyers joined us and we went in to Tulagi to refuel. As soon as we finished we got underway for another run up the old "Alley".


Apr. 6 Headed back at the usual time as we didn't contact the enemy. Although a task Force was reported to be in the area. the morning was spent in the straits between Malaita and Florida Islands again. the HELENA joined us at noon. again at 1600 we are on our way up the "Alley' at 24 knots at about 2000, while we were between the Russells and Santa Isabel Islands" the Japs attacked Tulagi and Guadalcanal from the air. Got out in time headed back at 2400 with no luck. At 0630 we entered the harbor and refueled.


Apr. 7 Underway at 1145 because of expected air attack. A bombardment was planned but the Japs fouled up our plans. The ST. LOUIS and three destroyers would have hit Munda and the HONOLULU and HELENA and their four "Cans" would have hit Vella. Well, we went between Savo and Florida, then around through "Indispensable Straits" and at 24 knots we "Retired to the East" the Japs never got within range of us, but they bombed Guadalcanal and Tulagi. A Destroyer ( Ours ) knocked down one of our Avengers by mistake. The score: U.S. Fighters sent Up 67, of that number, 7 were lost. The Japs sent over 70 Bombers and 48 Fighters. Twenty one bombers and 25 fighters were shot down. Air attacks in this vicinity have been constant right along.


Apr. 8 Last the STRONG (DD) picked up a Sub at 8000 yards and closed to 1000 and let it have all she had. Then she came back over the spot where it had been and laid a pattern of depth charges. It was a sure sinking.


Apr. 9 Met the CHEHENGO, a Converted Carrier, and her Destroyer Escort last night. We operated to the Northwest then toward ESPIRITU SANTOS where we met the LEANDER, a New Zealand Cruiser, and sister ship the ACHILLES. We left the Carrier.


Apr.10 Entered ESPIRITU harbor at noon, refueled and anchored. I have learned that the KANAWA, the tanker at Tulagi and her escort, the (DD 483) AARON WARD were sunk by the Japs on the day we pulled out of Tulagi. "Just in time".


Apr. 15 The NASHVILLE entered the harbor and Rear Admiral Ainsworth and his flag were transferred from the HONOLULU to the NASHVILLE.


Apr. 18 Something about the recreation we have here For awhile we had no beer. The recreation center is located on Aore Island on one side of the channel. A nice beach for swimming is located about two miles across the island. There are several baseball diamonds and other facilities. Beer is rationed, per ship and per man. sometimes we get two and sometimes we get four bottles. It is possible to manage to get more. Each section gets beer once every four days. Seabees maintain the grounds and landings, assisted by working parties from designated ships.


May 5 Task Force 18 got underway from ESPIRITU SANTO. the HELENA is staying in port for repair work. we have Only four 2100 Tonner's with us.


May 6 The TAYLOR (468) came along side to receive a 40 mm water jacket. The operation took 5 minutes. We resumed our original speed and steamed across "Iron Bottom Bay , through Skylark Channel, and at 1600 we were headed up the "Alley" at 25 knots. We were going up around Vella to protect a little dirty work by our Mine Layers. we set Condition II at 1600. At 2400 the Mine Layers started laying their mines. We went on past them and at 0130 we met them again and retired to the eastward at 28 Knots. Dawn found us between the Russells and Santa Isabel Islands. The three "Mine Layers" were covered in the harbor by the RADFORD.


May 7 At 1800 had Emergency General Quarters caused by enemy aircraft. None came near enough for harm.


May 8 Received message to the effect that the mines laid on the sixth sunk one Cruiser and damaged another. Entered ESPIRITU at 1630 and moored along side a tanker.


May 11 Task Force 18 (Plus seven Destroyers ) got underway. Our anchor fouled so the Captain ordered it lashed to the side.


May 12 Steamed through "Iron Bottom Bay", through Skylark Chanel then separated. The ST. LOUIS , JENKINS and FLETCHER going between Guadalcanal and Savo Islands and the rest of the force between Savo and Tulagi. They went up the "Alley" as usual, to bombard targets on the north side. We steamed west, south of the Russells. Past Rendova in the New Georgia Island our second bombardment of Munda and New Georgia Island.

Date: May 13, 1943 Time: 0104--0120
Bombarding: Cruiser: HELLO
Destroyers: FLETCHER (DD-445) JENKINS ( (DD-447)

0030 Started the approach, nine miles to firing point.
0035 Bogey on our tail , Bogies on our port bow lots of Bogey's but none seem to see us.
0055 Two miles to go.
0100 On our firing course. Flashes over horizon indicating the other ships are firing. Our speed is 18 knots.

0104 ST. LOUIS commences firing, the FLETCHER already firing our first salvo landed in the water, but the next ones were right on. Our spotting plane reports excellent shooting. Getting minor return fire. JENKINS commences to fire.
0120 ST. LOUIS ceases Firing.
0125 Speed Increasing to 30 knots. and our port anchor breaks loose from its lashings, and punches holes in the side above the water line, floods but one storeroom and puts six inches of water in the windlass room.

0730 Met the rest of the force and learned the NASHVILLE has a casualty a gun blew up, killing nine men and injuring fourteen .Aside from anchor trouble, we had six guns out of commission as well as three radars when we ceased firing. 975 rounds of six inch and 400 rounds of five inch ammo. expended.

1236 Emergency GQ while in " Indispensable Straits" due to enemy aircraft over Guadalcanal, Tulagi and the Russells. Many Dogfights.

May 14 NASHVILLE buried their dead at sea. Fired AA battery practice and at 1430 entered ESPIRITU SANTOS and refueled.
May 18 NASHVILLE left for the States.
June 8 Underway with Task Force 18 for gunnery practice. Entered harbor at 1630.
Jun.15 Number 5 tug towed in a two man Jap Submarine.
Jun I6 Another alert at midnight as usual the planes get close and not in range of our guns and that's good business.
Jun.28 Underway At 1330 to support offensive operations in the Solomon's.
Jun.30 We had a plane casualty today. Pilot and Radioman were thrown out and later picket up by the O'BANNON.
July 1 Another plane casualty of the exact kind as yesterday. The two men were also picked up . Our Forces have captured Viru harbor and Rendova. We lost the transport McCAWLEY. 65 of 110 attacking planes were shot down.
July 2 Refueled from the SABINE and got our fliers back aboard. Then the task Force headed NW at 20 Knots. Our Destroyers #449, 450, 451 and 467.


July 3 Bombardment was scheduled but has been cancelled. entered Tulagi harbor at 1200 and went to G Q. due to enemy planes over Russell Islands. underway at 1430 to protect Rendova from bombardment. three Jap Cruisers and four Destroyers have been reported in the area. We are headed west at 22 knots west of Russells we passed an armada of landing craft headed for North Georgia island. Presumably reached Rendova about 2230 and slowed to 18 knots for patrolling. At about 0200 we headed back at 24 knots. after no contact with enemy. Sounded GQ. at 0245 on radar contact, which turned out to be the landing craft escorted by Pt Boats, returning to Russell. Off Russell at daybreak. Then entered Tulagi at 1100. another conference and off we go again at 25 knots , this time to bombard Villa for a landing Force. At 2200 we went to GQ. at 2245 we were forty miles from Kolombangara.


Bombardment of VILLA by Task Force 18

Cruisers: ST. LOUIS, HONOLULU and HELENA
Destroyers: NICHOLAS, O'BANNON, CHEVALIER and STRONG.
Date: July 5, 1943 Time: 0025

0000 Land on port head "F"
0025 On firing Course
0026 HONOLULU opens fire, our speed is 18 knots
0027 HELENA opens Fire
0028 ST. LOUIS opens Fire.
0035 Large fire on Beach.
0036 Troops landing on beach now.
0038 Main battery (Six Inchers) Cease fire 976 rounds expended
0040 Started firing at Opposition.
0045 Torpedo passes astern of ST. LOUIS.
0050 STRONG has been hit by a torpedo sent out S 0 S.
0055 STRONG is Sinking.
0100 O'BANNON and CHEVALIER are picking up survivors, our speed was increased to 27 knots. Subs in harbor.
0110 Our two screening Destroyers are dropping depth charges.
0115 O'BANNON and CHEVALIER meeting strong opposition.
6130 Flares and Star shells over rescuing Destroyers.
0133 CHEVALIER 's No 3 mount blows up.
0140 JENKINS going back to help.
0145 STRONG has sunk, and her depth charges are exploding as she goes down.

Note: CHEVALIER went along side the STRONG to take off personnel, and at site backed down to leave, a rack of depth charges off the STRONG's fantail goes into the water exploding and damaging CHEVALIER 's bow, but No. 6 bulkhead is holding.


0150 Shore batteries firing at landing force. O'BANNON and CHEVALIER silenced them.
0151 Searchlight on horizon.
0155 Shore batteries open at us Again, but our five Incher's Kill 'Em.
0157 CHEVALIER firing off port Beam at Torpedo plane close to the O'BANNON.
0200 Lots of fire on the Beach
0205 Mount No. 3 has a jammed powder case so all surrounding and mount personnel have been removed
0210 JENKINS ordered to drop back with O'BANNON and CHEVALIER , who are coming up on starboard quarter.
0320 CHEVALIER has reported Rescuing 248 men and 7 Officers.
0325 Condition Red Set at Russells and Guadalcanal we are now retiring to the Eastward. the NICOLAS met us off the Russells to escort the CHEVALIER into Tulagi. we are heading for ESPIRITU
1500 Task Force 18 now consisting of ST. LOUIS, HELENA and HONOLULU, with O'BANNON and JENKINS, reversed course 180 degrees and head north at 24 knots. we have been ordered to intercept the "Tokyo Express", seen by reconnaissance planes. In Shortland Island harbor with steam up.

Battle of Kula Gulf.
USN vs. the Japs
Task Force 18: Cruisers: ST. LOUIS, HELENA, and HONOLULU
Destroyers: O'BANNON, JENKINS, <strong>RADFORD</strong> , and NICHOLAS

Jap Force Composition: Unknown Cruisers and Destroyers

Date: July 6, 1943 Time 0157 Commenced:

2130 Now on lower end of N. Georgia Island. we are steaming at 28 knots and PBY "Blackcats" are scouting for the Japs for us.
0000 Sounded general quarters.
0145 Surface contact 17,000 Yards, on starboard bow
0157 ST. LOUIS opens fire with six inch main battery, 0144 a large target.
0200 Explosion observed on target.
0201 Cease fire.
0202 Shifted targets during lull
0205 Standby to reverse course
0204 Fires can be seen on several targets.
0205 ST. LOUIS now in lead, followed by HELENA, then HONOLULU .
0206 Torpedo wake astern
0207 Torpedo wake off starboard bow.
0208 Torpedo supposedly passed under us about Turret No. 3.
0209 Commence firing again
0210 First salvo is direct hit.
0211 One enemy ship blew up
0212 Shifted targets again.
0214 Cease fire and standby for another run
0215 Target speed is now zero
0218 HELENA opens fire off port beam
0219 30 rounds per turret left
0220 Another enemy ship has blown up.
0221 Commence firing again.
0222 Cease fire.
0223 Directors 1 and 2 have lost target, they think it has sunk
0224 HELENA and HONOLULU still firing, but we can't find any more targets
0229 Another target on screen
0230 Jap ship Burning on our starboard side.
0232 Surface target, 17,000 yards, bearing 332 degrees relative.
0233 Several underwater explosions felt
0237 100 rounds of Powder left between Turrets 4 and 5.
0240 Target at 12, 000 yards open Fide with Star Shells.
0242 One of ours Destroyers is firing off our starboard Bow.
0245 Still Making 25 knots. Course is 232̊
0248 Unidentified target at 5000 yards off starboard Beam.
0249 Radar No Six out of Commission
0251 Admiral Ainsworth orders Cease Fire.
0252 Heavy Underwater explosion Felt
0253 No more targets Available
0254 Speed now 28 knots. Course 2900255 HELENA is Dropping Back
0308 Heavy Underwater explosion Felt0313 Two of our Tin "Cans" are being sent into the harbor to look for ships.

Can't locate the HELENA

0319 Surface contact on screen off port Bow at 5000 Yards.


0323 Bow of a ship has been s ighted, sticking straight up out of the water. It May be the HELENA.
0324 Standby to illuminate with searchlights, to look for the HELENA.
0326 HONOLULU is illuminating with searchlights now.
0327 Fifteen miles from N. Georgia Island.
0330 Searchlights have picked up object in water and report states "Sorry to report object sighted is CL-50 HELENA
0331 Standby for 28 knots
0332 RADFORD is investigating what is believed to be the wreck of the HELENA.
0333 It is HELENA, she is believed to have been sunk by torpedoes
0334 No survivors picked up yet HELENA is thought to have sunk at 0308, when last large underwater explosion was felt.
0335 RADFORD and JENKINS standing by to pickup HELENA survivors.
0337 Official report Is HELENA sunk during action with enemy
0340 Speed now 28.5 knots.
0341 Destroyers report they are now in midst of survivors.
0345 Now retiring to Tulagi at 28knots all ships in Jap task Force are believed sunk.
0348 Target Dead Ahead, and planes reported five miles astern.
0350 The "Cans" report they have picked up 400 survivors so far
0402 RADFORD reports a large ship 13,000 yards off her Bow
0406 RADFORD is being attacked while picking up survivors stand by to make 180 degree turn to go back to protect the RADFORD.
0411 Two large ships coming out of Kula Gulf
0412 NICHOLAS is still picking up survivors both of the enemy ships have opened Fire, and RADFORD seems to be in trouble.
0415 NICHOLAS has engaged the two ships and is Launching a Torpedo attack against Them. we are closing slowly but are still to far away to Help.
0417 The two ships are running, like I wish we would.
0432 Jap ships can't be found So we are once again heading for Tulagi.
0445 All Stations rest easy, RADFORD and JENKINS are still picking up Survivors.
0515 Destroyers report they are finishing off the HELENA
0642 Light Ship.
0645 The screening "Cans" report O'BANNON has expended all but five Torpedoes, and NICHOLAS has expended all Hers.
0700 Ninety friendly planes in the Vicinity.
0730 RADFORD and JENKINS report that survivors were scattered and it took some time to get them on Board.
0800 In the last 140 days we have expended 175 Tons of Ammo., 81,000 Gallons of Fuel Oil, firing 1100 rounds six Inch, or forty three salvos of Fifteen Six Incher
0830 Twenty enemy planes over Kula Gulf, headed this Way.
0900 Thirty unidentified aircraft picked up on Radar.
1027 RADFORD and JENKINS are now heavily covered by our aircraft.
1030 Passed two Destroyers dispatched to pick up remaining survivors.
1130 Dropped anchor in Tulagi Harbor.
1230 RADFORD and JENKINS coming in. JENKINS transfers over 300 men to HONOLULU and RADFORD transfers 438 men to St . Louis
1630 Underway for ESPIRITU with five "Cans" pass Task Force 19 which is probably headed for Munda.

July 7 At 0830, 78 more survivors were picked up on east side of Kula Gulf. also picked up the RADFORD's and JENKINS Whaleboat Crews.
July 8 Tank Force 18 arrived in port At 0800, and received quite a Hand. A diving inspection reveals two or three dents in our hull from torpedoes which never exploded. Thank God
July 9 Relaxed on Aore Island with Beer and Artie Shaw 's band etc.
July 10 Task Force 18 underway Early

July 11 Passed through Skylark Channel at about 1600 , and was joined By the LEANDER. As we went through between Savo and Tulagi or Florida Island, headed up the Slot, Task Force 19 went between Savo and Guadalcanal headed toward Rendova on Till," Munda Side. We are Sill Looking for Japs, and they will bombard Munda.
2320 Star Shells on port Bow
2335 Flare on port Beam.
2339 Flashes of Gunfire can be seen on the other side of New Georgia
2342 Two planes sixteen miles Away.
2343 Target on Horizon Bearing 060 degrees.
2357 Main battery Train to starboard On Probable air target.

July 12 At 0015 enemy plane approaching again
0026 Mt. No. 4 on single plane.
0040 Destroyer on Stbd. Qtr. Signaling lots Of. Bogies.
0042 Another target at 16,000 Yards,
0043 Our transports Entering Kula Gulf
0048 One plane 290. four Lights Blinking Low on Water.
0055 Sky Control on plane at 020 degrees.
0110 Two floating lights close By.
0130 Reversed course now in vicinity of Kula Gulf Battle, will patrol this area until 0300.
0300 Now retiring Towards Tulagi. T.F. 19 is now bombarding Munda Airfield.
0330 More gunfire across island.
1130 Anchored and refueled in Tulagi.
1710 Underway up the "Alley" again. We are going to see if we can meet the Japs again tonight.
1945 Set Condition II
1955 Condition "Red" over Russell Islands.
2000 RUSSELL Islands under air Attack. Witnessed the AA Fire, and a "Dog Fight" by the planes . Tracer fire and 5" bursts is all you can see. A plane went down in flames.

Battle of Kolombangara or Second Kula Gulf.

Cruisers: HONOLULU , ST. LOUIS, and LEANDER
Destroyers: O'BANNON, NICHOLAS, <strong>RADFORD</strong> , JENKINS, TAYLOR, GWIN, FARENHOLT, MAURY, BUCHANAN and the RALPH TALBOT. (Task Force 18 plus Others from the task Group)
Time: 0109 Date: July 13, 1943

0042 Surface contact of six ships at 40,000 yards one "Cruiser" and "five" Cans
0102 Radar Data: range 22,000, speed 16 Knots.
0105 Enemy ships now in sight off port Bow
0106 Range on four Stack Cruiser 20,000 Yards, Bearing 030 degrees.
0109 Our Destroyers now Launching Torpedo attacks
0111 Open fire to Starboard
0112 Enemy Cruiser Returning fire and Using Searchlights.
0113 Enemy Searchlight knocked Out.
0114 Enemy ship Exploded. several Fires on Jap Ships
0115 Ship on fire off starboard bow.
0117 Heavy Underwater ex[;explosion Felt.
0118 Reverse course 180 degrees
0119 One more target left at 10,000 yards dead ahead.
0120 Open fire on Port. enemy ship Returning Fire
0122 Target range 12,000 Yards.
0123 Heavy Under water explosion felt.
0124 Target speed now one and one half knots .
0125 HONOLULU has shifted to rapid fire:
0127 All radar out of commission.
0128 No 1 radar back in commission.
0129 Cease Fire
0134 LEANDER has received Torpedo hit forward destroyers standing by
0138 Radar No. 2 back in commission.
0140 Our course 000 degrees, speed 27 Knots.
0141 Our Tin "Cans" are all illuminating the remaining Jap Ship.
0145 Enemy ship still firing Back.
0146 Target speed now zero.
0147 LEANDER now seems to be Dead in the Water
0149 Three New Targets, Bearing 310 degrees, 11,000 Yards
0150 LEANDER reports she can make 10 knots.
0155 Heavy Underwater explosion and a Jarring Felt.
0l56 ST. LOUIS has taken a Torpedo up Forward
0159 Course 330 degrees
0202 HONOLULU has contact at 14,000 Yards.
0205 HONOLULU opens fire off port Bow. HONOLULU has taken a torpedo hit also.
0209 The Torpedo hit us at Frame 11.
0212 Torpedo Wake off starboard quarter.
0223 Our speed now 7 knots.
0234 HONOLULU making same speed as ST.LOUIS.
0235 ST. LOUIS down by head two Feet.
0300 Speed now 16 Knots.
0325 Surface target on Screen, 315 degrees , at 9000 Yards.
0328 Air contact , 175 degrees, 7 miles
0400 Report from bridge that all three cruisers have been hit. GWIN and BUCHANAN have been damaged, and RALPH TALBOT is towing GWIN.
0435 Tug being sent for LEANDER
0525 At this speed ,16 knots we will make Tulagi at 1600
0538 Unidentified planes closing in
0600 Reports say we sank all targets one cruiser and five destroyers.
0604 Planes coming in at 295 degrees
0615 Planes are ours nine groups reported forty miles away.
0700 Several pieces of the Torpedo have been found on the ship, one weighting about forty pounds
0715 Set Condition II, LEANDER and "Cans" out of sight.
1500 Observed T.F. 19 headed for New Georgia Island.
1600 Moored to piling along beach in Tulagi Harbor.

July 14 Underway for ESPIRITU at 0600. speed almost 13 knots. Escorting "Cans" are WOODWORTH, FARENHOLT, BUCHANAN and RALPH TALBOT had air and Submarine Emergency. Got sub, maybe.
July 16 Arrived in ESPIRITU Santo, and moored along side the VESTAL. Unloaded fuel and ammo. Ship is damaged back to Frame 23. VESTAL will do repair work as far as practicable, as the New Dry Dock is not yet ready for work. Our bow is welded closed .
July 28 Captain Campbell received the Navy Cross, for the first Battle of Kula Gulf, from task Force Commander, Adm. Ainsworth. .Adm. Ainsworth received one a few days ago From Admiral Halley. Shifted Berth from VESTAL to TAPPAHANOOK.
Aug. 1 Underway for the States At 0800, with the CHENANGO, a converted Carrier, a tanker (No 73) and three old Cans. Our speed is fifteen knots we have the Flag Personnel and transfers Aboard.
Aug. 3 Crossed International Date Meridian, which will Cause us to have two Tuesdays this Week.
Aug. 4 The carrier refueled the three "Cans".
Aug. 7 Crossed the Equator at 0400 at the 161 Long.
Aug. 8 Refueled from the Chenango at 0900. At 1700 left the CHENANGO and one "CAN"and headed for Pearl Harbor.
Aug. 10 The MILOMI has engine trouble and is left behind. now Only the ST. LOUIS and the HOPKINS Proceed Northeast at 15 Knots.
Aug. 12 Refueled the HOPKINS and gave her Supplies.
Aug. 13 Same two ships, course Northeast, speed 13 Knots.
Aug. 17 Arrived in San Francisco.
Aug. 18 Moved up to Mare Island Navy Yard, and began 21 days Leave.
Sept. 9 Leave Expired
Oct. 31 Left Mare Island for the Solomons.

Mid November to Dec. 20, made a few missions to cover landings on Bougainville, Treas. Islands. With the NASHVILLE (Flag) and five Destroyers.

Dec. 27 Underway with Task Force 38, consisting of HONOLULU, ST. LOUIS, and "Tin Cans" FARENHOLT, WOODWORTH, BUCHANAN, LANSDOWNE, and LARDNER, to bombard Bougainville (Kieta) and (Numa Numa). Lots of return fire, and it was close too. Returned by way of Buka (Buna?)

1944

Jan. 27 Underway with Task Force 38 to bombard Shortland Island the southern tip of Bougainville. Plenty of close return fire but no hits.

Feb. 13 Underway with T.F. 38 to cover landings on Green Island north of Bougainville.


Feb. 14 Laid off south corner of Bougainville and started moving toward our target at late afternoon. ST. LOUIS is in lead of Cruisers. About 30 more minutes of sunlight left. Eight enemy planes pass astern, sounded GQ, four planes are coming over.


Feb. 14 (Valentines Day) Solomon Islands operation main battery and AA battery open fire. Two bombers coming in a dive on ST. LOUIS. We are zig zagging frantically and doing about 27 knots to avoid being hit, the two planes drop three bombs, one of which was very close to our starboard bow, another which was a near miss on our port stern, causing considerable damage. The third bomb hit us amidship and exploded by my locker. It killed 23 or 24 of our shipmates. We had to abandon the after engine room because of damage to the air ventilation systems above it. Air attack continues. One of our Task Force a "Can" shot a plane down about 0500. Our force landed the troops OK, and our job done, we retired to the southeast of Bougainville


Feb. 15 Held Burial Ceremony on the fantail at 1500. Doctor requests that we take our wounded men back to base. At 1400 ST. LOUIS and one Destroyer leave task force for Purvis Bay, Florida Island, arriving there at 1430 on Feb. 16, 1944.

No Further Entries until:

June 4 Underway from Purvis Bay for Roi Island in the Marshals, ships accompanying: HONOLULU, ST. LOUIS, and three APD's, we picked up two CVE's, the CORAL SEA and CORREDGIDOR and three heavy Destroyers, speed 15 Knots.
June 5 Picked up Battleships: NEW MEXICO, PENNSYLVANIA and four Cans.
June 6 A Jap plane was shot down while Snooping on our Force. he was shot down by a Hell Cat.
June 8 Anchored at Roi Island.
June 9 Two alerts about Noon and 1300. get report of Allies landing in France.

June 10 Underway for invasion of Saipan with Group II bombardment Force

D-4 Day

.June 11 Task Force 53, Comprised of BB's NEW MEXICO, IDAHO, and PENNSYLVANIA. CA's <strong><strong>NEW ORLEANS</strong></strong>, San Francisco, MINNEAPOLIS, <strong>WICHTA</strong> , CL's HONOLULU, HELLO, and screening Destroyers this force under Command of Adm. Ainsworth, on Board HONOLULU . today Task Force 58 hit GUAM, TINIAN and SAIPAN with Aircraft.

D-3 Day

June 12 Task Force 58 sent 200 fighters on a Sweep from Saipan to GUAM and Destroyed over a hundred Jap planes. they have also sunk quite a few ships. BB's, CA's, CL's, and DD's of T.F. 58 bombarded the west coast of Saipan today. Task Force 58 consists of 7 Carriers, 7 Battleships, 4 heavy Cruisers, 8 Light Cruisers, and 85 Destroyers-commanded by Admiral Mitchner.

D-1 Day

June 14 Our Task Force 53 hit TINIAN and Saipan from the east side with half force. many fires were started and smoke covered the south end of Saipan Channel when we retired. casualties consisted of one shell hit on a director on the <strong>CALIFORNIA</strong> (T.F. 52), and a shell hit in engine room of Destroyer BRAINS, and one demolitions boat was lost.

"D" Day – H Hour 0840:

Our Half T.F. Including one Destroyer, ST. LOUIS, <strong><strong>NEW ORLEANS</strong></strong>, and <strong>WICHTA</strong> , steamed up the Saipan Channel (Mined) in that order with Paravane streaming. This was in order to lay down a barrage for the 2nd and 4th Marines landing on west beach. we started our firing at 0830 end fired rapid fire from five and Six Inch Batteries. The Marine's hit the beach and advanced about a mile without any resistance. Many transports and landing craft are laying close in. We left the channel in reverse order and continued support by call fire. Near sunset we left the channel vicinity to rendezvous with the rest of our force south of TINIAN. Enemy aircraft attacked about sunset and got a near miss on the NEW MEXICO, and we proceeded south to Guam.



Invasion of Guam Begins in two Days.

June 16 W-2 day started bombarding harbor and city area of Guam At 0815. <strong>WICHTA</strong> , MINNEAPOLIS and ST. LOUIS, and three Destroyers in our Group. continued bombardment until noon. All immediate targets being destroyed. All ships in T.F. 53 joined forces and proceeded north to Saipan, after receiving word that a Jap Fleet is on the way to that area. refueled from tankers. All the heavy Cruisers left us to join Task Force 58.

June 17-18-19
Covering Northwest of Saipan. the NEW MEXICO, IDAHO, and PENNSYLVANIA, HONOLULU, ST. LOUIS, and six Cans. alerts about three times a day, with plenty of bogies.
June 30 Marines have taken Aslito Airfield. Japs sent hundreds of carrier planes at our carrier force and over 300 of them were destroyed. the SOUTH DAKOTA took a direct bomb hit on Top of a Turret, with no serious damage. there were a few other minor Damages.
June 21 P-47 Thunderbolts Landed on the Airfield Today.
June 22 HONOLULU and ST. LOUIS with two "Cans" left the "Battle Wagons " and went in to get ammunition and refuel. Moored off the beachhead along side the ALMARADE and picked up 6" Ammo, then moved away and anchored. Then four Battleships. Then three more "Wagons" came up and anchored astern, we have a ringside seat for the fighting on the beach and in land. After refueling the "Cans", we moved further out and dropped the anchor again. About 2000 the MARYLAND took a Torpedo or a Skip-bomb and that was our cue to remove ourselves before the Japs did it to us.
June 23 Refueled from Tanker. enemy planes attack our two CV's. two shot down ST. LOUIS got one of Them.
June 24 Task Force headed east for Eniwetok in the Marshals.
June 27 Alert Sounded Bogies from Truk.
June 29 Arrived at Eniwetok
July 14 Underway for operations at GUAM, with HONOLULU and our screening Destroyers.
July 16 At about 0230 ST. LOUIS lost No. 3 screw, from bomb damage received in February (Near Miss). we have four extra planes on board, two for MINNEAPOLIS and two for <strong>WICHTA</strong> .
July 17 Started bombardment of Guam again, at noon today, in preparations for invasion. After firing for about five hours we lay to, and sent divers over the side to look at No. 3 screw (shaft) diver reports screw and shaft are missing up to stern tube.
July 18 Resumed shelling of Defenses on GUAM, after retiring for the Night.
July 19 Resumed shelling of Guam at 0800. gave 40 Mm ammo. to LCI's and shot some more. ST. LOUIS had the shelling duty Tonight, all night.
July 20 Kept firing all morning until noon, g gave LCI's more ammo then resumed firing until sun down. Retired from the island with rest of force. The MINNEAPOLIS has the duty.
July 2 1 Started bombarding at daylight. troops started in at 0804. At 0822 we laid down a barrage ahead of the troops. It was everything we had of five and six inch shells, lasting; eight minutes until 0830. Began firing with shore fire control parties spotting forces. Fired in support of troops all day Marine Commander said our fire was good.
July 22 Still supporting troops until noon knocked off to load more ammunition.
July 23 Resumed fire at daylight and was on call fire all day and night. one of our salvos ( Fifteen 6" Guns) was seen to destroy over a thousand Japs, according to the spotter.
July 24 Resumed firing at daylight and fired all day, and according to the spotters firing was right on target.
July 25 Loaded more ammunition and resumed firing support barrages.
July 26 Supported troops with fire when called, all day and night.
July 27 Left support area to refuel to the north of Guam. Then headed back to the support area. knocked out the Japs dusk counter attack.
July 28 Continued support of troops on island.
July 29 Unloaded six inch bombardment ammo. to HONOLULU and five inch ammunition to <strong>WICHTA</strong> .
July 30 Left Guam at 1200, as our part of the invasion is completed. en route to Eniwetok with the IDAHO, NEW MEXICO and SAN FRANCISCO. Our force includes four escorting Destroyers.

Aug. 2 Arrived and anchored in Eniwetok anchorage.
Aug. 3 Underway at 1830 for Pearl Harbor, with BB NEW MEXICO and SAN FRANCISCO and two Cans.
Aug. 9 Entered Pearl Harbor for the first time in two years.
Aug. 10 Underway from P.H. by our self this time.
Aug. 16 Arrived stateside. went right through L.A. harbor moved into San Pedro Naval Dry Dock.
Sept. 7 Received 21 days leave.
Oct. 5 Underway for trial runs. Operating with the "BB" NORTH CAROLINA off San Clemente Island
Oct. 11 Anchored inside LA. breakwater.
Oct. 12 Underway for Pearl Harbor. Westward Ho.
Oct. 20 Moored in Pearl Harbor.
Oct, 22 Out to exercise with PASADENA
Oct. 25 Put in to P.H. for ammo.
Oct. 27 Out for more exercises with PASADENA
Oct. 29 Back in to P.H. for fuel, provisions, and passengers.
Nov. 1 Underway with PASADENA for Eniwetok, speed 21 Knots.
Nov. 6 Arrived Eniwetok and took on fuel then got underway with Pasadena, speed 21 Knots.
Nov. 8 Arrived in Ulithi, 120 miles east of Yap.
Nov. 12 Underway from Ulithi with our old Pals the "Cans" NICHOLAS and TAYLOR. go west, young man picked-up surface contact at 2100 off Yap. Closed to 10,000 yards and what was probably a Submarine submerged. NICHOLAS dropped ten depth charges, last one causing heavy explosion below her. NICHOLAS stayed until sunup to see results.
Nov. 13 Arrived in Palau anchorage.
Nov. 14 Underway with (Battleship MARYLAND, COLUMBIA, and seven Destroyers.
Nov. 16 Sighted first Philippine Island at daybreak. Moved into Leyte Gulf, under paravane protection. rendezvoused with rest of the Seventh Fleet under Vice Admiral Kincaid. our Task Group (77.2) contains three Wagons; the CALIFORNIA, PENNSYLVANIA, and MARYLAND (Flag). four Cruisers: ST. LOUIS, MINNEAPOLIS, COLUMBIA and DENVER, with About eight Destroyers Including the NICHOLAS, TAYLOR, JENKINS and a Limey "Can". the other Task Group Consists of the Battleship MISSISSIPPI, four Cruisers NASHVILLE, BOISE, PHOENIX, and the SHROPSHIRE (Australian), with about eight "Cans". We lay to all day, with the fleet splitting and taking formation at sunset. Our job is to patrol the Gulf and keep the Japs from reinforcing their troops. Air alert at dusk, but no attack.
Nov. 17 Lay to all day, with an alert but no attack at dusk.
Nov. 18 Air Raid over Leyte. One Jap was seen to go down. alert sounded at dawn, but no attack to all day. Two alerts late this afternoon. On last alert a Jap dive bombed dropped a bomb at one ship and escaped. learned that the COLUMBIA took a 1100 pounder down the stack. (I learn later that my cousins husband was killed ).
Nov. 19 Lay to all day. COLORADO relieved the CALIFORNIA. Three alerts after noon.
Nov. 20 Continued patrol of Leyte Gulf with T.G. 77.2
Nov. 21 Two alerts after noon.
Nov. 22 Two alerts after noon. one of our PBY's crashed on the beach close to the Japs. Natives said they would build a fire tonight if they found the plane.
Nov. 23 Two alerts in afternoon, with planes dropping two bombs and doing no damage.
Nov. 24 One alert in afternoon and one after dark we fired at a group of planes which came right over the ship, but don't think any were hit. Then we had a submarine contact.
Nov. 25 One alert in the morning and three after dark. BB WEST VIRGINIA and MONTPELIER joined us.
Nov. 26 Still patrolling in Leyte Gulf, with three alerts today.

Nov. 27 Dawn finds Task Force refueling from a tanker. Situation is this: the Task Force is in a large rotating circle formation, with a Destroyer ahead and one astern of the circle. The tanker is in the center, and the vessels are taking their turn at fueling. At about 1100 air defense is sounded. At 1138 I heard the weird drone of a diving plane and looked up just in time to see a Jap plane cut loose his bomb, which fell between us and the DENVER, not far off our port bow. A split second his wings came off and he crashed into the sea. Not a shot had been fired. Still a few seconds later all "Hell" broke loose. Our guns fired rapidly at a plane which was hit time after time but it kept coming at us, it came down over the port side of the fantail and crashed into our hangar deck and exploded, plane, bomb, pilot and all. All guns continued firing , a plane headed for the bridge, coming down fast, and it is hit also. Small explosion observed and plane swerves to left, (Goes between the Stacks) and falls into the water, but just barely. I collected a piece of his wing. A piece of the 5" armor belt has been knocked off. explosion causes rupture of hull under Mt. No. 4, and fire is raging in "Hangar Deck" and the Chief's Quarters. We are still shooting down planes of Japan death defying "Kamikaze" air force, which we call "Suicide" planes. A "Suicide" plane crashes into the bridge of the BB Colorado, killing 19 men. our air coverage has never shown up and we hear that bad weather is hindering McArthur's P-38's, at about 1230 the air raids end, but before that, the wounded are already being brought in for care. One more alert before dark, but no attack this time. sixteen of our shipmates were killed today.

Nov. 28 Three alerts today, but no attack. Nov. 29 Started giving 5" ammo, and fuel to Destroyers, we serviced four and the COLORADO is doing likewise. Near sundown another alert sounds. planes dive at PORTLAND and we knock it down. the MARYLAND takes a hit on her forecastle and fires are starting. One Destroyer takes a "Suicide" plane amidships. During a lull, the ST. LOUIS and the COLORADO, with four tin "Cans" leave the Task Force and head back into the Pacific. Darkness brings a plane overhead and we fire with unknown results. We receive word that the MARYLAND has taken a "Fish", and the Task Group was under air attack for an hour and a half. One Destroyer sent back to help or relieve one that has been damaged.

Nov. 30 BB COLORADO is called back to Leyte to relieve the MARYLAND. Now ST. LOUIS and two "Cans" are alone we picked up two Jap Supply Barges and the TAYLOR sinks them both.
Dec. 1 Headed southeast for Manus Island in the Admiralties for repairs. One month today since we last received any mail.
Dec. 2 Felt a heavy jolt about midnight. At early daybreak sent diver over side to inspect and he reports that No. 2 screw has split and turned back.
Dec. 4 Arrived in Manus.
Dec. 9 Entered Floating Dry Dock to remove screw.
Dec. 10 Left "Dry Dock" and Manus Island after dark proceeding to Pearl Harbor with MARYLAND and five Destroyers.
Dec. 15 Refueled the Destroyers.
Dec. 19 Arrived in Pearl Harbor and learned that our mail was lost due to hit on ship carrying our mail.
Dec. 20 Underway for the States.
Dec. 26 Arrived "Stateside" and got 15 days Leave.

1945

Feb. 16 Out for trial runs.
Feb. 24 Underway from States for Pearl Harbor.
Mar. 1 Arrived in Pearl Harbor.
Mar. 3 Underway from Pearl to Eniwetok, with two "Cans".
Mar. 10 Arrived Eniwetok , refueled, then got underway again with same two Cans.
Mar. 14 Arrived in Ulithi and had our first air alert since leaving.


Mar. 15 Underway with Task Force 58 to attack the Jap Mainland. T.F. 58 consists of fast Carriers, Battleships, Cruisers, and Destroyers. Task Force 58 is divided into four different Task Groups, each containing some of each of the above mentioned types of fighting Ship. ST. LOUIS is attached to T.G. 58.4 consisting of three CV's, the ENTERPRISE, YORKTOWN, and INTREPID. Two CVL's (Carriers converted from Cruiser Hulls.) The INDEPENDENCE and the LANGLEY, two Battleships, the MISSOURI and the WISCONSIN. two CB's (battle cruisers) the ALASKA and the GUAM. Our light cruiser ST. LOUIS and AA Cruisers FLINT and SAN DIEGO, with Fifteen Destroyers.

Mar. 16 Task Force 58 mission is to attack the Home Islands off Japan. Honshu, Kyushu, and Shishuku.

Mar. 18 Launched first strike at airfields, warships and shore Installations. Japs came after us with "Suicide" planes, getting a hit on the ENTERPRISE, and a near miss on the HORNET. Average three raids per day.

Mar. 19 Launched strike at crippled ships. Japs seriously damage the FRANKLIN, and she has to be towed for Eniwetok. Japs constantly harassing us, but our fighters do a great job of shooting most of them down before they get to us.

Mar. 20 Covering the FRANKLIN's retreat. ALASKA, GUAM and FLINT screening her. Sill having air raids. we launch another strike. ENTERPRISE left us to make up Tg. 58.5.

Mar. 21 We have blown up several floating mines. Today our pilots shot down 21 Betty Bombers (twin Engine) and 12 fighters attacking our group, with a loss of only two of our planes.

Mar. 22 Tanker fueled the force today, and we were joined Later by the ALASKA, GUAM and NORTH CAROLINA
(We broke away from the tanker four Times).

Mar. 23 Today Task Force 58 launched an air strike at OKINAWA in the islands north of Formosa. No planes to Speak of were found Either on the ground or in the Air, though we had several alerts from Bogies being on the Radar.

Mar. 24 All Battle wagons of T.F. 58, as well as our Carrier's planes attacked OKINAWA, bombarding and bombing. ST. LOUIS and two Destroyers left T.F. 58.4 to join T.F. 58.1, consisting of the Hornet, Wasp ( CV's ), and two CVL's, Six other Cruisers and numerous Destroyers.

Mar. 25 Left T.G. 58.1 after midnight to join the bombarding force T.F. 54, led by Admiral Spruance's Flagship, the INDIANAPOLIS. Adm. Spruance, Commander Fifth Fleet. Task Force 54 is made up of old BB's TENNESSEE, NEW YORK, ARKANSAS, TEXAS, NEVADA, NEW MEXICO, IDAHO, and WEST VIRGINIA; the Cruisers INDIANAPOLIS, PORTLAND, PENSACOLA our ship the ST. LOUIS, BIRMINGHAM, BILOXI, <strong>WICHTA</strong> , NEW ORLEANS and MINNEAPOLIS. With us are several Minesweepers of different Types. not far away is T.F. 52 consisting of 18-CVL's (escort Carriers) for Support, and their Force of screening Destroyers.

Mar. 26 Started bombarding a small island that will be used for setting up artillery. Other ships bombarding OKINAWA. We are steaming along slowly in column with other ships while a column of Minesweep's sweep for mines . Three torpedo wakes spotted. One passed three hundred yard. ahead and one passed about 100 yards astern. <strong>WICHTA</strong> spots periscope, and our Destroyers attack with depth charges. At 1300 ST. LOUIS commences firing on OKINAWA, expending 300 rounds of Six Inch ammo. Force regroups for the night.

Mar. 27 Air attack at dawn. A Twin engine Betty took the radar off a Destroyer before dawn. Less than a dozen planes attack and five of them are shot down one crashed into a Destroyer. ST. LOUIS and two "Cans" sent to cover a group of Minesweep's about forty miles north of OKINAWA. At dusk we join the force for the night and head out to sea. At about 0100 a group of Jap PT Boats attacked our mine sweepers off shore. Two were sunk, one damaged, and four fled.

Mar. 28 At dawn we head in toward the beach. It is a nice clear day and the Mine Sweeps by the score are busy sweeping and exploding mines, (Sixty in All). We commence firing on the beach at 1000, with the <strong>WICHTA</strong> , BIRMINGHAM, and two "Battle Wagons" we fire all day. One Submarine Alert. One "Minesweeper" was sunk by a mine which exploded too close aboard. At sundown we moved out to sea. At 1900 a Bogie came prowling around but that's all.

Mar. 29 At dawn we head in for the beach. air attack, and a "CAN" took a Kamikaze aboard. Moved in close to shore and fired on shore targets until near dusk. Move out to sea with the rest of the force. Bogies hovering around as usual.

Mar. 30 Bombardment continued. Air alert. British and T.F. 58 are hitting other islands including Formosa. Moved out to sea. Bogies get close enough to shoot at tonight. No hits, but drive them away.

Mar. 31 Entered Kerama Retto passage to get ammo. Learned that INDIANAPOLIS took a "Torpedo" this morning and the BILOXI got 1100 pound dud bomb. At 1330 went back over to OKINAWA to continue bombardment, and at dusk moved out to Sea. At about 0230 a forward Destroyer shot down a "Zeke" bomber and our night fighters down 3 more planes. Torpedoes were again fired at our formation by either planes or a submarine.

Love Day (Invasion)

April 1 Started early bombardment of OKINAWA. BIRMINGHAM shot down a "Val" dive bomber that tried to crash dive her. We are laying a steady barrage right on the beach. The sun is coming up and we move in to 1500 yards of beach. LST's, LCI's, LCM's, etc. move in closer behind PC. About 200 planes hit the Island with Bombs, Rockets and Machine Guns. Can barely see the beach now because of the smoke. LCI's go in-shore and fire their rockets while the larger ships continue to fire. Air strike ends and landing craft assemble, rendezvous, and head for the beach. When the troops hit the beach we raise our fire by 500 yards inshore.

Marines and Army hit beaches at 0830. The Marines are the Second, Third. and Fourth Divisions, and the Tenth Army troops under Gen. Buckner. This is the first joint invasion by the Army and Marines. After one hour and ten minutes our troops capture the first airstrip unopposed and a plane makes an emergency landing on the intact field. About 1100 they capture another airfield and are about half way across the island at its narrowest point, which is about three-mile. At about 1200 we can see the "American Flag" flying from the highest point of captured land. They have taken all of the ST. LOUIS target area so we cease firing. About 200 LST's and other landing craft, not including lighters, can be seen close by. The troops have met only slight resistance so far.
Near dusk we are called upon to give support to troops. We knocked out a heavy Jap battery that was firing onto the beachhead. At the same time Jap planes come in and either bombed or crash dived into two transports. We provided illumination by "Star Shells" all for the troops. Army and Marines have joined forces on the opposite side of the island.

April 2 Had usual morning air alert and then dropped anchor. Silenced a heavy gun firing at our troops. It was difficult as the gun was in a cave. We used our Six Inch Battery. Near dusk weighed anchor and stood by for Jap counter-attack. Supplies still pouring ashore, we provided "Star Shell" and Six Inch support for troops all night.

April 3 Two alerts on the mid-watch and each time our fighters splashed, them before they got in. One alert at dawn and same results. Loaded up our empty magazines again. Our Troop now have three airfields and our planes are using one of them now. Near sundown (Bogie Time) "Haikou" men (human torpedoes) try again to get at our ships. Our covering air patrol gets five "Myrt's" (dive Bombers) quickly, and then two more later. ST. LOUIS, plus BIRMINGHAM, BILOXI, WICHTA , PENSACOLA, four or five "Cans", and six Battle Wagons get in formation and have another air alert, the show is still the "Bird-men's.

April 4 All ships enter Kerama Retto for fuel and pull out near dark.

April 5 ST. LOUIS and one Destroyer leave formation to screen for Mine Sweeps on southern end of OKINAWA. At 1330 we move in close to shore to support Troops, but after eight salvos they don't need it anymore. Moved back off the main beach head and anchored. Had air Alert.

April 6 Weighed anchor ST. LOUIS and TUSCALOOSA proceed around to the southern end of the Island to support troops. First air attack came about 0930. Japs were going to hold a field day on us with 325 planes (we heard later). Three alerts in the morning but the planes do not attack or come within range, with the exception of one, and we missed him as he came out of the Clouds.
At 1330 Bogies move in closer as the weather is cloudy. They continue to attack our ships until dusk and then what are left head for home. We got two planes, a "Zeke" that strafed us and a twin engine job that was a possible assist. Several ships were damaged and only one of our Destroyers was sunk. Ships of T.F. 55 make formation for night.

April 7 ST. LOUIS heads in with one "CAN", to support troops on the southern end of the island. Learn that Task Force 58 has damaged some Jap warships that were headed down here. They launched a 1000 plane raid later and sank a "Jap Wagon", believed to be "YAMATO". We fire five and six incher's all evening then retire to the right of old beachhead, to give fire support and illumination to troops. We drop anchor.

April 8 Start of second week of invasion. Weigh anchor. Report on Jap Task Force one "Wagon", one Cruiser, one large "CAN" or Cruiser, and eight Destroyers. T.F. 58 hit the Jap "Wagon" (which sank), with eight fish and eight 1000 Pound Bombs. The "Cruiser", the large Destroyer, and three Destroyers were also sunk, and two were left burning, while three got away. Seven of our planes were shot down by AA fire.

April 9 Bombard southern end of island defenses and then move back to sea with the formation, air alerts are common, usually at dawn and dusk. The Destroyer "PICKET" attacked by six planes and she shot down four of them. The fifth got a crash dive on her. Another attack by ten "Val's". Moved off harbor entrance and illuminated it with "Star Shells" to keep "Suicide" boats from coming out. stationed riflemen topside.

April 10 Moved into beachhead and anchored. Stayed till next morning.

April 11 Seas very rough, laid off north end of island to support Marines, but they did not need it.

April 12 In formation with T.F.I4 refueling. Quite a few Bogies around at about 1330 more reported coming in. Force. Task Force 58 had already knocked down quite a few this morning and they are still going down. A group of planes coming on the port beam of our formation. Ships on that side splash about eight in succession, but one crashed into a "CAN" and one into the TENNESSEE. Not many casualties though one of our Destroyers was sunk. 119 planes were downed, and bogies hung around close till late. ST. LOUIS went in-shore to give troops support through the night.

April 13 Entered Kerama Retto anchorage to re-arm ship, for the fourth time since the operation began. Near dusk we got underway by ourselves. Air defense set just as we cleared harbor a lone "Val" stuck his nose out and bingo, the starboard five inch mounts fired total of eight rounds and knocked him down at a distance of five and one half miles. two Minesweepers said over "TBS", "Glad' You are on our Side" Reported to beachhead at 2000 to support troops through the night. Each time we go to the beach, and anchor or lay to, we station riflemen and Tommy-gunners on deck to guard against Japs with explosives on their back or "Suicide Boats". Received word that President Roosevelt died on April 12th.

April 14 Moved up among transports, etc. and snatched eight bags of mail, the first in a month, and the first except for two or three bags received since we left. Weighed anchor and headed for eastern OKINAWA coast in the Pacific, to bombard. Entered former Japanese Fleet anchorage and put down the anchor. Very good harbor surrounded by OKINAWA on the west side and by two small. islands plus reefs on the other. Left harbor at dusk after an afternoon of Jap destroying.

April 15 Went back into the harbor and bombarded all day. At dusk all ships left except ST. LOUIS and two Cans. Japs sent quite a few planes over the island and many were shot down. After the raid firing Star Shells and supporting the troops till dawn.

April 16 Mass air attack by the Japs this morning. C.A.P. and ships fire knocked down 49 planes. One of our Destroyers knocked down six, with the last one getting a near miss on the "Can". One LCI was sunk and four Destroyers were damaged. ST. LOUIS lost to the ocean our last SC-1 plane when it clipped the recovery net. That is the fourth we have lost since we got them aboard in the States.
To date, in this operation ,we have expended 3600 rounds of Six Inch bombardment shells, and 3300 rounds five Inch AA Common, Phosphorous and Star Shells at the beach and 450 rounds five inch AA at planes. C.A.P. (combat air Patrol) and other guns knocked down over 200 Jap planes today. One Destroyer picket ship took two bombs, four "Suicide Planes", and shot down six planes. Twenty five Zeke's and Val's had attacked her, and she was still able to make Twenty Knot's when it was all over. ST. LOUIS, two "Cans" and two LCI's have duty on the east coast. No Bogies on radar.

April 17 Still firing at dawn. Then COLORADO, TEXAS, WICHTA , and INDIANAPOLIS join in the pasting party. Air defense as usual, but Task Force 58 's planes (CAP) get all 45 of Jap Planes, who were trying to get to the ships. At 1600 ST. LOUIS and one "CAN" leave the scene and go around to the China Sea side to join a formation consisting of three old Battle Wagons, two heavy Cruisers, and the BIRMINGHAM plus 12 Cans. We have word that a Jap Fleet is coming down at 25 knots. With small craft and everything they can get. Possibly a suicide attempt to run us away. Our Subs first reported them. Kyushu the nearest home island, is only 325 miles away. Should be close before Long. . At 2100 had a Bogie overhead, showed identification. Ten minutes later both ST. LOUIS and "CAN" felt underwater explosion, Possibly a bomb.

April 18 ST. LOUIS and two "Cans" refueled and re-armed ship. At 1630 underway with SALT LAKE CITY and escorting "Cans". At 2100 had air alert. Fired on a plane with one red light, but no identification lights. we fired fifteen rounds but did not hit him. Lucky him, it turned out to be a Marine "F4U" Corsair of ours.

April 19 Went close in and anchored at the beachhead long enough to get our mail ( seven Bags). Weighed anchor and moved south to the beachhead to support the 24th Army Division in a new offensive to clear the southern end of OKINAWA SHIMA. They have been massing materials for the last few days. The First and Sixth Marines reached the northern shore yesterday. At 1430 ST. LOUIS, SALT LAKE CITY and two "Cans" moved to former sector in bay "Wan Chim" on the Pacific Side. Started bombarding at dark. Marines landed on Ie Shima, just west of OKINAWA two days ago and have an airfield there. Ernie Pyle, leading humorist and War Correspondent, was killed today on Ie Shima, at 1000, by Jap Machine Gun bu1let. The report is that he and a Colonel were headed for the front lines in a jeep.

April 20 Moved a little closer in to the beach to support the troops. Wish we had a little more chow to eat. Resumed fire at 0800 and fired all day and through the night. ST. LOUIS, two "Cans", and two LCI's have the duty. OKINAWA has not been pounded like this since love day.

April 21 Fired all day and night and all day on the 22nd. Moved out away on the 23rd. Received mail and bombarded throughout the day. At 1630 ST. LOUIS and two "Cans" leave the beachhead for Kerama Retto, though we will not arrive till in the morning. Task Force 58 downed 52 planes.

April 25 Refueled, re-armed and took on a few provisions. At 1130 took off for main beachhead with one "CAN"and anchored. We have fired about 10,000 rounds of five and six inch shells.

April 26 Weighed anchor and moved to the right of the original beachhead off the town of Naha (not the first time) to support troops who are having lots of trouble ( 24th Corps US Army).we bombarded all day and night, and added Star Shells for illumination. Destroyer over on east coast in Kummu Bay (where we were last week) was hit and damaged by a "Suicide Boat".

April 27 Laid off main town of Naha and supported Army Boys in their drive towards Naha. the largest airfield on the south coast. the MINNEAPOLIS and two "Cans" encountered return fire but it did no damage we fired back and he ceased fire for some reason. Moved over by the transports about 1700 and "Long Tom Charlie" opens up on an ammunition's ship astern of us. Then "Bogies" start coming in and they sink two of our transports or supply ships. We move back over by Naha and plaster the Jap Nimrods Cave and no more is heard from him. Fired "Star Shells" and harassing fire the rest of the night.

April 28 Still off Naha about 15,000 yards we didn't fire until afternoon, then opened up on Jap" Suicide Boats" in-shore knocked off seven of a total of nine boats. Trained on numerous targets around Naha and fired much ammo. More "Bogies" in the air the last couple of days. The Japs must have let out a new class of " Haikou " Boys. Will fire illumination and harassing fire against attempts to use "Suicide Boats". Each "Smoke Boat" lays a thick screen around the transport area. We are all by ourselves down the coast about ten miles. Numerous "Bogies" in and around the island. One "Bogie" coming in until he was seen silhouetted in the moon, range 6,000 yards, a twin engine bomber. Opened up with the five inch battery and knocked him loop-legged, with 120 rounds. We have fired about 12,000 rounds of 5"and 6"ammo. since the start of the OKINAWA operation. 105 Jap planes knocked down this evening by CAP and AA fire. The Hospital ship "Comfort" was hit by a "Suicide" plane near dark at Kerama Retto. Last night while Salt Lake had duty at this end, three Suicide Boats broke through and one of them blew a five foot hole in the side of APD-25. Our troops are just approaching outskirts of Naha (pop.50,000)

April 29 Fired in support of Army on same (West) side all day and fired illumination and harassing fire at night.

April 30 Moved up along side LST in transport area to get ammunition as we are almost out of both 5" and 6" shells, at 1500 set condition II and resumed our bombardment (around Naha) that the Japs love so well. Moved back to right of transport area and continued to give illumination and fire support to the 24th Corps.

May 1 Went into Kerama Strait anchorage and re-armed and took on supplies. received " Well Done" from Task Force Commander we were with last night. (As if it were the first shore battery we'd ever silenced) Oh Well!!! at 1730 we get underway with two cans, for resumption of bombarding. Troops now past Yanabaru and have taken Yanabaru Airfield. Supported troops from anchorage near transport area. About 0100 a shore battery opened up so we must have silenced him, because he's not shooting any more. He was getting to close anyhow.

May 2 Moved back off Naha and gave support to newly engaged First Marine Division, who have just taken the airstrip north of Naha. They were moved from Northern OKINAWA. One "CAN" ( a radar picket) took a "Suicide Plane". Moved back in transport area and provided support by illumination and harassing fire all night

May 3 Moved off Naha again. One Destroyer hit by five Jap suicide Planes, and another hit by two. Continued fire, main target enemy troops. At dusk moved close to transport area. Lots of "Bogies" all the time and some of them get in. Gave support all night. Have at least three alerts daily and some at night.

May 4 Usual morning General Quarters. the Japs landed a force just south of where we are anchored, and behind our lines. We took them under fire and did good work according to the army reports. Looks like a new class of "Haiko Boys" as we have four raids this morning and 30 planes have been accounted for by our forces to noon. HELLO knocked down one "Oscar" with 40 mm fire. The Destroyer LENTZE was sunk and the BIRMINGHAM and the Destroyer MORRISON each got a "Suicide Plane" hit. The ENTERPRISE (T.F. 58) caught another bomb two days ago. Also damaged three "Cans", a Seaplane Tender, and the Hospital Evacuation ship "PRIDLEY" caught a suicide on the bridge.

May 5 Moved back down the beach toward the southern end as usual and bombarded with other ships. ST. LOUIS has quite a stack of complimentary dispatchers from Army, Marines, Admirals, etc. Most of warships move in among the auxiliary ships at the beachhead at dusk, as an AA screen, but we can still support the front lines. In the daytime we have a large CAP (Combat air Patrol).

May 6 Same routine, the fighting is slow on the island. our casualties are around 16,000. Stayed off the southern end of the Island with two "Cans" tonight to illuminate possible landing or Suicide Boats. Also supported front lines.

May 7 Dawn comes, with no air attack and we are still pounding away for the 40th consecutive day and almost that many nights.

May 8 Into Kerama Reto anchorage for fuel, ammo, and stores. At 1700 underway with <strong>WICHTA</strong> for beachhead and anchored there. At 1200 we fired full salvo for V-E Day.

May 9 No GQ. Underway with two "Cans" for east coast and our former hangout. Anchor after noon.

May 10 Still don't fire but very little. Others are firing some. Moved out a few thousand yards.

May 11 Moved back in-shore. Japs are undergoing a terrific air strike, and in return throw out a hail of AA fire, which we in turn fire at. ST. LOUIS was made a "Fighter Director" yesterday. we have four fighters from CAP assigned to us. One Marine Fighter chased a Jap twin engine job from directly overhead out to 100 miles and then knocked him down by chopping off his tail with his prop, then glided back from 40,000 feet and 10 miles out, and landed at Yontan air field. Sounds like a "Sea-story" to me, but I hope it is true. A Destroyer was sunk today by a bomb, two "Suicide Planes", and a Torpedo, only after it had shot down 3 Jap planes and directed fighters to 12 more.

May 12 Two more radar director ships hit by suicides. we continue d to give support fire. First Marines relieved the 27th Army Division after it suffered sixty percent casualties. Army driving on east coast ( our side ) our line across the island is like a horse shoe. 165 Jap planes shot down today.

May 13 Moved close in-shore to give support to the upper ridge. Don't fire as much as before. Battle Wagon NEW MEXICO was hit last night by a Suicide plane and had 157 Casualties. "Bogies" every night, and as usual, some get in and some don't.

May 14 Weighed anchor and moved in close to support 96th Division on the east coast, flanked by the 77th division, then 1st Marines in center and the 6th Marines, on the west Coast. At night we move out farther into Nagasaki or Wan Bay and fire "Star Shells" and harassing fire.

May 15 Move in close again to give support. Ships present TEXAS, NEW YORK, MISSISSIPPI, WICHTA, NEW ORLEANS, and ST. LOUIS, with several 2100 Ton "Cans". A few auxiliaries coming around on this side in order to shorten supply lines. At 1600 ST. LOUIS and a 2100 Tonner, and APD-121 head for China Sea side to the transport area and anchor for the night. "Bogies" come in after dark and drop bombs hither and yon, hoping to hit , but never do. They harass us all night, almost every night.

May 16 HELLO and two "Cans" head for Kerama Retto to re-arm. Our guns are almost worn out, having fired over 16,000 rounds of 5" & 6" Shells. ST. LOUIS has fired more and most accurate fire in the OKINAWA Operation, according to reports from the beach and the Flag. At 1730 we complete loading ammo. and with two "Cans" head for the transport area to anchor, and be heckled by those midnight "Haiko Boys''.

May 17- Weighed anchor at dawn and headed for Pacific side and Nagasaki Wan. Arrived in the morning and started supporting the 96th & 77th. Divisions.

May 18 Moved back in close and continued support. "Bogies" damaged one radar picket last night. Sixth Marines have taken Naha on the West Coast. one Destroyer was hit by shore fire and fires are raging on board. the "CAN" had to be abandoned and destroyed. the Destroyer Minelayer "FOX" was the ship hit by a "Suicide Plane".

May 19 Moved in very close and gave support to the 96th Division. "Bogies" come in mostly at dusk now and invariably damage a ship or two. Today was the ST. LOUIS' sixth Birthday and we celebrated with a Turkey Dinner off Yanabaru. We have been credited with shooting down 5 planes since the start of this operation, and have expended 23,500 rounds of 5" & 6" Ammo., more than any other ship ever expended in any operation to date. Our fire has been the best according to the shore and plane spotters .

May 20 Underway for China Sea and transport area to clean out leaded guns. the MOBILE relieves us ."Bogies" have fairly good luck tonight, hitting two of our Destroyers and a DE. which in turn knocks down three planes. They very seldom get though, because of the smoke screen. Midget Subs have been trying to get in to the ships the last two nights, but have been unsuccessful so far.

May 21 Underway for Nagasaki Wan on east coast to resume bombarding. Ships present: SAN FRANCISCO, TUSCALOOSA, PORTLAND, ST. LOUIS and several "Cans".

May 22 Fired our quota for yesterday, but was requested to fire last night so we did so. Weather bad and not too much activity. Japs Infiltrated our lines and now there is some fighting behind them.

May 23 And we still have our usual "Boogies", and our usual GQ when they get too close, and it seems always at dawn. With our constant "Condition 1" and an occasional "Condition II" the stress at times is almost overwhelming. Last but not least, we maintain the prolonged hammering of our 5" & 6" batteries in support of the troops. For the last two weeks we have assisted the 96th and 77th Division of the Tenth Army. They have captured Yanabaru and almost have Shuri. We leave them and our sister ships for the transport area on the other side in the China Sea, to get some more of that ever disappearing, ever replenishing ammo. which will be brought aboard tomorrow at Kerama Retto (probably).

May 24 Lay at anchor in the anchorage all day. At 1730 moved down the coast off Machinato Airfield just north of Naha. Will fire stars and harassing fire tonight. Ships present: The PORTLAND, WICHTA , ST. LOUIS, one old Battlewagon and three Destroyers. About 2000 the "Bogies" start coming in. We fire at two raids that come in close on the 8 to 12 watch, have 23 raids. Mostly on Yontan Airfield and the transport area.

On the midwatch, eight Bogies were shot down. three ships have been damaged, two by Suicides and damage to the APD-26 by undetermined source. The other two, a DE and the DD-472. A Merchant ship is hit by a torpedo in Nagasaki Wan.. One hundred and eleven Jap planes have been knocked down in the last 24 Hours.

May 25 Fired continuously today at Japanese troops and killed quite a few. Gave harassing fire tonight when the "Haiko Boys" were not to close. Have fired all except 100 rounds of 6" ammunition, and practically all our 5" Ammo., in fact it may all be gone except some 5" special ammunition.

May 26 Moved back up to Hagushi beachhead and anchored. have fired a total of 26,600 rounds of five and Six Inch ammo. since this operation started. Stayed under protective smoke screen all night. Adm. Halsey came in on the MISSOURI, for an inspection of the island. he has been back in WASHINGTON, DC planning another operation. We get a new Exec from the MISSOURI.

May 28 Fired at Jap Float Type plane astern, and so did all the other ships around us. It fell between the WICHTA and ST. LOUIS, so we get credit for an "Assist" bringing our score to ( Six ) planes for this operation, and fifteen all told. It seems that every ship west of Pearl Harbor claimed that plane. Underway at 1100 for Leyte, (the whole crew is just completely exhausted) with ships WICHTA , MOBILE, and three Destroyers. At 2200 we pick up a (US) carrier Task Force.May 31 Entered Leyte Gulf (Suicide Gulf) to us. Then on up to San Pedro Bay and the anchorage.

June 8 A US Army P-38 Crashed into the CV Randolph, starting a huge fire on the bow, but it was put out quickly.

June 14 Underway for OKINAWA with the WICHTA , a "CAN"and a DE. fired AA practice. (Think we need it ??? )

June 18 Arrived at OKINAWA and anchored at Hagushi Beachhead.

June 20 Underway with TENNESSEE, WEST VIRGINIA, WICHTA , TUSCALOOSA, SAN FRANCISCO, and screening "Cans", for training maneuvers, also patrolled to the north.

June 22 Now 175 miles northwest of OKINAWA.

June 25 <strong>WICHTA</strong> and ST. LOUIS left for Kerama Retto to refuel.

June 26 Arrived in Kerama Retto fueled, and left.

June 27 ST. LOUIS and CHESTER rejoin T.F. 32.1

June 28 WICHTA and ST. LOUIS, with two Destroyers detached to intercept a Jap Cruiser headed to OKINAWA to attack our ships there. At 1930 we leave T.F. and headed north at 27 Knots.

June 29 Headed back southeast at about 0300 after an unsuccessful search and joined force with the T.F. fired drone practice at 1800. ST. LOUIS and one Destroyer proceed to OKINAWA area to patrol in case of surface attack on our shipping.

June 30 Rejoined T.F.32.15. Not many enemy aircraft around our area of patrol now. At 1800 ST. LOUIS and one "CAN" proceeded to OKINAWA area look as a surface picket.

July 1 Served as surface picket during the night and then entered Kerama Passage anchorage to refuel.

July 2 Returned to T.F. 32.15

July 4 Refueled from tanker and rendezvoused with four CV's . T.F. 32 is embarked on a two week mission of covering mine sweeping operations in the China Sea. Our force at present consists of BB's TENNESSEE, (Adm. Oldendorf commanding ), NEVADA, (CA's) WICHTA and CHESTER, ( CL's) ST. LOUIS, 11 DD's and 2 DE's., also four CVE's.

July 6 One "Bogie", a "Nick" Fighter was shot down by the CAP another Bogie appeared over head at 17,000 feet, possibly snooping. two Corsairs got him now 100 miles west of OKINAWA

July 15 Battleships, Cruisers, and most of the Destroyers left the Carriers at midnight. entered Buckner Bay (Nagasaki Wan) at daylight.

July 16 ALASKA, GUAM, CLEVELAND, COLUMBIA, MONTPELIER and DENVER all come in for fuel and leave at dusk.

July 17 T.F. 32 underway (CV's came in this Morning) and expect to run into a Typhoon shortly.

July 20 Anchored in Buckner Bay, after fueling. Underway to continue covering the Minesweeping Operations.

July 22 Combat air patrol shot down two Bogies

July 27 Task Force 32, minus the TENNESSEE, moved westward toward the China Coast, to cover the ALASKA, GUAM and four Light Cruisers who are bombarding the China coast which is now 140 miles away. Minesweepers are still sweeping the China Sea and we continuously pass and explode them (Mines).

July 28 TENNESSEE rejoined us. one of the CVE's joined Task Group 95.2 which is the ALASKA, GUAM, four Light Cruisers, and nine "Cans" .They have been closer to the China Coast. Launched a 60 plane strike at Shanghai this Morning.

July 30 Arrived in Buckner Bay. one "CAN" sunk and one damaged by Suicide " Betty's ". (Navy name for Japanese Bomber)

July 31 Underway with TENNESSEE (Flag), CALIFORNIA, NEVADA, WICHTA and three CVE's , five DD's, and four Destroyers to protect the Minesweepers, also to escape another Typhoon.

Aug. 4 Just barely missed a mine today. There are many in the water. We wonder how many we pass at night and how close. Another mine field has been discovered.

Aug. 5 Our Task Force planes bombed Shanghai again. Heard today that INDIANAPOLIS was sunk. CAP shot down a dive bomber and a four motored bomber. Later we Learned the INDIANAPOLIS was sunk by a Sub.

Aug. 7 Entered Buckner Bay for fuel, ammunition and supplies. Sent a recreation work party to OKINAWA for the first time.

Aug. 10 Japanese accepted (After the Atomic Bomb) Potsdam Treaty if the Emperor can remain head of State.

Aug. 11 Waiting on word from WASHINGTON, D.C.

Aug. 12 Washington accepts if Emperor accepts orders from the Supreme Allied Commander. Waiting on word from Tokyo. PENNSYLVANIA came in this morning and was hit by Aerial Torpedo while at anchor, about 2030. The fish made a 60' hole in her stern.

Aug. 13 T.F. 95 got underway for protection against another torpedo attack.

Aug. 14 Entered Buckner Bay for the day. Learned that another ship, an APA had been hit by a bomb last night. Japan said they have just received a reply from WASHINGTON, which had been on the way for 36 hours, also that their reply is now on the way to WASHINGTON, via Bern, Switzerland. hope to God it's "Yes". In the meantime we take no chances and get clear of Buckner Bay for the night.

Aug. 15 Enter Buckner Bay. President Truman announces that Japan has accepted peace terms. Submarine contact by two DD's, between Sub Net and anchorage. Get underway before dark to leave harbor.

Aug. 16 Task Force 38 still shooting down Jap planes. Enter Buckner Bay and get underway, leave the harbor for the night.

Aug. 17 Enter Harbor, anchor, then underway to refuel. After leaving tanker, ST. LOUIS and DD-544, the FORD, leave Buckner Bay, OKINAWA, T.F. 95 , and the 9th Fleet with WICHTA (Flag), for Subic Bay, Luzon PI, to join admiral Kincaid's 7th fleet again.

Aug. 18 En route to Subic Bay via the south China Sea and passing close to the spot where the INDIANAPOLIS was sunk by a Sub, about two weeks ago. She had nearly 100 percent casualties. The Japs had many Subs and Mines around here. Japs still send up planes to attack ours and we still shoot them down. Fighting still continues, we remain alert and the war is still in progress as far as we know.

Aug. 19 Sighted Northern Luzon. steaming at 20 Knots. Jap delegation will arrive in Manila at 1900 today.

Aug. 20 Arrived in Subic Bay to join 7th Fleet consisting of four heavy cruisers: NEW ORLEANS, TUSCALOOSA, SAN FRANCISCO, MINNEAPOLIS, and (CL) NASHVILLE, with five 2100 Ton Cans, as well as three 1750 Tonner's. "Bataan Peninsula" forms one side of the Bay. Very much rain. Japs go into conference with MacArthur's representative. Plenty of Gold Braid, Medals and Side-arms.

Aug. 25 The "Heavies" left for Korea.

Sept. 3 ST. LOUIS, NASHVILLE and three Destroyers underway for OKINAWA. Peace terms signed yesterday, aboard the MISSOURI in Tokyo Bay Sept. 6 Arrived at OKINAWA.

Sept. 7 Admiral arrived Aboard the NASHVILLE. The NASHVILLE, HELLO and Destroyers PHILLIPS (498) and WALLER (466) underway at 1730. Another "CAN" (508) joined us for awhile then left.

Sept. 8 Mines still dominant to the west. Destroyed 12 today.

Sept. 9 Sighted islands off China Coast. they still have not surrendered and contain Jap Forces. Sent plane over to observe. Speed has been at 2/3rds for two days due to mines.

Sept.10 Sent planes over islands off coast again today. Planes report no hostility observed. Lost one of our SC-1 planes in recovering operation. Refueled Destroyer SAGELEY (465). NASHVILLE refueled the ROBINSON (452) both "Cans" operating alone. Typhoon in vicinity. Speed 2/3.

Sept.11 Refueled three Destroyers. NASHVILLE did same. We refueled the CONY (508), EATON (510), and WALLER (466) gave stores to CONY. All of us were run out of Buckner Bay to make room for Task Force 38, so it goes. ST. LOUIS and PHILLIPS (498) left force for OKINAWA, dodging the Typhoon.

Sept. 13 Arrived at Hagushi beach and refueled from a tanker. Captain went around to Buckner Bay on the PHILLIPS (DD 498).

Sept.16 An APA hit a mine. ST. LOUIS and PHILLIPS speed up to 23 knots arrive on scene and try to take tow line from APA No 68. Unable to get line in heavy seas. both ships record 40 degree roll on bridge.

Sept.18 Arrive at Hagushi alone and anchor. We are CTG 73-12 and have to round up a Squadron of LCI's , and a few PC's, etc. for Yangtze River Patrol. LCI's are hard to find and it takes time.

NASHVILLE already at Shanghai.

Sept.26 Underway at 20 knots for two hours. Catch up with flotilla of eleven LCI's. (11), other LCI's and LCM's not to far off. ST. LOUIS could be called a "Mother" as we are guarding them all.

Sept.28 Passed through Chusen Archipelago and met the PHILLIPS. Anchored in very muddy water, 42 Feet Deep. PHILLIPS leaves and takes the LCI's with her.

Sept.29 Underway for Shanghai with Shanghai Pilot conning the ship. Up the Yangtze till we come to Huangpu River, then go up it for about four miles. Moor to buoys fore and aft. The ships present and belonging to Yangtze River Patrol. NASHVILLE ( Flag) ST. LOUIS, DIXIE (tender), two LSD's, lots of LCI's, LSI's, PC's, and Cargo Ships. One Hospital Ship, with beautiful nurses astern of us . Man!!! what liberty we had.!!!!

Oct. 11 Underway from Shanghai to anchor in mouth of Yangtze River. Anchored after crossing the bar on high Tide.

Oct. 12 Underway with PHILLIPS and two Mine Sweepers at 7 Knots.

Oct. 14 Still traveling slowly being cautious of many mines. We are headed for Formosa to land Chinese troops. Jap planes and German planes have been reported over the island so we have to be aware of treachery.

Oct. 15 One YMS brought Jap Pilots out to us. Fired at several mines. Entered KEELUNG HARBOR, FORMOSA, about 1300 and received a hearty greeting from the Chinese, since we are the first Allied Warship to enter in several years. ( 11 or 12 yrs to be exact) PHILLIPS followed us in. All moored to dock.

Oct. 17 Six LST's from Shanghai came in today bringing about 3000 Chinese troops for the occupation.

Oct. 20 ST. LOUIS underway from KIRUN, Formosa alone headed for GUAM .

Oct. 24 Arrived at GUAM and took on fuel, provisions, and passengers.

Oct. 25 Underway alone for Pearl Harbor with 500 more passengers, 200 from Shanghai, at 17 Knots.

Nov. 2 Entered Pearl Harbor and moored at CruDesPac.

Nov. 3 Underway at 17 knots for San Francisco. (eight and one half months out this time) .

Nov. 8 Docked at Pier 7 San Francisco.

Nov. 9 Moved to Pier 35.

Nov. 13 Underway for Pearl. Harbor.

Nov. 19 Arrived at P.H. at 1000 – got underway at 1330 for Guadalcanal, to bring back troops.

Nov. 25 Crossed line.

Nov. 2 Entered Reynard Sound, Russell Islands picked up 400 colored passengers. proceeded to Guadalcanal and picked up passengers while at anchor off Henderson Field, then underway for ESPIRITU SANTO.

Nov. 30 Anchored in Segund Channel and picked up passengers, then underway for Samoa to Refuel.

Dec. 2 Entered Pago Pago Harbor.

Dec. 3 Underway for San Diego.

Dec. 14 Arrived in San Diego, disembarked passengers, and got underway for San Pedro.

Dec. 20 Underway for GUAM .

Dec. 26 Arrived in Pearl Harbor, underway at 1600 for Kwajalein, with passengers.

Dec. 29 Arrived in Kwajalein, then underway for GUAM with passengers and Jap Prisoners.

1946

Jan. 6 Entered APRA Harbor, GUAM . Jan. 9 underway at 17 knots for Pearl Harbor with 600 Passengers.

Jan. 17 Arrived Pearl Harbor.

Jan. 18 Underway for San Francisco.

Jan, 23 Arrived San Francisco.

Jan. 25 Moved up to NSD, Oakland Dock.

Feb.7 Underway for Panama.

Feb. 15 Arrived in Balboa. Panama Canal Zone.

Feb. 17 Underway to transit Panama Canal, arrived Cristobal at 1400.

Feb. 20 Underway for Philadelphia.

Feb. 25 Docked in Philadelphia Navy Yard, to be put into the Reserve 16th Fleet. Philadelphia Naval Base.

June 20 ST. LOUIS decommissioned and put into out-of-service, out of commission status.