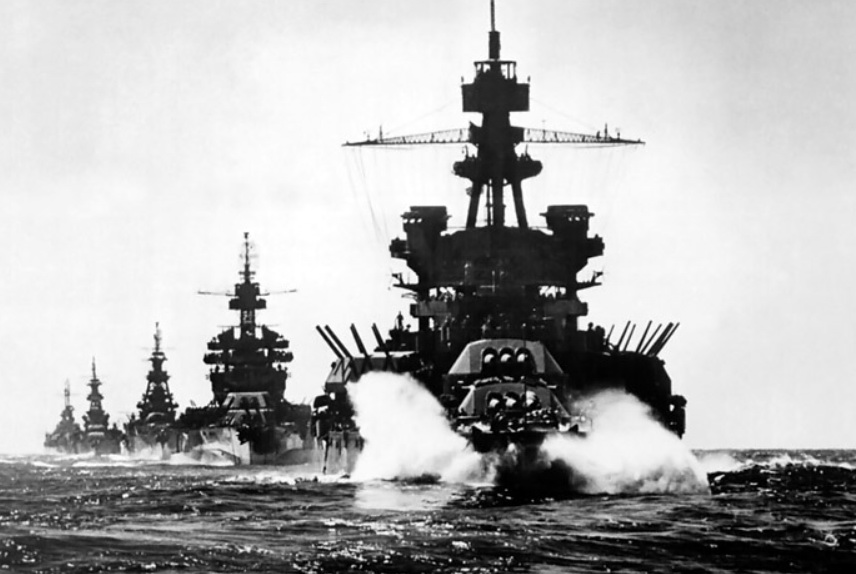 2 Battle ships -- 3 cruisers in a row, on zigzag maneuver
As I continue to pick up these little bits and pieces of shipboard and real life stories, I will attempt to save and salvage them for the ages. All contribute to our life in those days and totally they seem to paint a picture of our life aboard ship and our way of living as youth's in those long ago years. JRJ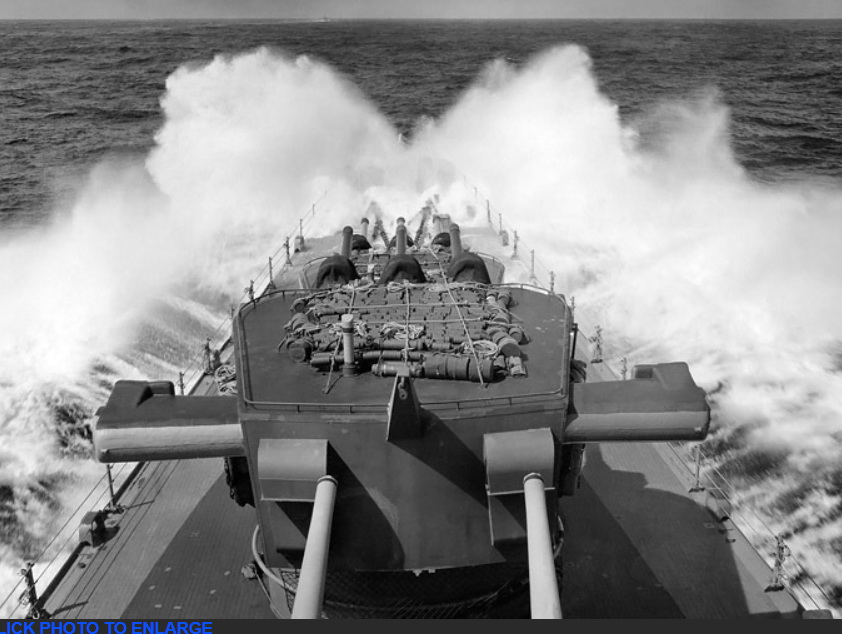 Bobber Nets ( Life Saving) on top of turrets floats as life raft if needed.
Many remembrances and related stories from different old seaman while small group talking at our St. Louis reunions, probably never be a part of world history. But I feel many are much to good to be lost. When these men are no more with us, also will these memories be gone. With this in mind, these stories I feel are very important to our history.
Short little tale from: Rufus Brown , S1/c 1st Division (Deceased)
While anchored in "Purvis Bay" off Guadalcanal early in 1943 (also known as "Iron Bottom Bay") deck seaman Bufford Brown of the 1st division related the story of the PT boat coming up to the bow of our ship,
PT boats were given ice cream from our machines when they came alongside (This was a standard occurrence) and of course they didn't miss to many chances to stop at any "Cruiser" or "Wagon" when they had business bringing them into this anchorage. These little gifts were given freely and as a courtesy to our "little fighters" who had no way to make "Geedunks". Normally where they anchored was quite primitive and not too many accommodations to make life easier. Theirs was a dangerous and brave task daily, looking for and taking on ships ten times their size. in these early days of the war.
The officer in charge hailed our ship and asked permission to come aboard. given reason was then a common occurrence of mutual visiting of an acquaintance officer he knew to be on the ship. This officer by the name of "White". Normal approval was given to the visiting officer by the officer of the deck, with come aboard approval, he then ordered a "Jacobs" ladder be lowered over the side forward by the anchor chain to the PT boat. (this ladder is of hemp 4 twist line on the sides with a wooden slat between for rungs, quite flexible).
An "Ensign" rank officer in charge was left aboard with the manning PT crew. Coming aboard was a tall very slender Lt(jg). Climbing the swaying ladder almost the deck it became by the foot more difficult because of the under curvature of the bow, the ladder with the man climbing swung under the bow. The teller of this story who at that time in life was a large and very strong deck sailor, appointed by his size as the ladder tending deck hand, name of Bufford Brown, (W. Harrison, Indiana) said he reached over, grabbed the (jg) by the seat of his pants and hauled him up to where he rolled over the life line. The now on deck officer in faded khakiís made a quite normal statement!
"Sailor" you about ruined my family jewels!
The coming aboard officer said, if approved by our skipper the PT boat could take the small deck "Jacob's Ladder" detail for a joy ride while he was visiting. It was approved, no problem. This story was confirmed by Tom Garrett another seaman in the detail, now living in Rome City, Indiana and three others, names not remembered, hustled down to the boat, and the on board "Ensign" proceeded to take them for a wild ride a couple of times around this big harbor at 50 - 60 knots of speed.
When the visitor left the ship, the officer of the deck said to the men, "Do you know who that man was? Naturally they didn't. "That was Ambassador Joseph Kennedy's oldest son, John.". Of course this was before the Kolombangara incident in Kula Gulf, in which the PT 109 was rammed and sunk by a Japanese Destroyer, and our future president Kennedy injured his back.
So as this former deck seaman related in later years, I wonder how many people can say they had "John F. Kennedy" Our future and deceased president by the "family jewels" as I did ???
---
Excerpts received from :.................... Dr. John Crawford, 405 N. Front St., Hertford, NC 27944 Ph. (252)-426-7483
Dear Jack,
As one of your more senior readers I probably have not recorded the following humorous incident that occurred when the St Louis was anchored for about five months in the Central Solomons on Purvis Bay.
Word was passed over the loud speaker that when "Washing Machine Charlie" came within a certain distance the loud speaker would set condition RED-YELLOW-or WHITE, White meant "all clear".
This period of waiting for the opening of the Mariana's Campaign was a very boring time for all of us. one day when Lt(jg) - I believe Dale Cox was his name, was standing watch, he suddenly passed the word", Set Condition purple on the double. "Someone, in all innocence asked the Captain what that meant The Captain. also in the dark contacted Adm. Ainsworth on the Honolulu, who in turn, called the Army on the beach. The light finally dawned that it was a hoax which we all enjoyed.
I believe the Lt was confined to his quarters for 24 hrs. a small price to pay for relieving the monotony somewhat during that period of inactivity aboard ship. I lost track of the Lt. in the ensuing years but he must have done well. I always thought that he had a lot on the ball. Perhaps there may be someone around who remembers this
Dr. John
---
Excerpts received from :....................
J.D. "Doug" Huggins
6830 Polo Fields Pkwy.
Cumming, GA 30040-5730
Jumping right into a story of living on the St. Louis ; Having been in the F division, the two division officers made the deal that allowed Hudgins and me to move from F to E division in January'42.
My work duty was taking care of and maintaining all of the sound-powered telephones and gunnery circuits on board. Hudgins had the same responsibility for the engineering circuits and phones. 0ur work station where we hung out and worked when not on watch was the (former) movie projection compartment and Sam Federico handled the care and maintenance of all the batteries,
Working in and hanging out in the battery locker compartment near our phone shack. We all knew several of the S Division people because the entrance to the refrigerated space where a lot of fresh(??) food was kept was just across the passageway from the entrance to the Electrical shop, where we all went for coffee and to see other E Div. sailors. Strikers and lower ratings didn't spend too much time around there because if it looked as though you didn't have anything to do some chief or 1st class would find something for you to do!
We often got "cumshawed" fruit and butter etc. from some of the S div. people and they in turn acquired little home made hot plates and other favors from us. They used the hotplates etc for making their own liquid refreshment I guess .
Later on in my career on a PC boat, I made a large heating unit which we used to distill and redistill some alcohol which was supposed to be used to clean searchlight reflectors it mixed quite well with canned grapefruit juice when we could get it from the supply ships at places like Eniwetok etc. The working party going to supply barges in these cases were made up of the senior cook, senior electrician (me) the senior gunner's mate, a 1st class machinist mate, and a couple of our strikers, none of this group were chiefs. while the senior cook kept the supply ship guy busy going over the list of requirements, the rest of us got what was needed plus other "Necessities" and put aboard our boat, then when we were through our senior cook would sign for what was on his list but not for the extra goodies such as a lot of extra juice and canned milk etc ...Like in real life, everyone had a little "deal" going!!
One of our E div. buddies ( Walt Mason I think) was owed a gambling debt by one of the cooks or bakers, and in the night when the bread was baking he would go to the bakery and get several loaves of hot bread, and a pound or more of butter, and three or four of us would take the whole mess into the movie shack close every thing up, turn on the lights, and tune the radio to Ted Fiorita and his orchestra playing at the Starlight roof of one of the big hotels in San Francisco. This was while we were in Alaska from June of 42 till October of 42.
Nothing in the world tasted as good as those loaves of hot bread, with all the soft stuff pulled out and melted butter poured inside it. My mouth is watering now, just thinking about it. We were always afraid that the baker would pay Mason the debt and then he probably could not get the bread and butter for us any longer. but it didn't happen while I was there! The built-in radio in the movie shack was the only radio, that we knew of, besides the one in the wardroom, and we felt lucky to be able to get the music etc. direct and live, from San Francisco. Well enough of these sea stories.
If I tell you anymore you won't believe me! I'm going into the galley and get myself a hot crust and butter sandwich and remember those great days and nights of 60 years ago!! when it didn't take a lot to make a bunch of lonely sailors happy for a little while!
See ya, mate. Best Doug
Edír JJ: Doug this story will qualify for a place on our "Site" on the Internet with other "Daily Living and Surviving" stories. Every did as much as they could to "Make Do" didnít they ?
---
Additional notes received from Wm. (Bill) Goode, USN Cmdr (Ret)
William M. Goode 7021 Mercedes Ave. Citrus Heights, CA 95621
One day while we were anchored in Tulagi a PT boat commanded by Bart Connelly, a classmate of mine, came alongside to see me. While I was talking to him the XO (Executive Officer) came out on the quarterdeck and yelled at me with some pretty damn vulgar and forceful language to "Get that stinking garbage away from the ship. IN RETROSPECT! Bart won a "Navy Cross" for sinking a Jap DD and device added for putting a "Fish" in a cruiser. Bart's boat came alongside near the starboard quarterdeck. I cannot imagine any PT coming alongside near the bow.
Regards, Bill.................
---
AJ & Karl D. Dobie (F1/c - R Div - Boiler-room battle station - 1944-46)
New Braunfels, TX
A story told by him to his wife Alice: If you call Karl sometime Jack, ask him about the story he tells about the "watch". His relief would always be late to free him up and he would make several trips to wake him. He warned the young man that if he had to come back for him , he wasn't going to like it. Evidently the water in the water fountain on deck was extremely cold, like ice water. So on the third attempt to roust the sailor, who was snoring on his back with his mouth wide open, Karl poured a coffee cup of icy water down the man's throat. He never had to wake him more then once after that.
I can see him doing that even now at 78.

Alice J Dobie, wife

---
Additional notes received from Wm. (Bill) Goode, USN Cmdr (Ret)

William M. Goode
7021 Mercedes Ave.
Citrus Heights, CA 95621


When the PORTER (DD 356) arrived I thought she was the most beautiful ship in the world. She represented a new concept in destroyer operations, being 1850 tons compared to 1500-1600 tons of other DDís. She was designated a destroyer leader and armed with eight 5"/38 DP guns in twin mounts. With her tripod masts and massive top-hamper she looked formidable. Before the War started it was found that PORTER and a number of other DDís were top heavy and were modified to make them more seaworthy. Then followed a number of different designs, including the "One Stack Cans" that were noted for speed.
When I was in high school I enlisted in the organized Naval Reserves to have a better crack at an appointment to the Naval Academy. We met once a week at the Armory which was a converted fish cannery on the waterfront between the Coast Guard aerodrome and the present berth of the STAR OF INDIA.
The floors [A true sailor knows the difference between a floor and a deck!] were all painted red and polished and the rest of the interior was painted gray. Attached was a boat house with a 28 foot cutter and a 28ft sailing whaleboat. They were hoisted by cable up out of water and had to be lowered whenever they were used. Because I was a sea scout I qualified to take out both boats whenever I wanted.
Frequently I would get a bunch of my friends from high school and spend the day sailing around San Diego Bay. Often we would bring dates and have a picnic on a sand spit. One of these coed cruises nearly got me in trouble. After lunch we re-boarded and continued to cruise, making the mistake of going down wind into East Bay.
Darkness set in as we headed for home but before long it was pitch black and we still had a long way to with no running lights. I pulled alongside a "DD" and borrowed a kerosene lantern. Crawling along at a snailís pace we finally made it back and secured the boat. When I started to walk my date to her house she stopped and said with emphasis, "Bill. I think you had better go because my father is so worried about me that he might kill you".
I know I should have stood up like man and taking the chewing out I deserved, but I chickened out. I never had the guts to take her out on another date. So much for this sea story.
Hang tight. Bill Goode
---
Sherman Jones, GM3/c 1st-2nd Division - Turret #2 - 1943, 1946
334 Red Bud Ct. - Eaton, CO 80615
Dear Jack
For your files of every day events and happenings on the ship................................hereís one for you.
I remember an incident when I was on watch on the bridge. We had a two-man crew for watch - one person in the lookout chair with the glasses and the other located on the deck with headphones. The person in the chair would notify his watch partner down below if he spotted anything, and then the guy below would read the degree marking on the chair and report in. We'd alternate positions every hour. Of course, Captain Roberts was pacing on the bridge.
Well, when it came time for me to take the headphones, I jumped down (about 30"), and crashed into something. I looked down to see what I'd hit, and there was Captain Roberts flattened on the deck in front of me. I thought, "Oh boy, I'm in for it now". But the Captain never said a word, he just got up and went on his way. He did give us a little more room after that when we were on watch.
I figure I'm probably the only seaman to deck a captain and not get court marshaled.
---
Heard From...........
John R. Garrett, - 790 Lakeside Dr., - Rome City, IN - 46784-9602
Jack,
Here is the story I was passing to you in one of our conversations about the rolls of "Barbed Wire" on Waikiki Beach in 1941 when the Japís attacked us.
The crew members who came aboard after December 7th will have a hard time believing that Waikiki beach had several coils of barbed wire running from Diamond Head to Waikiki and beyond from the water back to Kalakaua Ave. The coils had offset openings every now and then zig zagged so people could get down to the water. I canít recall when it was removed.
Liberty was over at 1600 hours. Then back to the ship. Unless you had a place to stay overnight, and of course sailorís couldnít afford a hotel even if a room was available. you had to have an address to give the ship. I was one of the lucky ones.
I had a cousin ( X-Navy) who had one. He had served on the YORKTOWN and later on Ford Island in Pearl Harbor doing carburetor repair for the Bendix Company, they did carburetor repair for the Navy planes and kept an engineering staff on Ford Island. He had told them he was about to be discharged, Bendix engineers said stay her and work for Bendix which was a great offer and he did. He rented a small bungalow about a block from Waikiki so I stayed there on my overnights. It was after 1600 and was so odd not to see service men on the streets or in bars or on the beach.
On December 7th my cousin was playing tennis near the mountains, a considerable elevation above the city, really had a good view of the attack. He left the tennis court and headed for his work place on Ford Island and getting there he helped fight fires while being fired on by the diving planes. He saw the ST. LOUIS leaving PH driving for the sea down the channel past Ford Island where the NEVADA beached herself in order not to block the channel and trap all ships in the anchorage.
My cousin stayed with Bendix and became a representative, traveled the world, then retired after 40 years with them.
I remember Dole Pineapple had a large plant and a very large parking lot. After the attack, trees were cut down and large chunks of coral was placed in the lot so it could not be used as a landing field.
If the Japs had troop ships with them and made a landing on Oahu it would of been theirís for the taking. The war would have lasted a lot longer.
....................Shipmate John Garrett
Edír JJ: Glad I kept after you to tell me these stories John, you older shipmates saw and witnessed so much. About all the scenes and memories are and will be a part of history.
---
Heard From...........
John B. Leslie - PO Box 63 - Sumner, WA - 98390
Note to our readers from Edír Jack:
By phone, John was talking to Mike Backauskas and during the conversation, related the following stories. These are the kind of stories, I am looking for as copy for our paper, and of course to put in the "Sea Stories Page" on our Web Site for the whole world to see.
Email received from Mike Backauskas
"Jack ! John Leslie told me this story at breakfast at the Seattle reunion in 2007".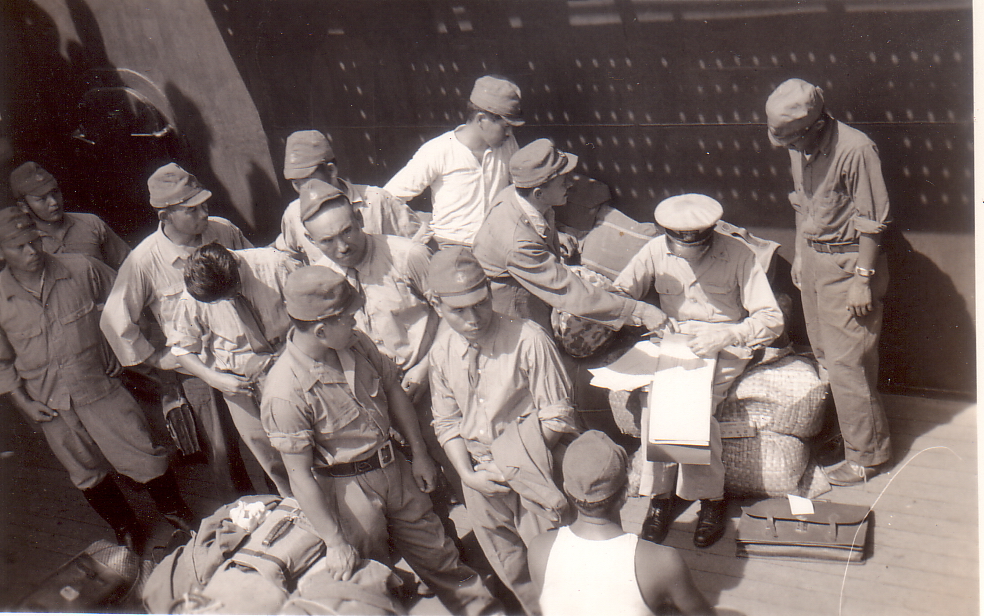 Prisoners on Quarterdeck before being taken to Hanger Deck for holding A sailor named Bob Parker, being a big strong guy, was assigned to guard Japanese prisoners on the St. Louis. The prisoners were kept down in the hanger deck space, inside a coral of stacked cartons from the nearby storage area of the shipís stores.
The storekeeper went down to the hanger deck space every day to get needed supplies. Parker would sneak a can of orange juice from the unlocked storage area, punch holes in the top and give it to the prisoners to pass around.
One day the storekeeper caught him and cussed him out. Parker told the storekeeper he had a hard heart, "Would you deny these poor SOBs a drink of juice?" "After that Parker continued to sneak the juice to the prisoners anyway, making sure the storekeeper didnít see.
One of the prisoners Parker had befriended showed him photos of his wife and family, and Parker shared his own family picture s with the prisoner. When the prisoners were transferred off the ship, this prisoner took off his uniform belt with the rising sun on the buckle and gave it to Parker as a gift.
Edír Jack:
Makes one wonder, would they have done the same thing had the tables been turned and we were a captive of theirs ? Probably not, as history has shown us.
2nd story.........................
Mike Backauskas speaking:
I received a phone call this evening (March 28) from John Leslie, to thank me for the memory book. John told me a few stories on the phone, one involving the same Bob Parker who had guarded the Japanese prisoners.
A sailor named Rick May made it known aboard ship that he planned to have his ear pierced so he could have a gold earring. He was already tattooed up and down both arms and considered himself to be quite the old salt. The earring brought to mind those old-time sailors who had "sailed around the horn". His shipmates grew weary of Rick May's often repeated plans for an earring, and the endless mention of it began to become a source of irritation.
Shortly after the war ended, Rick May, Bob Parker, Joe Graham and John Leslie were on liberty in San Francisco, sitting together in a bar-and-grill, when Rick May started in again about the ear piercing and earring.
Bob Parker had had enough. He took a fork, bent one of the tines 90į and hid it in his fist with the sharp end sticking out between his knuckles. Next thing you know, Rick May had his pierced ear. There was some squirting blood, some cussing and moaning and groaning, but Parker retorted, "Dammit, you wanted it, you got it, now forget about it!"
I got curious about the earring story, so I looked this up online: from The Saturday Evening Post, December 8, 1945: As read in the Post ......"Even before the days of pirates, mariners who had sailed the China seas or had done any Asiatic Duty took to wearing earrings as a mark of their service in the Orient.
It was the campaign ribbon of its day. The modern [WWII] gob, after he has sailed in Asiatic waters, gets his ears pierced and a ring inserted, then goes to a tattoo parlor and has various Chinese legends etched on the shank of his left leg. But not all men who wear earrings are veterans of Asiatic sea service. The custom has been adopted by many who have sailed in the Central, South, or Southwest Pacific without entering the waters of the China Sea.
3rd story........................
John Leslieís officer in the 5" gun director was Ensign Maynard "Sandy" Sanders. John caught up on old times with Sandy at the St. Louis reunion. Sandy said that the dumbest thing he ever did was let the shipís doctor talk him into having his appendix removed.
There was nothing wrong with Sandyís appendix, but the doctor pointed out that removing it while in the Navy wouldnít cost Sandy a dime, but could cost him a bundle once he was out of the service. Sandy realizes now that the doctor just wanted to practice his surgical skills on Sandy. Guess thatís why they call it "practicing" medicine.
Jack,........ nice little "Sea Stories" Mike.
I heard one with the same type of thoughts, donít know where this came from, but one of the older crew members (1940-41)was relating, He, and another seaman one from the deck divisions and Bosun's Mate "Stinky Klusman" were on the beach in a restaurant eating, a deckhand from Klusmanís division came in, he made the mistake sitting down with them, he had put his single ear-ring on while on the beach and Klusman looked up, seeing it, let out a roar, grabbed it and yanked it out of the deck hands ear, tearing through the flesh. Klusman (An old peace time sailor ) yelled at him, and said "Donít let me catch you EVER wearing
Apparently the sailor, hauled his injured body out of there holding his ear to stop the bleeding, his lesson learned about peace time old Navy sailors and what they thought of earrings. I know it was kind of the mark of the submarine sailors, that and beards. Saw many of them. No cruiser sailors I ever saw had an ear-ring in.
---
Heard From...........
Robert (Bob) L. Jensen - 95257 Windsong Ln. - North Bend, OR 97459 - Ph. (541) 759-3486
Dear Jack,
My name is Bob Jensen, this is the first time Iíve attempted to write any article for our News Letter the good oleí Hubble-Bubble. I finished up as a Radioman 2/c in the "C" Division, with these memories that come back for me, I am trying to bring up a few of the recalled incidents that are in the front in my mind from my time on the "Lucky Lou".
We sat in Tulagi for a period of time after being hit off Green Island from the bomb hit by the Post office. So I can remember being on a working party with the deck crew, bringing aboard bringing on supplies. I clearly remember carrying half carcassís of MUTTON from New Zealand. Iíll tell you now, it was terrible stuff in the chow line. If it hadnít been for youth and starvation the crew couldnít of put it down.
One day, another friend of mine and I found a strange, locked locker in our sleeping quarters, we knew this wasnít any of ours, so curiosity and the drive of young people we fiddled with the lock and got it open. LO and BEHOLD! It was filled with K-Rations. So for 2 months we didnít have to go through the chow line and face that mutton. Never did figure out who and why the K-Rations were stored in this locker. It might of been a cache of food somebody else saved from a working party. Never heard of anything from anybody, so it must of been illegal to start with, and the original owners were not speaking up in fear of getting in trouble with the "Supply Officer"
After the war, I bought a 50' sailboat and sailed to Pago Pago dreaming of finding it the way I had originally found the most beautiful place I had ever laid eyes on. WHAT A DISAPPOINTMENT ! The Department of Interior had taken over from the Navy and put all the Natives on Welfare and made booze cheap. Also there were two tuna canneries there, dumping their waste into the harbor. Wow! What a change. It was sickening to see, when one remembered it as you had seen it earlier.
When we were hit by the "Suicide Plane" in the Philippines, the Engineers made a damage report and gave it to the ship decoding officer, after converting the message into 5 letter code groups 10 across the officer handed me the coded message and said "Send this to Washington", I was surprised as we were ordered to observe radio silence for the whole war. Here we were Ĺ way around the world from Washington, I hit the key NSS (Radiowave) FMNABX (St. Louis ), Almost immediate from Washington came the response "K" (which means go ahead ) and I sent the coded message, back came "R" ( which means received ). Amazing to me, even as an Radio Operator on a Man of War way out in the Pacific.
After the way I became a Ham Radio Operator (WDGAGM) and yet today Iím still impressed with how easy it was to communicate Ĺ way around our globe (12,000 miles) even back in those primitive years.
Thank you Jack for your time and efforts taking making up our communicating paper the Hubble-Bubble, I'll try to think of more memories to send you, our memories shouldnít be lost. ..............Bob Jensen