Green Island Operation

Personal Memories, Details of Damage, Orders and Time Details

1944

Underway with Task Force 38 to bombard Shortland Island the southern tip of Bougainville. Plenty of close return fire but no hits.Underway with T.F. 38 to cover landings on Green Island north of Bougainville. She arrived in the area between Buka and St.George Channel to support landing operations in the Green Islands off New Ireland.

Feb.14 (Valentines Day) Laid off south corner of Bougainville and started moving toward our target at late afternoon. ST. LOUIS is in lead of Cruisers. About 30 more minutes of sunlight left. Eight enemy planes pass astern, sounded GQ, four planes are coming over.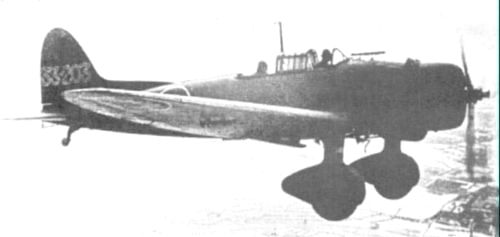 Japanese "Val" dive bomber
At 1855 on the 14th,six Vals were sighted approaching ST. LOUIS's group. Crossing astern of the ships, the enemy planes went out to the southeast, turned, and re-approached, main battery and AA battery open fire. Only five remained in the formation which split into two groups. Two of the planes closed St Louis Two bombers coming in a dive on ST.LOUIS. We are zig zagging frantically and doing about 27 knots to avoid being hit. The first plane dropped three bombs, all near misses. The second released three more. One scored on the light cruiser, the other two were near misses just off the port quarter. one of which was very close to our starboard bow, another which was a near miss on our port stern, causing considerable damage. The third bomb hit us amidships and exploded by my locker. It killed 23 of our shipmates. We had to abandon the after engine room because of damage to the air ventilation systems above it. Air attack continues. One of our Task Force a "Can" shot a plane down about 0500. Our force landed the troops OK, and our job done, we retired to the southeast of Bougainville
"Feb. 15 Held Burial Ceremony on the fantail at 1500. Doctor requests that we take our wounded men back to base. At 1400 ST. LOUIS and one Destroyer leave task force for Purvis Bay, Florida Island, arriving there at 1430 on February 16,1944.
---
EXCERPT FROM: John Hinds:(Deceased)
"As a gunners-mate in the 5th Division manning the 1.1's, 20mm, and 40mm anti-aircraft guns, I had lots of training and watch standing,.....Yet..... when its time to shoot for real it's over in seconds, especially, when airplanes are involved.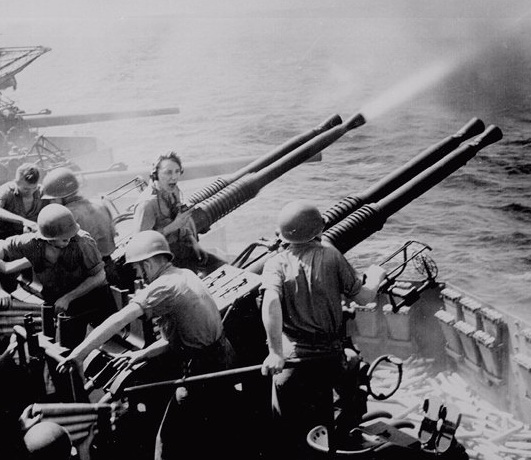 40 mm Bofor AA gun in action
"I was first loader on a quad 40mm at Green Island. I suppose I may have put 6 or 8 clips (4 rounds to a clip) into the gun, when a bomb from a Val dive bomber went through the deck on our gun platform causing the ammunition in the ready room, under the gun, to start exploding just like a string of firecrackers. Later, the Captain came back to inspect the damage. He wanted to know who was sitting in the trainers' seat.
"One of the guys spoke up and said "He was". The Captain then replied. "If I were you, I would go to church Sunday or better yet, I would go before Sunday".
"The bomb which hit ST. LOUIS penetrated the 40 millimeter clipping room near the number 6 mount and exploded in a midship living compartment. Twenty-three died and 20 were wounded, 10 seriously. A fire which had started in the clipping room was extinguished. Communication with the after engine room ceased, and its ventilation system was damaged. the cruiser slowed to 18 knots. On the 15th, she survived another air attack and was then ordered back to Purvis Bay.
"Repairs were completed by the end of the month and in March, ST. LOUIS resumed operations with her division. Through May, she remained in the Solomons.
---
Green Island Operation, survivors and damage,
---
Received from Larry Fridley -Sept 30
This fascinating eyewitness account documented by Larry through his diary. The continuing "Saga" of the Lucky Lou ever widens on Valentines Day Feb 14th,1944. I was on watch in the after engine room as a control talker for all the engineering spaces. I had been talking with MM 1/c Rosandich about our last trip into port. He said he had gotten married and was very happy about it.
Moments later G.Q. sounded and I went to my battle station which was in the passage-way next to the Executive Officers office. I also manned the phones at my battle station and talked last with Kitson F2/c who was in the Post-Office compartment next door.
I was in the passage way with Lieut. Berton and James P. Jones. Berton was an Arkansas man; well liked. I had worked in the mail room with him earlier in the war. Lieut. J.B. Berton was talking about somebody putting a pin through their inner-tube type life jacket and attaching it to themselves. "How stupid can you get he said"
Then just a few moment later Lieut. Berton said for everyone to hit the deck, lie down. I made it around the corner of the room, Just as he got through saying that I heard the most dreadful explosion I had ever heard. The bomb blew Berton around the corner next to me. All the lights went out, water lines were bursting and steam hissed in the darkness, water everywhere.
I thought the ship had been split into and I was still aboard part of her. I realized I still had on the phones and tried to make contact with "Kitson", but he had just been wiped out for good. He of course was in the Post-Office compartment that was hit with the bomb. (My battle station for many, many months on a previous trip out to sea.
Since it was so dark some thing had happened that my phones got tangled & I couldnít get anybody anyway. Then someone turned on an emergency battery powered battle lantern, and there lies Lieut. Berton beside me. He had been struck by a large piece of bowed section of metal, three hooked prongs planted in his face.
What is still bothering me, "In trying to get out of that compartment" , the guys stepped on the large sheet of metal that stretched all the way to Bertonís head, and it went even deeper in the flesh.
"I was only 19 years old". I didnít know what to do, a fast decision had to be made, so with one hand I held the steel plate and with the other I pushed his head back. The metal came out real easy. The blood just gushed out. It got all over me. So with the help of a fireman named Modestinni and Jim Jones we got him topside, but he was turning blue then. Iím sure he died in our arms going topside. A big job was getting him through the hatches, we were still at battle condition.
When I came back down from top-side I was all wet and bloody and they thought I had been wounded and I didnít know whether I was or not except I felt all there. About a week of so later I found a piece of shrapnel in my chest.
The part Iíll never forget was when we assembled later in a group beside the machine shop one deck below, Lt. Margoles was reassigning us to another temporary battle station and asked for a volunteer to go into the machine shop. Nobody wanted that spot, all that machinery and right on the water line. I should never have been 6'4" tall and standing directly in front of Lieut. Margoles that night, because nobody volunteered and he picked me. I felt I had been given my death warrant. At nineteen thatís the one time I can remember of being afraid. I kissed the machinery and I kissed the deck and also done some praying which I believe helped, because I felt that was really going to be the end for me.
Today, they have a song out which relates very well to my prayer that night. Its name, "Help Me Make It Through The Night" Iíve thanked the Japs many times for not releasing a torpedo towards us the rest of that night. That was a temporary "Battle Station" Thank God
Later that night or early next morning when I returned to the Post-Office compartment I realized a lot of my buddies from the boiler rook and engine room were there when the bomb hit. Rosandich MM1/c who I was talking to when it all started and others I stood watch with and knew very well such as Carraway CWT, Gustison F2/c, Shuman F2/c, Rosbury F2/c, Bryant F2/c. I can remember the terrifying heat, flames and smoke that poured through the ship.
The following day in the afternoon, I helped bury 12 to the port-side and 11 were buried to the starboard. These were the first war causalities aboard the Lucky Lou. This account has been rewritten from facts ( not memory) preserved and kept while serving aboard the USS St. Louis 1942-1944