In the days that immediately followed the opening of the war. The St. Louis was engaged in convoy work, and constant training. Her next momentous experience came in February of 1942, when she became part of a task force built around the carriers Yorktown and Enterprise, and under the able direction of then Vice Adm. "Bull" Halsey, began and carried out a bombardment of the Marshall and Gilbert Islands.
In their book "Battle Report" Cmdr. Walter Karig, USNR and Lt Welborn Kelley USN appraise the effect of these raids in the following words. "The mission had been a great success." At insignificant cost of life and material, the twin carrier fleet had destroyed an enemy naval air base on threatening eastern perimeters and sunk some 73,000 tons of enemy ships.
A new kind of war at sea. The Naval task force erected on the airplane carrier. It is also true that it had perked up the hopes of millions of anxious Americans, and helped solve the question in their minds: "Where was the United States Navy?" Upon return to port from this raid it was discovered that two of the four propellers were bent and the ship would have to be docked Convoy April 1942
Upon return to port from this raid it was discovered that two of the four propellers were bent and the ship would have to be docked. Seasoned hands on the St. Louis are agreed that one of the highlights of her career was a convoy trip made in April 1942, to the Society Islands. Off Bora Bora the liner President Coolidge was met and the two ships set off at high speed for San Francisco. It was undoubtedly one of the fastest trips made, 10 days being taken for the return trip. The reason for such speed was to hurry the former President of the Philippines, Manuel Quezon to the United States.
On 31 May, ST. LOUIS arrived at Kodiak, refueled, and got underway to patrol south of the Alaskan Peninsula. Through July, she continued the patrols ranging westward to intercept enemy shipping. On 3 August, she headed for Kiska for her first shore bombardment mission. Four days later, shelled that enemy held island, then retired, returning to Kodiak on the 11th
After that mission, the cruiser continued patrols in the Aleutian area and covered the Allied occupation of Adak. On 25 October, she proceeded via Dutch Harbor to California for an overhaul at Mare Island.
ANOTHER ALEUTIAN CAMPAIGN MEMORY:
In September 1942, during the Aleutian operations, the aircrews were overhauling one of the SOC's in the hanger. One of men accidentally touched the detonation button and blew up the radio. During the investigation that followed, the investigating officer directed that the man show him exactly what he done. Unfortunately, another A/C was used for the investigation." Sir, all I did was press the button like this," Another radio was detonated. - BILL GOODE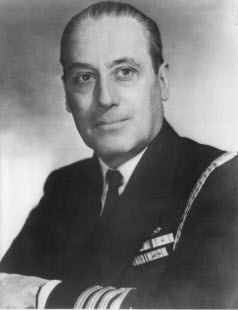 Excerpts from Captain G A Rood,
Speaking of bits of luck of relative to the "Lucky Lou". Another bit of luck happened some months later when we were anchored in Kodiak and a gale sprang up. As we were heaving in the 1st lieutenants gang noticed that one link of the anchor chain had completely parted on one side. it had completely parted on both sides while we were still at anchor we would surely have lost and anchor, a lot of chain and been blown on to the rocky shore
And again, while at sea with the task force in the Aleutians and steaming in the usual fog, a change of course was given by voice radio â€" which a tanker apparently did not get. When sighted close aboard we were all set to ram the tanker amidships. Violent maneuvers enabled us to clear â€" and both ships were lucky.
On another occasion when at anchor in Dutch Harbor a Williwaw sprang up as we were getting underway. In clearing the harbor it was nip and tuck as to whether we would foul ships nearby or the torpedo net at the harbor entrance. But again we came through alright.
A little personal luck rode with me when Admiral Theobald, in the INDIANAPOLIS, was relieved of the task force command by Admiral W.W. (Poco) Smith, at Kodiak. When joining the task force Poco used voice radio to announce the change in command â€" we were in the usual fog. He could not use his Navy number or his name less the Japs learn of the change of command. Poco knew that all of his captains knew his nickname and so he announced his arrival by saying "This is Poco". I couldn't resist having some fun so I said "Did you say "Tojo". Apparently Poco did not take offense.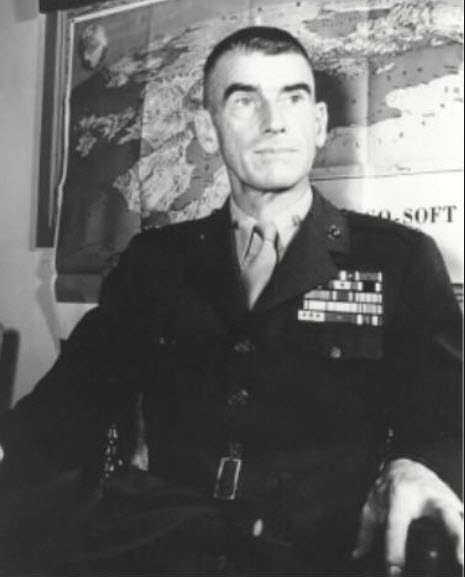 In the later part of May, 1942, the St. Louis carried two companies of the Second Marine Raider Battalion, later of Makin Island and Guadalcanal fame, to Midway then proceeded on to the Aleutian Islands, Alaska.
While in the Aleutians she joined in the bombardment of Jap held Kiska Island. At one time it was thought that the Japs would try to run a large convoy into the Aleutians and the task force was constantly on the lookout for this enemy convoy However, in October, when the St. Louis headed for the States through Unimak Pass the Japs had not been discovered. The trip through the pass and afterwards was eventful as one of the roughest trips in the history of the St. Louis.
As Seaman 1/c Russell K. Elliot described it: "That was the roughest sailing the Lou had gone through before or since. One destroyer we had with us had to turn back to Dutch Harbor. They told us the wind got up to 118 miles per hour and at once we rolled 38 degrees on one side and hung there while Lou made up her mind whether she would come back to an even keel or not "One wave in particular I'll never forget," Elliott said. "I was coming off watch when it picked me up and swept me the length of the starboard, quarterdeck. I was fighting the water and clawing for anything I could find to hang onto; then my feet went over the side, and I thought my heart had stopped the next second my hands closed on the lifetime. Boy, what a squeezing I gave that line!"
Mare Island after Aleutians:
Upon arrival at Mare Island Navy' Yard in California it was found that the ship had traveled 91,916 miles since the beginning of the war. This figure showed the St. Louis to be one of the most widely traveled combatant ships in the Navy, at that time, a title which she may still contest with other warships as her mileage figure approaches 239,000 miles steamed since the war began. It was during the stay at Mare Island that the ship received a new commanding officer, Capt. Colin Campbell, United States Navy.
FORCES IN THE ALEUTIAN CAMPAIGN
Task Force 8 -- Rear Adm Robert A. Theobald (on Nashville )
G 8.6 Main Body -- Rear Adm. Robert A. Theobald
CA-35 Indianapolis (Portland), Capt. Edward W. Hansen
CA-28 Louisville (Northampton), Capt. Elliot B. Nixon
CL-43 Nashville (Brooklyn), Capt. Francis S. Craven
CL-49 St. Louis (Brooklyn), Capt. George A. Rood
CL-48 Honolulu (Brooklyn), Capt. Harold Dodd
DesDiv 11 -- Cdr. Frederick Moosbrugger
DD-380 Gridley (Gridley), Lt. Cdr. Fred R. Stickney
DD-400 McCall (Gridley), Lt. Cdr. William S. Veeder
DD-233 Gilmer (Clemson), Lt. Cdr. Herman O. Parish
DD-236 Humphreys (Clemson), Lt. Cdr. John K. W ells
TG 8.1 Air Search Group -- Capt. Leslie E. Gehres
20 PBY of PatWing 4; 1 B-17 A.A.F., based on tenders:
AVD-2 Williamson (Sea Plane Tender), Lt. Cdr. Frederick N. Kivette, at Sand Point
AVD-12 Gillis (Sea Plane Tender), Lt. Cdr. Norman F. Garton, at Dutch Harbor
AVP-12 Casco (Sea Plane Tender), Cdr. Thomas S. Combs, at Cold Bay
TG 8.2 Surface Search or Scouting Group -- Capt. Ralph C. Parker, at Kodiak
PG-51 Charleston (gunboat), Cdr. Gordon B. Sherwood
ATO-136 Oriole (oiler), Lt. Cdr. Mellish M. Lindsay Jr.
14 YPs (converted tuna boats)
WPG-45 Haida (Coast Guard Cutter), Cdr. Norman H. Leslie USCG
WPG-79 Onondaga (Coast Guard Cutter), Lt. Cdr. Stewart P. Mehlman USCG
WPC-105 Cyane (Coast Guard Cutter), Lt. Cdr. Leslie B. Tollaksen USCG
WPC-103 Aurora (Coast Guard Cutter), Lt. (jg) Frank M. McCabe USCG
WPC-129 Bonham (Coast Guard Cutter), Lt. (jg) William C. Gill USCG
TG 8.3 Air Striking Group -- Brig. Gen. William O. Butler USA
Ft. Randall, Cold Bay -- 21 P-40, 12 B-26, and 2 B-18 (After June 4, 25 P-40, 12 B-26, 5 B-17, 1 LB-30)
Ft. Glenn, Umnak -- 12 P-40
Kodiak -- 15 P-39, 17 P-40, 5 B-17, 2 LB-30
Anchorage -- 25 P-38, 15 P-39, 4 P-36, 7 B-17, 5 B-18, 12 B-26, 2 LB-30
TG 8.4 Destroyer Striking Group
DD-370 Case (Mahan), Cdr. Robert W. Bedilion
DD-369 Reid (Mahan), Cdr. Harold F. Pullen
DD-232 Brooks (Clemson), Lt. Cdr. Charles T. Singleton Jr.
DD-243 Sands (Clemson), Lt. Cdr. John T. Bowers Jr.
DD-235 Kane (Clemson), Lt. Cdr. John J. Graytak
DD-116 Dent (Wickes), Lt. Cdr. Paul H. Tobelman
DD-390 Talbot (Bagley), Lt. Cdr. Edward A. McFall
DD-242 King (Clemson), Lt. Cdr. Kenneth M. Gentry
DD-115 Waters (Wickes), Lt. Cdr. Henry J. Armstrong
TG 8.5 Submarine Group
SS-123 S-18 (Old "S" class), Lt. James H. Newsome
SS-128 S-23 (Old "S" class), Lt. Harold E. Duryea
SS-132 S-27 (Old "S" class), Lt. Herbert L Jukes
SS-133 S-28 (Old "S" class), Lt. John D. Crowley
SS-139 S-34 (Old "S" class), Lt. Cdr. Thomas L. Wogan
SS-140 S-35 (Old "S" class), Lt. James E. Stevens
TG 8.6 Tanker Group
AO-25 Sabine, Capt. Maples
AO-4 Brazos, Cdr. Thomas J. Kelly
SS Comet, Irvin E. Larkin, master
Naval Air Station Commanders, under Captain Parker
Cdr. William N. Updegraff, Dutch Harbor
Cdr. John Perry, Kodiak
Cdr. Jackson R. Tate, Sitka