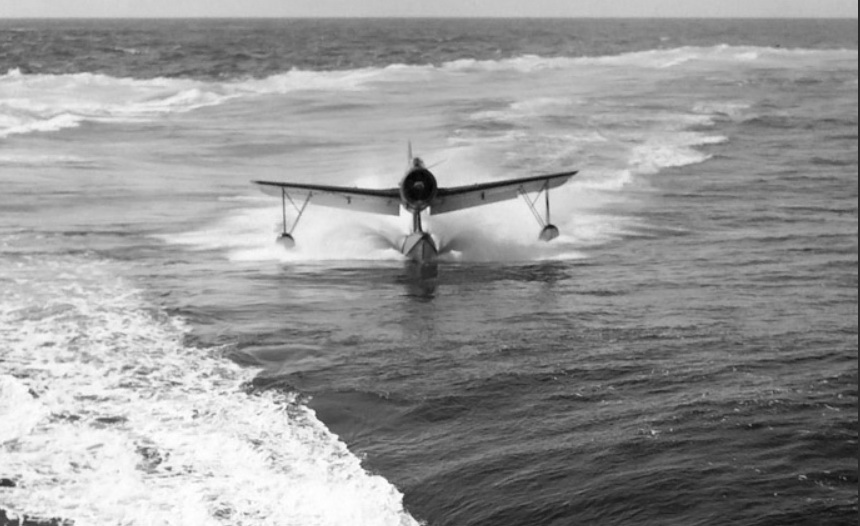 Splash one Bogie (Kamikaze) Lucky Lou seaplane recovery
Changed 11/25/2016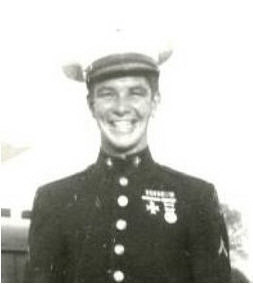 A Marine's Diary"
Aubrey Diehl, Pfc. USMC
Former Marine serving on Light Cruiser USS ST. LOUIS CL-49 * 1943-45
Following pages and written accounts taken from his Personal Diary
Cruise 1945 "States to Home" (Feb-Nov)
Eyewitness accounts from, logs, personal views and overheard conversation while serving as part of marine personnel and Captains orderly on bridge of the
USS ST. LOUIS
, plus views and thoughts as operating gunner on 20mm Anti-Aircraft mount, starboard side forward.
---
Feb. 23rd , Hour: 1806
Left San Pedro (Terminal Island) for Pearl Harbor after twelve days general exercises off San Clemente, Catalina and San Diego. Saw the "Ranger" on different occasions. Water is extremely rough. Course set at 251º
Feb. 27th.
First day of favorable weather. Due in Pearl Harbor either 28th or 29th March. A submarine reported in our area.
Feb. 28th.
Its been raining most of the day. A ship is reported overdue from the States.
March 1st.
Rumors that there will be no liberty and that there will be about 5 days maneuvers. 0500 - Simulated pre-dawn air attack. We'll be catching a lot of this for the next week. Pulled into Pearl Harbor at 1730. Its getting awfully hot.
March 2nd.
Made liberty in Honolulu with Goodwin and Paris, Did a little shopping and saw the picture "Tall in the Saddle" John Wayne, Ella Rains, Ward Bond. Rode to Com-Des-Pac to Honolulu on Oahu RR (narrow gauge) was very unusual. Saw movie "The Very Thought of You" on focscle when liberty was up. Actors was Eleanor Parker, Dennis Morgan, Dane Clark, Faye Emerson. Mark is 4.0 with me.
March 3rd.
Worked all day on guns. Got a good dose of sunburn. Saw the picture "Dragon Seed" Walter Huston, Katie Hepburn, Turhan Bey again on the ship.
March 4th.
Underway for Eniwetok at 0730. Tracking drill and AA shoot most of the day. Water is the roughest I've seen since Mare Island. Waves are breaking off bridge and superstructure. 35 high. Gale winds. Destroyers AMUDSON and BEALE make up our screen.
March 5th.
At 2000 - 3259 miles to Ulithi. Due in Eniwetok about the 10th or 11th . Speed around 24 knots.
March 7th.
Crossed 180th Meridian at 1020. Skip one day up to West Longitude time. Something big coming up about the 25th or 30th.
March 9th.
Have only received one letter since leaving stateside, from Mom.
March 10th.
Pulled in Eniwetok at 10:00. Refueled and on our way at 1545. CVL INDEPENDENCE was there also. No Mail.
March 11th.
At 1200 we have 933 miles to go averaging 83 miles in four hour period.
March 12th.
At 1200 we have 407 miles to go to Ulithi.
March 13th.
Due in Ulithi- the CV's SHANGRI-LA and FRANKLIN just ahead of us. The CB GUAM, (Battle Cruiser), CVL BATAAN and our destroyer screen arrived in Ulithi at 0850. MAN!!! Look at the ships. Ten fleet carriers (Essex Class) about 13 BB's the new "IOWA" class wagon, the "NORTH CAROLINA", and many old types, and approximately that many CA's (Heavy Cruisers) and lots of CL's (Light Cruisers). Tankers and freighters by the score. (About 120) - There's no doubt about it now, something big is coming off - and soon. We'll be here approximately four days, then to Formosa / Okinawa ?????? Maybe via Palau, Leyte, Manila and or...........
Counted 20 CVE's. One SC-1 piloted by Ensign. Eickshoff lost its right wing float while trying to take off. The plane gradually turned over then sank. The large float kept if from going down completely. The St.. LOUIS (CL-49),crash boat towed it in. The pilot wasn't injured. Two air alerts. Got one letter from Mom.
Mar 14.
Underway at 0655. We are assigned to unit of the fifth fleet, 58-4. In this unit are the carriers YORKTOWN, INTREPID, ENTERPRISE and CVL INDEPENDENCE. The A-A cruisers SAN DIEGO (AA-52) and FLINT. Battle cruisers GUAM and ALASKA fifteen miles astern. A-A shoot all morning in very rough waters. Course due east by north east. At 1345 Condition (1) in A-A battery for simulated coordinated air attack by carrier planes. Damn this biting wind. I wonder ??? just what is coming off. Since leaving Terminal Island we have gone approx. 6000 miles. Estimate I have traveled 125,000 miles on the ST. LOUIS (CL-49) or more since leaving Mare Island in Sept '43.
Mar 15.
Reveille at 0430. More A-A firing lasting until 1430. If the ST. LOUIS (CL-49) bow has gone under once it's gone under a thousand times. Very rough seas. Certainly wish we'd run into some fair weather. The YORKTOWN lost one plane, the pilot was picked up by a destroyer. We are at this time [1800] northwest of Saipan. More ships joining us tonight, we think. I could really use a little sac-time with the 12 x 4 coming up. Simulated night air attack at 2030. We are from eight to nine hundred miles southeast of Tokyo. Maybe it's going to be Okinawa. Speed between 18 & 22 knots.
Mar 16.
Reveille at 0430. Sea is rather choppy but much better than the last few days. We have in our unit [58-4] the CV's ENTERPRISE, INTREPID and YORKTOWN, CVL's INDEPENDENCE and LANGLEY. The A-A cruisers SAN DIEGO (AA-52) and FLINT. Also BB's WISCONSIN and MISSOURI. The CB's ALASKA and GUAM with about 18 DD's making up our screen. Drone A-A firing at 0730 prior to refueling of entire fleet. Weather is getting fair and much cooler.
Mar 17.
Another unit can be seen about twelve miles off our port quarter consisting of about eighteen ships, including two fleet carriers. Carrier planes engine cowlings are painted white for identification purposes. Raids will be tomorrow or Monday in and around Honshu. The crew has donned cold weather clothing. Just right for comfort. Our SC-1 is back in running order. A destroyer 1500 yds. off our port stern blew up a floating mine. We are approx. 350 miles south east of Tanega Shima.
Mar 18.
Today is the day. Attack planes launched at 0500 for runs on Kobe and air strips on Kyushu. We are 95 miles off the mainland and during the course of the day only four enemy planes out of 78 reached us; thanks to the CAP. The ENTERPRISE is hit just aft the superstructure and the INTREPID and YORKTOWN take three near misses from crash dives. It is unbearably cold and windy with rough water. Condition (1) has been set all day. Fourteen hundred planes launched during this period.
Mar 19.
No initial air attacks but alerts constantly. This bitter wind has slacked off a little. During course of day the Jap mainland can be seen very faintly. Task unit just off the horizon has been catching hell. The CV FRANKLIN has been hit several times and has been burning furiously all morning; at one time was reported to have sunk. The FRANKLIN suffered OVER 1400 casualties, the majority killed. Loses later reported, 774 killed 225 injured with no report on the missing. The smoke and explosions upward from two hundred feet to two miles. The FRANKLIN can make only 8 knots on it's own power. Was finally taken under tow by the Cruiser PITTSBURGH. At 1300 the ENTERPRISE is detached from us to relieve the FRANKLIN. That evening the ALASKA and GUAM leave us. We can see our planes ambling in and the crippled ones make water landings. All the pilots that in view of our unit were picked up by destroyers. That CAP is certainly on the ball, not one Jap got through to us. Condition (1) has been set all day. This is certainly becoming awful trying.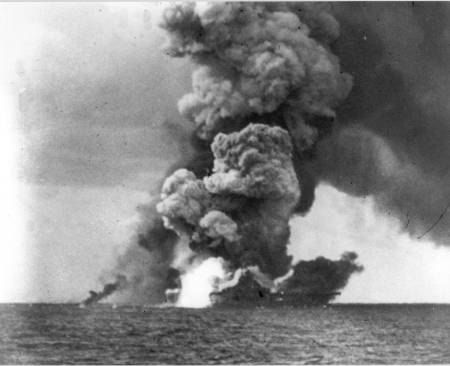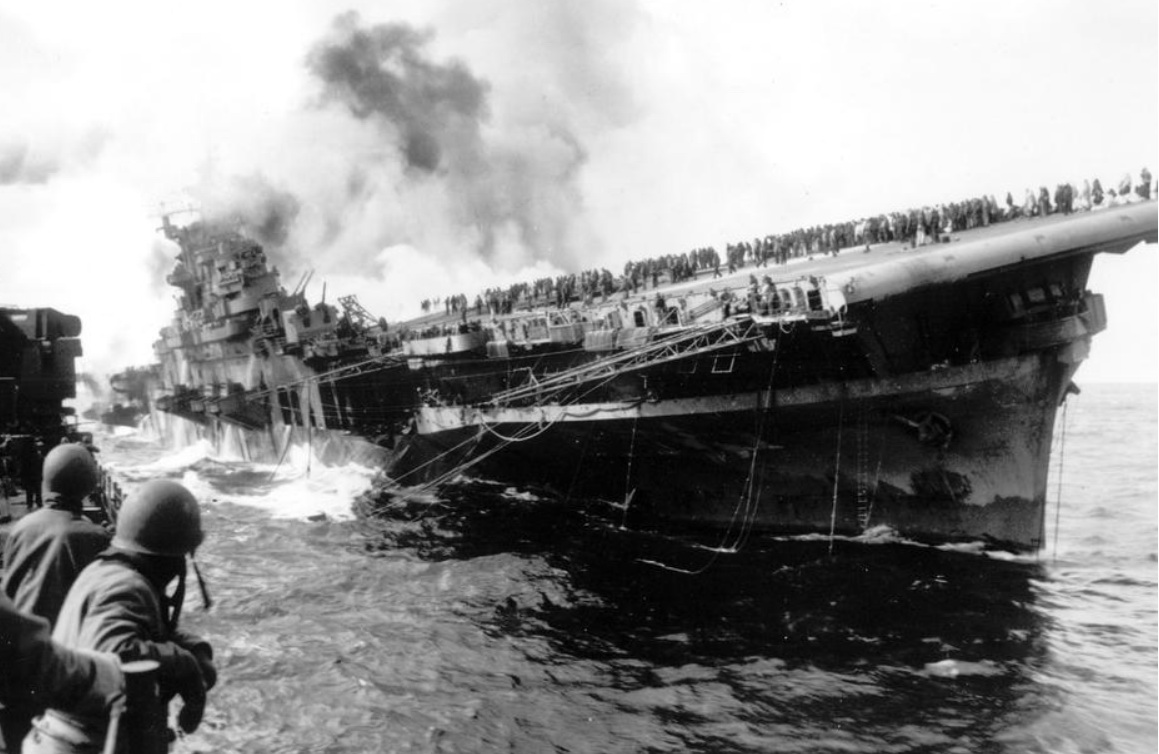 USS Franklin first explosion USS Franklin listing after Kamikaze attack and hit
Mar 20.
During the night we have steamed out to 135 miles maneuvering in circles with Condition (1) set all day. The breeze is now coming from the South and it's a little more comfortable. No planes got through to us. Rumors say we'll be here six days. In the last two days the carrier planes have made three strikes. I wonder why we are hanging around. Jap picket boat is burning on the horizon after being hit by a destroyer. These Navy pilots deserve a lot of credit. They've been catching hell. Condition (3) set at 1845. We are now 200 miles off and maneuvering at 22/23 knots. Burial at sea for men killed on the INTREPID and YORKTOWN. Just took my first bath in three days.
Jap communiqué claims they have sunk three of our ships, two being carriers. But we know different.
Jap battlewagon, a carrier and two cruisers are hit hard by our pilots. It's hard to believe with us only a short distance out receiving such light opposition. I guess we can thank our Combat Air Control again. What's coming off tomorrow? Adm. Marc Mitchner is in command of T. F. 58 with Rear Adm. Bradford in command of 58.4. Our losses were 22 planes. Oito, Konoya, Kuri, Kobe and other inland sea targets on Honshu; hangers, fuel dumps and airstrips on Kyushu. The HORNET, ENTERPRISE were still operational after being hit. Two submarine contacts. Air defense sounded at 2130. Unit on starboard horizon is catching the devil. We have been extremely fortunate. Speed 27 knots.
Mar 21.
Our course is S-SE at 24 knots. Scuttlebutt is that we will refuel then come right up again. Speed around 25 knots. First chance to get some real rest. Condition (3) is set. Condition (1) set at 1230 followed by GQ. Terrific carrier plane dog fight 30 miles off starboard quarter. Japs lost 14 "Betty's" and three fighters, we lost two planes but pilots were rescued by DD's. Condition (3) set at 1600. Water is getting very rough. It look as though we're not going to get much rest. A-A battery have been sleeping or "crapping out" on the decks. We are about 450 miles off the mainland. "Bogies" reported all around us. The CAP keeps them at a safe distance. In the last dog fight the Japs lost approx. 87 men, us none. In our unit we have the WISCONSIN and MISSOURI. The ST. LOUIS (CL-49), FLINT and SAN DIEGO (AA-52). The carriers' INTREPID, YORKTOWN, INDEPENDENCE and LANGLEY with about twelve DD's. This last attack was the third one made by the Navy on Japanese homeland. One on Feb 15-16...Feb 23-24 and the third on Mar 18-19. Since leaving the States on Feb 23 have certainly covered a lot of distance in less than one month. Correction....22 "Betty's" (Bombers) and 11 fighters were shot down. Our night fighters are up. Have all night "in" if Air Defense doesn't sound.
Mar 22.
Our unit refuels at sea in preparation for next air strike. At Okinawa ???. Late this evening we are joined by the NEW JERSEY, ALASKA, GUAM and NORTH CAROLINA. This is quite a rugged unit. Sea has been rough all day but just right for comfort. Our next strike is tomorrow morning. We are 500 mile south east of Japan and directly east of the Nansie Islands. A chain that extends directly south of Kyushu.
Mar 23.
Reveille at 0510 then GQ. Speed 25 knots. Had a surface contact last night. The destroyer HAGGARD investigated and finds a submerged sub and dropped depth charges. Later found the sub surfaced so the DD rammed and sank it. Air strike grouped at 0630 and leave for attack. We are still in doubt to just exactly where the planes are striking.............Just found out! It was at Okinawa!!.
---
Subject: Background Information on Okinawa Gunto
Date: Thursday, June 14, 2001 9:33 PM
THE LOWDOWN ON OKINAWA GUNTO: From a military standpoint, Okinawa Gunto and Amami Gunto, which lies to the northeast, are the two most important groups in Nansie Shoto. The Okinawa group, comprising some 50 islands with a population of about 460,000, has four airfields and many other potential airfield sites, two sea plane bases, a major fleet anchorage, and many sheltered harbors and a naval base. This group is a vital communications center for the Japanese direction of their forces in Formosa, the Philippines and the western Pacific. The headquarters of the defense command is located in this group. Okinawa Shima, a long narrow island made up of plateaus and ridges is the key island of the whole group. Its population is 443,000 and Naha, a city of 66,000, is the largest municipality in the Nansie Shoto.
Okinawa is 67 miles long and three to ten miles wide, and it's many bays afford sheltered, or partially sheltered anchorages for ships of all types. Nagausuku Wan, on it's south eastern side has been used for operations by the Japanese fleet for many years. Carrier and submarines trained in it's waters and a naval base with repair facilities is located ashore. Naha Ko, on the western side of the island affords anchorage facilities and a sea plane landing area. Seven other actual or potential harbors for various fleet units are scattered along the coast. Three airfields are in operation ( or were in operation) in this area. Naha field, a former commercial airport, was taken over by the military. Yontan, 13 miles north of Naha, and Ie (or Ie) Shima, 20 miles north of Yonton and just off the Okinawa coast. Naha is important as a staging field for planes flying between Japan and Formosa and, with other fields, as a base for fighter and bomber action against our forces. The Japanese have fortified the island to a limited degree. Okinawa has considerable economic importance as a producer of liqueur, lacquer goods, pongee, hats, sweet potatoes and fish. Through Naha, its main port, go most imports to Japan, Formosa and other Islands of the Nansei Shoto. Naha boast four railroads, a steam line running to the other side of the Island, an electric line serving the city, and two horse car lines. There is adequate water but is polluted and produces much disease. Mosquitoes are very common and poisonous snakes ( Kabu and Manushim ) makes country walking really dangerous. The are lots of wild boar and rats.
---
Carrier planes bombed at 2000 ft. Ack-ack was moderate. Several of the planes had to make water landings. Floating mines are often seen. It's windy and rough with thick low hanging clouds with occasional rain. Air defense has kept us busy all day. Scuttlebutt is that the 2nd and 6th Marine division will make the assault landing about the 1st. At 1730 Condition (1) set. Two Jap planes (reconnaissance) came in for a look. Windy and cloudy as hell.
Mar 24.
Morning air strike launched. We are sixty miles off Okinawa. Course 270 true. We are detached from 58.4 and assigned to 58.1. Battle ships of all units bombard beaches and shore installations. In our new unit we have the CV's HORNET and BUNKER HILL, CA cruiser PITTSBURGH, cruiser BOSTON and Australian cruiser CANBERRA, CL (light cruiser) PROVIDENCE (CL-82) and two A-A cruisers. Damage inflicted by two air strikes on Okinawa knocking out emplacements etc by strafing, bombing and rocket fire. Very bad weather for such operations. Cloud ceiling is 2000 ft. Heavier than normal caliber 37 mm. Ack-ack was termed as moderate. No air opposition or planes on the ground. Shot down one "bogie" believed to be a "Jill". We bombard tomorrow ???
Mar 25.
We leave 58.1 with the INDIANAPOLIS (CA-34)and two destroyers to join bombardment group on Western side of Okinawa. In the afternoon we pass two groups of CVE's each having five "Baby flat tops." Condition (1) was set at 1415. It has been a peaceful day and the first since leaving Ulithi anchorage. We have been maneuvering 30 miles off the southern end of Okinawa and now joined with the WEST VIRGINIA, TENNESSEE, NEW YORK, ARKANSAS, NEVADA, COLORADO, NEW MEXICO and IDAHO. The heavy cruisers SAN FRANCISCO (CA-38), WICHITA (CA-45), MINNEAPOLIS (CA-36), PENSACOLA, SALT LAKE CITY (CA-25), PORTLAND (CA-33), INDIANAPOLIS and (Light cruiser's) BIRMINGHAM (CL-62) and our ship the ST. LOUIS (CL-49) with about eighteen destroyers making up our screen. Sighted land for the first time in eleven days. We are now in the East China Sea about 11 miles off Western beaches of Okinawa. "DOG DAY" is the first of April. First, Second and Sixth Marine Divisions will make assault landings The screen is clear with only one alert. It seems the Jap's don't have any planes left. But that's what we though at Leyte. Note: the H.M.S. LONDON is with us. The ST. LOUIS (CL-49) is leading the formation.
Mar 26.
The PORTLAND (CA-33) and INDIANAPOLIS (CA-34) are the first to open up shelling from their main batteries. The rest followed suit. Targets are barracks. air fields and gun emplacements. Anti-aircraft fire is moderate from ground, they have firing at carrier planes all day. All units started shelling at 17,000 yds. Sub-alert, destroyers dropped depth charges 1500 yds off our st'bd beam after a torpedo wake were seen to pass fore and aft of our ship. Mine sweepers are making sweeps up and down the coast. This certainly is going to be gruesome. Looks like shelling night and day and night and day for weeks.
Mar 27.
Morning opened with an air attack. Three intended suicides and two torpedo planes shot down. I got in a lot of pretty good shots. The ST. LOUIS (CL-49), for once, wasn't their target. A destroyer on our starboard beam is hit with 5" and 40mm. friendly fire. The "can" had to retire from area with numerous casualties. Set affirm (GQ) and I was caught below decks while at breakfast mess. We left with two DD's to cover for mine sweepers. Condition (1) set all day. Rain and strong winds made it quite uncomfortable. We returned in the morning. Task Force 52.1.3 continues to bombard beach and carrier planes cause damage from bombing, strafing and rocket fire.
Mar 28.
Flash red, control yellow at sunrise. Destroyer just ahead of us took a near miss Kamikaze off her fantail. Minor alerts all day. Condition (1) set until 1715. We bombard targets from 6000 down to 4000 yds. Mine sweeper is sunk after running into a mine. Carrier planes are making continuous runs. A-A fire becoming light. Shore batteries have opened up on us but with no results.
We have approx. 30 DD's as our screen. There are frequent sub alerts. Up to now we haven't had the night duty. One small island with artillery and A-A battery in-placements taken without opposition. The Island, Okinawa, is a beautiful island much like Saipan. Factories, ware houses and other important targets litter the beaches. We have plenty of targets, but shore battery's and A-A emplacement's are our prime and most important targets. Maybe tomorrow we will be close enough to use our 40mm's to bombard. Today is the first day with condition's good enough to carry on such an operation.
Condition (1) set at 1915. Our screen opens up on "bogies." The sky is clear with the moon shining brilliantly. No results for either side.
Mar 29.
At 0405 Condition (1) [air defense] set after an unidentified number of "bogies" closed on us. Destroyer off our starboard bow took a near miss and the plane was shot down by another DD dead ahead. Reveille at 0500. For the past few days these mine sweepers have been constantly blowing up mines using small 30 caliber guns. We are getting closer to the beach each day. Small farm houses and dwellings that look hay stacks can be seen plainly with the naked eye. One FM2 was shot down by a DESRON but the pilot was picked up.
Carrier based planes FM2's and TBF's have been making bombing, rocket and strafing runs on targets. Our task force, 52.1.3 put up a beautiful barrage all day. At least a hundred fires were started. Navy demolition men go within 200 yds of the beaches to blow coral reefs for landing party passage. The smoke was so thick the sun was blotted out and it seemed as though rain clouds were forming. We pulled away from the area at 1545 with at least 25 to 30 fires blazing. Reconnaissance planes report the Japs have "really" dug in. Note: Okinawa is about 58 to 60 miles long and from three to eight miles wide. We are about half way up the island on the East China Sea side. The population is estimated at approx. 69 to 80 thousand civilians and about the same number of troops. Okinawa is about 325 miles from Japan proper. We have an over cast night and the moon hasn't broken through yet, which, by the way doesn't make any one angry.
Mar 30.
Condition (1) set until 1800. Ceased bombardment at 1740 after shelling the beaches but not with the intensity of yesterday. Air alerts all during the day but it seems as though as soon as the Japs see us they "haul tail.' At least 20 Japs are explaining to their ancestors why they couldn't reach us. During course of day troops can be seen along and near the beaches. Our closest approach has been 3000 yds. LCI's have come within 200 yds to bombard with 40 mm's. Today has been beautiful except for a little drizzle earlier in the day. Demolition men continue to blast coral reefs. A few mines missed that were overlooked are found and exploded. The crew has been unusually jovial and good natured since the beginning of this operation. Today is "Good Friday."
Mar 31.
Pulled into Kerama Retto and dropped anchor for the first time since the 14th. It's an odd feeling being "stopped" completely. This place looks like submerged mountains with only the peaks and summit exposed; like the fjords in Norway. An LST pulled along side and we took on 5" and 6" ammunition. The INDIANAPOLIS (CA-34) [fourth in formation] was hit by a suicide while entering the anchorage. The BILOXI ( CL-80 was hit by a 1000 lb bomb according to the rumors yesterday but it isn't confirmed.
We head east again from Kerama Retto to Okinawa a distance of about twenty-five miles and proceeded to bombard until 1830. Condition (1) set from 1300 to 1800. Note: When we pulled into Kerama Retto, army troops were blowing up caves and crevices where Japs were holed up.
This place make a beautiful harbor, surrounded by these almost perpendicular peaks which are around 5 to 6 hundred feet high.[*Retto translated means Islands , plural] We continue to bombard at 2700 to 3000 yds and more. Main target is a suicide boat base and caves sheltering Jap troops.
D-day is tomorrow at sun rise. ( Kerama Retto, Jap spelling, Carema Retto, English.)
April 1.
Reveille at 0315. "Bogies" are all around us. Five were shot down. Battleships, Cruisers and Destroyers take up their screen. All ships form and take up their stations around 0630. LSTs, LCMs, PCs, SPs by the score. The LSTs launch their landing boats. First wave forms, followed by second, third etc. BBs, CLs, CAs and DDs turn broadside at about 6000 yds. LCIs cover for smaller landing craft from there on. Navy planes make strafing, rocket and bombing runs on proposed land cites. Ships of all sizes and class open up. It seems the world was coming to an end. Smoke was so thick we couldn't see over 200 yd. toward the beach. Am-tracts are the main type of landing craft.
First wave hit the beaches at 0837. The First, Second and Sixth Marine Divisions take the North beaches. Soldiers of the Tenth Amy (two divisions) land in our area. All landing parties hit the beaches and promptly secure the area penetrating several hundred yards with none if any opposition. One air strip and base are taken. APAs and KAs stand in and move heavy equipment in by LCVPs, LSVMs, LCTs etc. Air attacks about 1800.
Ships lay smoke screens. WEST VIRGINIA takes a hit from one suicide. During the night we have the constant danger from Jap suicide swimmers and boats. Japs illuminate us with star shells. Modified feeding all day. Oh yes, today is Easter Sunday. Call fire from ST. LOUIS (CL-49),all during the night. ( Confirmed: the BILOXI ( CL-80 did take a 1000 LB bomb, but is was a dud. It went completely through the decks and out the bottom.)
April 2.
Crafts of all makes and sizes maneuver among anchored ships and continue laying smoke screens throughout the night. We dropped anchor but it made us an easy target for these suicide swimmers, so we up anchor. Several of these swimmers have been shot before any could do damage. But one ammo barge was blown up. We continue to bombard artillery and troop installations.
Our planes bomb, strafe rocket fire several times during the day. No dope about how far troops have gone since last evening. Condition Two set which make life a little easier for the crew. One of the two army infantry division that made the landings is the 77th. Air attacks just before sunrise. No damages, thanks to the smoke generators. We have been laying off the beaches around 6000 yds. Several Japs had surrendered to ships a few days before the landings. Some were shot while trying to board to do some damage. A rumor says the TENNESSEE brought an officer aboard with valuable military records and documents. Smoke screen laid again this PM.
April 3.
Air defense sounded twice during the night. A-A fire can be seen north of us. We rearm today. Two hospital ships pull in, one being the "RELIEF" Those nurses look pretty nice in their white uniforms. We continued to rearm at noon after pulling out to an AKA. Illuminated Jap positions during the night.
More air strikes on Jap positions. This is becoming mighty boring and rumors say we'll be here until the 27th. Oh hum. The cruiser MOBILE (CL-63) pulled in yesterday supposedly to relieve us to go back Task Force 58. Fleet pulls out of anchorage at 1145 to form. Tomorrow I think we'll refuel at Kerama Retto.
Air alert at 1600. Smoke was being laid just after we pulled out. CAP splashed 20 "bogies." Most of them were Judy's. A-A fire all around us. Condition (3) set at 1945. Last night torpedoes were running wild in the area. A mine layer took one but it did not sink. Fifteen more "bogies" splashed during course of night.
April 4.
Reveille at 0500. Pulled into Kerama Retto at 0720. First fairly peaceful day in almost three weeks. Refueled and rearmed and then pulled out at 1715. Water is getting very rough.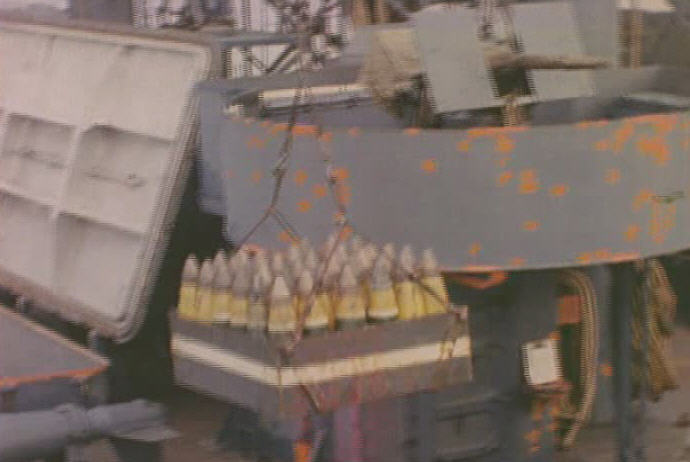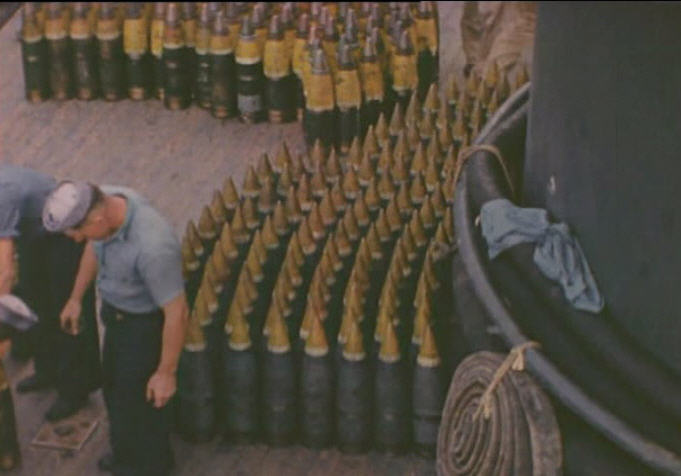 Loading projectiles down into magazine Re-arming 6"47 turret projectiles
April 5.
Left our force with two destroyers to cover mine sweepers operating on a small island 15 miles north west of north landing beaches. (the small island with a very short name, "Ie"). Condition (2) is set. Sea is rough, the weather cold and windy and very uncomfortable for us guys around the bridge.
GQ sounded shore bombardment at 1245. Our starboard 5"38' guns fired two salvos and received a dispatch to cease firing. The area of our gunfire is ten miles north of the left flank. Marine patrols have advanced up to this area and there was in danger of us firing on them. Authorities say the operation is 400% ahead of schedule. It is now 5 days plus LOVE DAY and the Marines have advanced at this time where they were scheduled to be 20 days plus LOVE DAY.
Our casualties on the beach have been surprisingly low. Out of 60,000 men only 600 come under the heading of dead, wounded and missing. This operation may be a picnic so far. But we'll wait and see what happens. The Japs are not giving in that easy.
(NOTE): Two days ago when eleven Jap planes were shot down, two Jap pilots bailed out and were captured. The pilots were extremely young, and contrary to belief, did quite a bit of talking. One said that now, in Japan, pilots go 1/3 of the way through school and are taken out to pilot planes just off the assembly line. They are in need of pilots so bad they have taken up the only alternative. The aerial gunners are infantrymen told to man the guns. We have been told by a good source, that the Japs have a new weapon. This weapon is somewhat like the German V-1 bomb only on a smaller scale. They carry a 1000 lb explosive charge, are jet propelled and have an open cockpit for a pilot. Their duty is to crash dive ships and large valuable targets. They are painted white and silver, have a twelve foot wing span, will do 400 to 425 mph and air fourteen feet long. Up to now two have been seen. They were found on the island.
So far today we have received dispatches to stand by for a large scale air attack on our ships in the area.
Dropped anchor at approximately 1900. Deck guards posted. Harbor is pretty well lighted up. Condition (1) set for air defense until 1730.
April 6.
Condition (1) set at 0600. Today was really hell. One Jap pilot shot down said one hundred planes just off the assembly line were to be sent against our forces. Task force 58 shot down about 60, our force shot down twenty at least. Every single plane that came down were intended suicides. I got in some beautiful shots at the "Oscar" that dived on us. A destroyer was hit amidships just off our starboard bow. It caught fire, then the torpedoes tubes, and magazine blew up. The explosions went towering up to 400 feet. It was hit at approx. 1800, burned until it sank at 2010. Two other destroyers picked up survivors.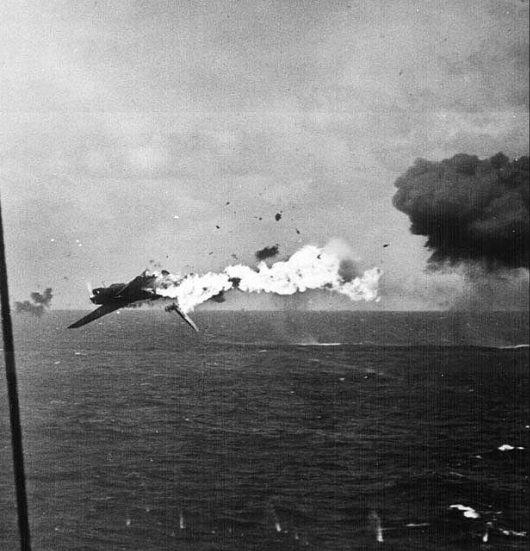 At the anchorage, one transport and a LST was badly hit about 1600 and both were burning until the smoke screen was laid. One explosion after another filled the horizon with black smoke. We up anchor at lighten ship and have been maneuvering around Ie Shima all day covering for some mine sweepers. Yesterday the NEVADA took three six inch hits from Jap shore batteries at the southern end of Okinawa. The BILOXI ( CL-80 is back with us. The 1000 lb bomb she took went through the hanger deck and out the bottom. This day was as bad as Leyte except we weren't the ones to be hit. The weather is windy and extremely rough all day. The sky is very cloudy but high enough to see all the "Bogies" at a safe firing range.
April 7.
Condition (1) set at 0515 and continued until 1915. Early in the day the SAN FRANCISCO (CA-38) and TUSCALOOSA (CA-37) joined our unit. Later in the afternoon the WICHITA (CA-45). We bombarded shore battery emplacements at the extreme southern end and we took the South west corner. The same area that the NEVADA took the 6 inch hits. The WICHITA (CA-45) was taken under fire, but their return fire was effective. We returned to anchorage at sunset. The waters have been as "smooth as glass" all afternoon. Our main battery set Condition (2) and knocked out and secured a Jap 240mm siege gun.
Our starboard 5 "guns continued to respond to call fire all night. Earlier today, task force 58 caught one Jap BB, CA and three destroyers off Honshu and scored direct hits on and disabled the destroyers. Later on in the day the two larger ships were sunk. Yesterdays excitement cost our forces two Fletcher class DDs and several ships in the anchorage were hit. Two ammo ships and tankers included. Army artillery fired on Japs from an island taken a few days before Love Day. The Army highly complimented the ST. LOUIS (CL-49) for its excellent call fire results. Approx. 36 bogies have been shot down today. We saw one Val, but it hauled tail before it got in our range . Flash red control yellow numerous times during the night. It is now 2400 (midnight)
April 8.
We continue to fire our 5" starboard battery. The men in the gunnery departments, particularly the AA gunners, haven't been getting much rest for the last three days. It is more to the extremes than the days previous to Love Day. The Japs are really getting desperate. They are trying everything but without noticeable effect. The TUSCALOOSA (CA-37) rejoined us two days ago.
Condition (2) set at 0800 in all gunnery stations for more call fire. Total number of bogies splashed in the last three days reported to be, 391. Four Marine F4U squadrons landed at Yonton field yesterday. Bombarded south western end of Okinawa at different interval today. Condition (1) set at 1815 followed by Condition (3) at 1930. Four bogies splashed within a 40 mile radius of us.
April 9.
Bombarded suspicious looking objects in Naha area. We viewed some beautiful homes and as yet haven't been touched. Condition (2) set in all stations since securing from GQ. Earlier in the morning several Japs seen in the waters wearing life jackets. There were too many of them to be considered downed pilots. The ST. LOUIS (CL-49), with others in the unit, opened fire at them with rifles and 20mms. It was nice to see them get a little of what they had dished out in the past. They were all on the port side so I didn't get to use my 20mm. But I was ready. Condition (2) after air defense at 1930 for readiness of suicide boat attacks.
We illuminated South Western side of Okinawa using ourselves as bait for these boats. The night was one of the most miserable I can remember. Rain, drizzle and a strong steady wind made it so.
April 10.
Rain and wind. Bogies all around us, but at 1430, Condition (3) is maintained. Our Fighter Director Ship (a destroyer) was attacked by six Val's and was left dead in the water after shooting down four at least. She was crash dived. The purpose of Fighter Director Ships (or picket boats) operate some distance away (100/200 miles) report suspicious or unfriendly planes closing in our area. Dropped anchor in "Bogie Bait Bay" at approx. 1100. So far in this operation the St. LOUIS (CL-49), has had five torpedoes launched at her. The sea is rough with a cold, windy rain all day. This has been an another miserable one.
April 11.
Underway at 0630 with Condition (3) set at 0715. Call fire from Marines against pocket resistance. We are here with the PORTLAND (CA-33) and at the same place during the air attack of April 6. Air defense set at 1020, but with no action. Bogies were seen but out of our range. Our "Picket DD" was hit by crash dive just below the bridge. It retired under its own power. Condition (1) set at 1915, then after securing were called up again. Condition (3) set at 2005.
April 12.
Condition (1) set at 0330, secured at 0405. No planes got in. General quarters sounded at 0525. One bogie splashed just off our port side. Condition (3) set at 1225. Condition (1) set at 1330 and was maintained until 2000 only to be called again at 2010. Our group did some beautiful shooting. The CL MOBILE (CL-63) missed a crash dive. During the course of the day ninety-three bogies have been splashed. Our group got at least twelve. The majority going to Task Force 58.
One destroyer ( DD Sellers ) and the Tennessee were hit by Kamikazes. The Sellers proceeded to Kerama Retto under its own power. One F4U was shot down but the pilot was picked up. Condition (2) set at 2400. The weather has faired up. No one is getting much sleep. We were told we might get some mail. We have been told this before. Scuttlebutt is that we will be in Guam by the 17th. No chow, mail or sleep for quite awhile.
April 13.
Friday, we pulled into Kerama Retto to refuel and rearm at about 0230. Finished at 1415 Around us, we can see several destroyers that have been hit in the last few days. The bogies seem to be picking on DD's. We have lost three or four in our group alone. No sleep, no air defense, no bogies nothing but ammunition. The guys are certainly about ready to drop in their tracks.
The mail situation is disgusting. We'll need to head to some port before long. Our chow and stores have just about been used up. The fellows got a big shock today. We got word at about 0800 that President Roosevelt passed away in Warm Springs, Georgia.
Pulled into Kerama Retto's southern approach and GQ set at approx. 1730. One Jap Val is reported off our starboard beam. The sky is clear and crisp. The 5' (mounts 1&3) opened fire at 12000 yds. At that time we could see the bogie coming straight for us. The firing pattern is perfect and the Val went down at 9500; that was beautiful shooting and the first single plane I've seen our 5' knock down. A small mine sweeper, on patrol, just off our starboard side paid us a high compliment. "I'm glad you are on our side."
Condition (2) set at 1930 to harass the enemy with our star shells, provide cover for our pickets and use the St.. LOUIS (CL-49), as bait, hoping that these Jap suicide boats will attack us. No excitement all night. The sea is like glass.
April 14.
Pulled in and dropped anchor at 0800 in "bogie bait bay" ( the anchorage in SW part of the island now called Buckner Bay named for the our army general, Simon Bolivar Bucker commander of our army units) We pick up thirty bags of mail here some time today. The sky is clear and it looks as though it will be a beautiful day. And good for shooting down Japs if they try to come in. We may have the duty to night. It looks as though our whole force is here to form, I presume. Picked up eight bags of mail at 1015 and almost immediately pulled out. At 1130 Condition (1) set followed by General Quarters. Condition (3) set at 1200. We just heard that the NEVADA, MARYLAND and Cruiser PENSACOLA (CA-24) are shoving off to "State Side." And we have the duty again tonight. A lot of the fellows are speculating that we'll be back in the States in August or September for a general over haul.
We have had forty-three air defense alerts in one month and at times remained at our guns over 20 hours. It seems as though we've had a thousand. Condition (1) set for shore bombardment. Got six letters today. Our bombardment area was in the South Eastern side of Okinawa just opposite Naha.
We are now with the NEW YORK and ARKANSAS, the cruiser SAN FRANCISCO (CA-38) and
WICHITA (CA-45) Several large fires were started. Our troops can be seen about three miles west. We are in a small bay or lagoon, half-moon shaped with about six miles at the entrance closed off by several small islands. The Jap fleet used to anchor here while on maneuvers. Just after darken ship two bogies came in and the New York followed them down with 40mms fire hitting the ARKANSAS as one plane crashed in the water near the ARKANSAS. The other bogie fled.
The sky is clear and the moon is in its first quarter -- so soon. It seems only a week or so ago we had a full moon. Mail call has made the crew almost jubilant. So far we haven't been assigned the night bombardment and harassing duties.
April 15.
Bombarding same area. Yesterday and today the St.. LOUIS (CL-49) has dropped anchor to bombard. One air alert. Condition (2) is set. It is a beautiful day, the water is smooth. The fellows have had enough time to write a few letters while off watch. Held services commemorating the death of our president. Condition I set at 0230 until 0340. Condition (2) set for illuminating.
April 16.
Bombarded as yesterday. Last evening the forces on opposite side of island caught the devil right after darken ship. A bogie flew across the Marine airstrip with its landing lights on, and dropped three bombs. The search light battery illuminated him (the first time for such) and was finally brought down.
Marine 40mm mount #1 strafed 180 rounds toward the beaches and started two beautiful fires which spread from house to house. Several horses can be seen running frantically. Our 5" splashed two of them. We have the duty again tonight. The other ships operating with us (WICHITA (CA-45), NEW YORK, ARKANSAS, CALIFORNIA ) have to ration their fire. Condition (2) set at about 2000. Condition (1) set all day. Several alerts but no attacks. Another beautiful day.
April 17.
The day opens up following yesterdays routine. Illumination fire from our 5" batteries all night. Mine sweeps are making runs on the left approach of the harbor. The soldiers are at a standstill. The Japs have dug in, so maybe our forces will make another landing in this area. The last few days have been perfect. The sky is clear and our only main time of worry is at dawn and twilight. They know we can spot them visually when it's so clear as it has been the few days past. Condition (2) set since General Quarters.
We steamed out at 1445 and headed north at 26 knots. I think to Point Moto ?? . Condition (3) set at 1500. One destroyer in Okinawa area (fighter director) was attacked by twenty-five Jill's and Val's. She shot down six and took four crash dives and two bomb hits and still pulled away making 20 knots. Our main battery men have filled all shell hoist and decks with AP (armor piercing) projectiles and flash-less powder. Rumors say we are forming to go north to mop up remnants of the Jap task force that task force 58 misses. All this except the ammo type is strictly scuttlebutt.
We are just off Ie Shima. Incidentally, army troops landed here yesterday. The troops have taken one airstrip and has just now run into resistance from the Japs on the southern side of this island.
The crew is in an apprehensive mood and expects to hear General Quarters sounded very shortly. The time of this recording is 1945. Affirm set several times during the night. Bogies in to three miles.
April 18.
Pulled into Kerama Retto at 0730 to refuel and rearm. Stuff like this is what makes a guy want to be a 4F. Completed rearmament at 1130. Maneuvered to a tanker for refueling at 1245. Scuttlebutt is that the ST. LOUIS (CL-49) and a couple destroyers are to have the radar direction duty. If so, we're going to catch the same hell these Fighter Director DD's have been getting. Pulled out of Kerama Retto at approx 1730 with the SALT LAKE CITY (CA-25) and later the BIRMINGHAM (CL-62). Condition (1) set at 1815. The St. LOUIS (CL-49) fired a few rounds of 5" to port and the bogies kept their distance. Condition (3) then set at 2100. For tomorrow our force is going to set an amphibious trap or fake landing. The nights are getting more brilliant. The moon is in it's first half.
April 19.
Commenced bombarding at a point about a mile or two south of the original landing beaches. It's been raining hard all morning. At a little after noon we pulled out in clearing weather and proceeded south to same position of our previous bombarding. Condition (2) set in the morning until 1400. Condition (1) set for routine evening air alert. Dispatch says to expect a large scale air attack tomorrow. Condition (2) set with deck sentries at 1900. It's beginning to fair up and turn cooler.
April 20.
Condition (2) set after General Quarters and the morning alert. Army troops gained up to 8,000 yds when this "feint" was taken under effect. ( mentioned previously on April 18) The Marines are in the process of "mopping up" on the northern end of Okinawa. We dropped anchor. The St.. LOUIS (CL-49) has the Radar Control duty. Condition (3) set after evening alert. Deck sentries posted as usual. Bogies have been coming and going all night, but no shots were fired cause it might give away our position. We take no planes under fire unless actually seen visually.
April 21.
Reveille at 0445. Condition (2) set after GQ and morning alert. ( on April 18 the Navy put on one of the most terrific bombardments in history on Jap mortar and pill boxes that have the Army stalemated ) Today we bombard as usual with 6" and 5" battery. Up to now it has been more vicious than any with the exception of Love Day.
We remain pretty concealed in this harbor so we haven't had much aircraft shoots. Rumors say we'll be in Ulithi or Guam about the 27th. After Condition (1) evening alert Condition (2) is set. A whaleboat from one of our destroyers is patrolling our waters for suicide boats. Deck sentries posted. Large scale night air attacks on Fontan air field. Jap "Betty" bombers, with intention of dropping incendiary on our lines, dropped them on their own lines. Slight gains to the south. These Japs are really "dug" in. Mopping up on continues on Ie Shima. This is where Ernie Pyle was killed a couple days ago.
April 22.
Same duty as yesterday i.e. trying to blast out the Japs. Yesterday we got a dispatch to keep on the alert. A fifteen hundred plane attack is to hit the Okinawa area. All hands think this is slightly exaggerated.
Continue to bombard as called for. No air attacks on us but fifteen Val's and four Nick's are shot down. This formation signed their own death warrant. This force came into 20 miles then go out and after repeating such action are finally shot down by our naval and air combat. One large scale alert but Condition (2) maintained. Deck sentries posted. About twelve large man-o-wars have left this area which gives the reason for our continued night duty.
April 23.
We continue to bombard Jap held position in Nagausuku Wan ( Bogie Bait Bay , also now called Buckner Bay). The lines in our area have shifted hands numerous times. Ie Shima is in the last stage of mopping up. Ditto for Marine forces in north Okinawa.
Clouds are forming and Condition (3) set approx 1400 after a slight sprinkle. A few days ago one of the cruiser MOBILE (CL-63)'s turret guns blew up causing numerous casualties. The St.. LOUIS (CL-49) has taken steps to prevent such an accident. Brass residue from firing form a coat on the bore and may choke the projectiles. One of our 6" guns was taken out of commission after an inspection. Our "Bogie" worries are over for awhile, at least a large scale attack, because Mariana Island based B-29's blasted air strips on Kyushu where the Japs concentrate their planes before a raid in the Okinawa area. Underway at approx 1430 and heading north. All guns back in commission. We'll most likely re-arm to-morrow. Two months ago today we left the states. Approximately 60 Jap planes were given the "Tally-Ho" yesterday by Task Force 58 Navy AA guns etc.
APRIL 24.
Commenced re-arming at 0745 after pulling into Kerama Retto. Drizzling or raining all day. For the first time since state side we brought on provisions. Replenishing ammo and bringing on stores has been an all day job. Lately we've had no "jo" and rationed one piece of bread per meal per man. Our chow situation is pitiful. I've lost fifteen pounds. Some of the guys have lost as much as twenty-five. Underway at 1745 and headed east. The 10th Army Corps has lost ground since yesterday. The Russians have half of Berlin and elements of the American 9th are within 20 miles of the Russian lines. Dropped anchor in Bogie Bait Bay. Condition III set for the night.
APRIL 25.
Where are all the "Bogies" ??? This is too good to be true. One alert in the morning but it turned out to be PBM. Underway at about 0700 and heading north toward Naha. More bombardment later on today. Cond' II set at 0815 for continuing shore bombardment in the Naha area. Continuous rain all last night and this morning. The troops are fighting the Japs in a seesaw battle. The Marines have landed on two small islands off Kummu Bay on the eastern side of Okinawa and are in the process of "mopping up". Forty-seven Japs were shot down yesterday but the St. LOUIS (CL-49), hasn't been touched or attacked for several days (about 1 & ½ weeks) which, buy the way agrees with the crew 100%. The St. LOUIS (CL-49), WICHITA (CA-45), NEW ORLEANS (CA-32) and other BBs etc bombard enemy encroachments and positions in Naha and on the front lines. The city of Naha is on the South side of Okinawa and has a population of about 66,000 (prewar). Three fourths of the island is now in our hands. Again we have the night duty. Weather has turned to clear at about 0830. Full moon. I wish a certain person was here!! We are anchored in Nago Bay.
APRIL 26.
Up anchor and continue bombarding as yesterday only at a longer range. Jap artillery opened up on the ST. LOUIS (CL-49) while in close. Shells fell and burst right off our starboard bow and beam. Full-scale support is being given the American troops. Navy guns, Army and Marine artillery, Marine and navy planes. But still the Japs haven't seemed to be fazed. A slight drizzle about noon. Cond' II is still maintained. We arrived at Okinawa a month ago to day. The ST. LOUIS (CL-49),has been having the night duty for about five weeks except when we pull out to re-arm or refuel. The main object of the "Bogie" attacks is our fighter director ships, our airstrips and shipping in Nago Bay. But as we are in this area we are constantly alerted. Smoke screens are laid at night as a general routine. Condition II is still maintained through out the night.
APRIL 27TH.
We continue to bombard the Naha area. The 10th Army Corp. is still almost completely stalemated. Full support twenty four hours of the day from by Arial assaults, Army and Marine Artillery and the Navy's big guns. The Japs to the south are taking a terrific pounding but they have the advantage. They are dug in: pill boxes, caves and the army is the attacking force. Late in the afternoon enemy artillery open up on ships at the extreme southern flank of the anchorage. The ST. LOUIS (CL-49), USS NEW YORK and several AKA's are their targets. All ships shifted and the firing ceased at the approach of darkness with no damage. We drop anchor for routine night bombardment and illumination. One air attack on ships under smoke screen. One Liberty ship and a Destroyer hit. Condition 2 is maintained.
APRIL 28th.
After general quarters, condition 3 is set, presumably to give the crew a rest. (Which incidentally, is just so much ............!!) Within 2 hours: Condition 2 set, quickly followed by: Condition 1 set. Condition 3 set mostly throughout the day. Up anchor at approx. 1400 for new assignment. At 1500 we commenced routine bombarding in Naha area. Condition 1 is set at 1830 and at 2000. The ST. LOUIS (CL-49) shot down one "Bogie" with Port 5"38. The plane came down about 5000 yds off our port bow. Condition 1 set in AA battery, all night with Condition 2 set in other stations, we put up a tremendous barrage all night. No one got any sleep in AA Battery. We are almost completely out of 5" and 6" ammunition. We'll probably re-arm tomorrow. The WICHITA (CA-45) was hit yesterday, but up to now, no one know the extent of the damage. It is now confirmed she also was run aground and which flooded a storage compartment. The moonlight nights are beautiful.
APRIL 29th
Condition (3) set after General Quarters. Air defense sounded while crew was at chow. The Bogies turned out to be PBM's. Yesterday one pilot shot down seven "Vals" for himself. Total for yesterdays bag in Okinawa area [ 105 ] Commenced bombarding at 0730 in same area.
At 1003 this morning, Radio intercepted an AP. News dispatch from the U.S., saying that "Germany" has surrendered, "Unconditionally" The crew is jubilant!!! The Marines pulled each other out of their sacks, slapping backs and shaking hands and giving blood curdling long yells and screams. Some of the married fellows, whose wives are expecting sat down and with tears in their eyes wrote home. Everyone is visualizing just what sort of celebrations are going on at home. Incidentally it is Saturday night at home, around 7:00 PM. Even the fellows bloodshot eyes, from the lack of rest are bright eyed as stars. The Chaplain is holding Mass for all hands for prayer.
A few of the Jap piloted rocket bombs have attacked war ships in this area. But their speed and lack of training for the pilots make them almost ineffective and up to now we haven't gotten any word that damage of any sort has been effective in the fleet.
The Navy ship USS COMFORT was hit by a Japanese suicide plane. Hospital ship are not armed in any way. This is the meanest of low things they have done. In the mean time, our planes shot down one "Nell"; while bombarding Naha and sinking nine Japanese suicide boats.
We continue to keep up harassing fire on Naha. The "COMFORT" made its way back in, under its own power, escorted by a couple of destroyers in case of another attack, or emergency.
Condition (2) set at 1445. Condition (1) set in AA battery for air defense. Bogies turned out to be two B-29's over Kerama Retto. ST. LOUIS (CL-49), continues to bombard Naha and nearby Japanese strong points. The TENNESSEE is now with us. Japs have given a little ground on one contested ridge. It has been almost two weeks of see-saw conflict. Mount #4 is completely out of ammunition and has to be supplied by the other three while in process of firing to Port-side. The nights are brilliantly light. Condition (1) set in AA battery for air alerts. Suicide plane attacks and air defense off and on throughout the night. Due to shortage of 5"ammunition, no rounds fired unless Bogies are closing on us.
The DD's way off shot down two Japs. It illuminated the sky on the horizon.. The ST. LOUIS (CL-49),now has no screen of any kind. When not in an air alert, we continue to bombard and illuminate Naha.
APRIL 30.
Condition (3) set at 0630 following daylight General Quarters, As we first reach this area reveille was at 0515 but due to the approach of summer it is now at 0440. The night have been uncomfortably cool and windy. But the daylight hours are ideal. At approximately 1030 we pulled along side an LST to re-arm. We took on only 300 round of 6" which is all they had. We took off all our empty 5" and 6" powder cans. Pulled out of Nago Bay at 1330 to bombard Naha only eight miles to the south. Condition (2) set at 1500. We bombard again to-night. The weather is becoming warmer and warmer and more humid by the day.
MAY 1
Pulled away from Nago Bay and headed west to Kerama Retto. Pulled in at approximately 0700. Took on fresh provisions and ammunition until 1700. Pulled away from LST's and headed east for Okinawa. Bombard again to-night I guess. Light drizzle off and on all day. The Army sent us word that of all the things the Jap prisoners said the dreaded most was the Naval gun fire. The ST. LOUIS (CL-49),has fired twice us much ammunition as any other bombarding ship. The ST. LOUIS (CL-49),is said by ground forces, to be the best there is in this area for "Call Fire" Condition (2) set at 1845 for shore bombardment and illumination. This is a miserable night. Drizzling all night, almost with out let up. Started clearing up about 2300.
MAY 2
At about 0130 Jap artillery opens up on us on our Port side. Missed only four hundred yards. We up anchor and moved and dropped anchor again. We were not bothered again. Reveille at 0440. The Japs are really taking a pasting to-day from Naval guns and artillery. The weather is again changing, windy with rough water and a cold miserable rain. Condition (2) is maintained in all stations. At this rate of fire we will back in Kerama Retto in three or four days for ammo.
Our initial velocity is getting awfully high. The guns now are at PA 23 and 50, they are rendered almost useless. Battle activities can be seen on the beach almost constantly. The northern most air strip of the two still in Japanese possession is the front line objective. Drizzle and rain, drizzle and rain all day. Dropped anchor in Nago Bay approximately 1830. We have the night duty. Condition (2) is maintained.
MAY 3rd
Another miserable night. We have been keeping deck sentries posted every night in the event of a suicide boat attack. More have found mint in Naha area. Up anchor from Nago at approximately 0700. Condition (3) set for an hour or so to give the crew a chance to wash and clean up. Condition (2) again for routine firing. The sky has a low ceiling and is extremely cold and windy, the same as after or during a rainy spell. After 6" turrets open up at rapid fire (7 second salvos) at target on beaches. (Presumably troop concentration). 1st Marine Division reinforced Army unit and gained 1400 yds; More than what has been gained in our two weeks struggle. Air Defense twice to-day. The latter being in the evening. One Marine F4U shot down a bogie and it can be seen falling about five miles off our st'bd' beam. One TBF was forced to make a water landing after developing mechanical trouble following a raid on Naha. A destroyer in our force, picked up all three men. During the evening alert the AARON WARD took five suicides and was left dead in the water. Later all hands were ordered to abandon ship (this DD was on the Radar Picket duty) One fleet tug, two LCM's took hits also.
We dropped anchor way out in Nago Bay for night harassing, illumination and bombardment. Condition (2) set and maintained, interrupted only by Air Defense alerts. The weather is clearing up considerably and has turned from cool and windy to warm and calm. But as night comes we always don extra clothing. The night is beautifully clear with practically none, if any wind.
MAY 4th
Quite a bit of nocturnal activities. Small picket boats can be seen firing 20 and 40 mm's at suicide boats, accurate firing from the beach confirmed, destroyers confirmed by illumination the action: In an area just south of Hagushi, a large number of Japs, estimated as one battalion, tried a sneak flank attack. The attack was repulsed and 257 Japs were found dead on the beach. Another 25 lost their lives after entering a small village which was their objective. The balance fled with out a fight, when they found they were trapped. The battalion was well accept with small arms, mortars and anti-tank guns and had provisions enough to last one week. These men seemed to be in perfect condition considering the blasting they've been getting.
The ST. LOUIS (CL-49),illuminated the approaching attackers while tanks and patrol craft hammered them with light and heavy machine guns. All this happened between 0200 and General Quarters. Condition (2) maintained but air defense set most of the morning. At 0837 the stbd. 20 and 40mm battery shot down an "Oscar" after he completely circled the ST. LOUIS. It fell at about 1500 yds and as the plane fell the pilot fell out and splashed in the water.
The Destroyer Radar picket DD 422 the LUCE was sunk by Jap suicide divers.. The BIRMINGHAM (CL-62) was also hit forward just aft of turret two (2) on its top side. Fires burned up through 1400 PM. Thirty seven Jap planes and three Buzz Bombs were splashed during this mornings initial attack. We continue to bombard when not at Air-Defense. Except at General Quarters and Condition (1), Condition (2) is maintained. LCVP's lay smoke screen during evening a lot now.
MAY 5th
Condition (2) still set. The ST. LOUIS (CL-49) continued to bombard with her 5" and 6" batteries. The CALLAHAN (a DD) sent a message to us saying; "Hats off to your AA Battery" The CALLAHAN has happened to be with us each time the ST. LOUIS (CL-49),was under an air attack. Our gunners learned a lot while at Leyte Gulf. The Japanese assault boats that attempted the landings on the might of May 3rd and 4th are being burned just off the beach. There are an estimated 70,000 Japanese troops left in the Southern Okinawa sector of activity.
The nights seem cool and day fair with lots of sun and scattered clouds. Our guns are rapidly burning themselves out. At this rate we'll be back in the a repair yard before our scheduled time. We maneuver in range just southwest of Naha. We illuminate and bombard trying to provoke and bait Japanese artillery fire. Condition (2) set practically all night. These nights are miserably cold on the guns.
MAY 6th
The day opens following the general routine. Several air alerts but Condition (2) is maintained other was. The sea is rough and very windy with a clear sky. The Japs are getting hammered as usual by flame throwers. (Tanks with heat tanks attached can be easily seen from the ship), from all sides they are getting Army and Marine artillery, hand gunfire plus air strikes from glide bombing TBF's, rocket and strafing runs from F4U's and F6F's.
Air defense set during evening a lot. This is our first free night in about three weeks, but as luck goes, I have the 12-4 watch. Condition (1) AA firing, set at 2015 and I was caught in compartment. Bogies all around us, I can't understand why overall Condition (1) wasn't set. Our "Initial velocity" on the 20's is still around .33 according to the latest dope.
MAY 7th
Up anchor at 0520 and headed west for Kerama Retto. In the course of the morning we refuel and take on 6" projectiles, and took off empty 5 and 6" powder cans and stowed them on a LSM. This is getting to be an all day affair and more gruesome than ever before. One air alert in the afternoon but Flash red has been set throughout the morning and afternoon. This would be a "Hail Kate" if we were to have an air attack.
The Jap planes could skim over these peaks and drop in on us before we had a chance to fire; but our C-A-P is the best and provides the greatest protection possible. Kerama Retto is an operational base for sea plans ( PBM's ), a refuge for damaged American ships until able to proceed to a repair yard after being patched up be a repair ship., a supply base for stores, ammunition, fuel and an advance base for tankers and freighters until called for at Nago Harbor.
Finished ammo. replenishment at approx. 1730 and got underway soon after. It has been fairly windy with heavy clouds with rain in the afternoon and continues still at 1830. We are heading east for Nago Bay. They say we have the duty to-night. Condition (3) maintained, Condition (1) set at 1835 as we approach Nago Bay. Condition (3) set at 1900 and we drop anchor at 1905. A smoke screen is being laid . This is to be my first fairly good nights sleep, but I got up at 0315 for the 4-8 watch. I saw DD 552 pass just now.
MAY 8th
After reveille was sounded it was announced that there would be no General Quarters. But as expected, Condition (1) would be set in the AA battery. It has been raining frantically all night. At 0515 we were underway and heading South. We arrived at Nakuzukia Wan at 0830 on the Pacific side of Okinawa. At 0231 WE RECEIVED WORD THAT THE WESTERN ALLIES HAVE ANNOUNCED OFFICIALLY, THAT GERMANY HAS SURRENDERED UNCONDITIONALLY - and at 1200 sharp today, all ships in the Okinawa area along with Army & Marine Artillery will fire an "All Gun Salute" at a defiant Japanese target in commemoration to VE-DAY. The ST. LOUIS (CL-49),fired a 14 gun salute to port. (Which by the way, was our only gun fire for to-day) as did all the other ships in our unit.
There is scuttlebutt that the BROOKLYN (CA-40) and SAVANNAH (CA-42) which have been on the East Coast throughout the war, is due to arrive here before long. Condition (3) is maintained. Commencing fire on the enemy at approx. 1915. Upon anchoring for night. Deck sentries are posted and LCI's lay smoke screens. Condition (3) is maintained as the 5" battery is all that is called for. Just illumination and harassing fire. In Naha-Gusuhia Bay with us is the BB's MISSISSIPPI, TEXAS and NEW YORK, a division of Destroyers and about a score of LCI's. The evening has cleared up slightly but more rain is expected later to-night — I have all night in the sack, but wrote letters before turning in. Not one air alert to-day, which I believe is the first of such. The SAVANNAH (CA-42), BROOKLYN (CA-40) and PHOENIX (CA-47) is said to be in the area. But it is no confirmed as far as I know.
MAY 9th
After General Quarters, Condition (3) is resumed. I have the 8-12 watch. The weather is hot and the sky is clear. This bay protects us from a lot of cold breezes from the north. The NEW ORLEANS (CA-32) pulls into works with us. All ship fire according to call fire. Not alerts. First day since leaving Ulithi. I wonder if the Condition (3) will last. Slight gains have been made on the front lines. Condition (2) set in early evening. Air defense once in the evening. Enemy troops are seen in the open; so the reason for setting Condition (2) We very seldom find out our damage results. Air alerts all through the night but Condition (2) was maintained.
MAY 10th
This has been an ideal day. Clear, with plenty of sun. "Bogies" can be seen at high altitudes making "Vapor" (from 20 to 40,000 feet high) Our C-A-P finishes them off as they seem to be reluctant about coming down. Condition (1) set several times to-day. The ST. LOUIS (CL-49),has the Fighter Director duty and have four Corsairs (F4U's) as protection. We remain in Naha Geisuku Bay. Condition (3) set at 1715. Affirm set most of the time during the night, which makes it quite uncomfortable for the sleepers. Same went on top-side. LCI's cover us with smoke. I have the 12-4 watch.
MAY 11th
Condition (2) set after General Quarters this morning. Condition (1) in AA Battery most of the morning. Americans have opened an all out offensive, which started three days ago, to complete the Okinawa campaign. This is a beautiful sun shiny day. I have the 8-12 watch. Scuttlebutt now say we are to leave for Leyte very shortly. The PORTLAND (CA-33) pulled in yesterday to bombard with us. 83 Jap planes have been shot down so far to-day (1230) in the area. Condition (3) set at 1745. No alerts since noon. Another beautiful day. Night illumination duty with the 5" battery, our duty.
MAY 12th
Condition (2) set at about 0745. Elements of the 1st and 6th Division Marines are within 4000 yds of Naha. One air alert at General Quarters but turned out to a PBM. No more alerts up thru 1300. The rumor about going to Leyte (or the Philippines) is becoming more and more logical. Have had engine or diesel engine trouble off and on steady now, but after all night and morning Motor Mech's working on it, it is back in running order again.
Air Defense at 1400 but a F4U tally-hoed and shot the Bogie down about 20 miles away. One FM2 burst into flames and fell behind enemy lines while making a strafing run. Reason for explosion ????? who knows.
Air defense sounded 1845. AA fire can be see over Okinawa from ship in Naha Area. The NEW MEXICO took a near miss and a crash diver by the stack. It knocked out four 5" mounts and lesser guns. From the latest word, fifteen men were killed and fifty seven wounded. Condition (2) set for night. Harassing fire and illumination tonight. We are still the Fighter Director ship with 4 F4U's at our disposal.
MAY 13th
Mothers Day today, wrote mom, but was interrupted by Air Defense. Condition (2) was maintained after the alert. The PORTLAND (CA-33) and NEW ORLEANS (CA-32) left us a day ago. The TEXAS pulled out this morning. We are supposed to have mail on one of the DD's that pulled in last night. One bag of mail brought over to us by LCI's. Got one V-Mail letter from mom. The NEW ORLEANS (CA-32) is back with us. This has been a beautiful but hot day. Condition (3) set at 1600.
C-47's can be seen spraying occupied ground with some sort of chemicals to kill the rats and insects. A couple of alerts but Condition (2) was maintained.
The Japs have a new plane that is almost identical to P40. It was shot down by 5" guns. The plane was painted silver and has been named "Grace". The plane is either a dive bomber or a torpedo bomber. The scuttlebutt is that we have two stars for our operations since February 28th .
MAY 14th
Illumination and harassing fire all last night. Condition (2) and (3) set at different times as to make it convenient to the Pay Crew. An LST pulls along side us to partially replenish our star shell supply. This has been a hot day. The WICHITA (CA-45) is with us now. Dope is that we go to Kerama Retto to-morrow. If the American troops continue at their present pace, the campaign will last from five to eight weeks longer.
We had a sprinkle during the 12-4 watch. We remain as Fighter Director ship. Condition (1) set for evening alert. A few Boogies reported but kept their distance. Condition (2) set for night bombardment and harassing firing duty. A slow miserable drizzle all night long.
MAY 15th
Weather clears as morning approaches. No General Quarters due to bad and foul weather. This makes twice that we have had no GQ in the morning. Condition (2) set at 0745. Left Nagausuku Won at approximately 1500 and headed for Nakugusuku Won - arrived at about 1800. Condition (1) set for evening alert. C-A-P and fighter planes shot down 10 Boogies, 40 minutes west of us. We go to Kerama Retto to-morrow. The NEW MEXICO is anchored here. Condition (2) set for the night and we have no duty. Deck sentries are posted as usual whenever at anchor. We have been at battle operations for two months and a day. Sixty two days and fifty of which is dominated by the Okinawa Campaign.
MAY 16th
Underway for Kerama Retto at daybreak. Pulled in and immediately commenced re-arming and taking on provisions. Got some letters today, the best haul so far. Each time we re-arm, it seems to get more and more gruesome. Took on 900 cans of 40mm ammunition. Finished up at 1715. So far, more than half of the LST's we re-arm from are built at Evansville, Indiana. They come down the Mississippi and prior to going the Pacific via Panama Canal, they pick up their first load at Mobile, AL. Their load comes from the Naval Supply base at Theodore AL.
Underway and headed east for Naha at about 1745. Condition (1) set in AA battery for evening alert. Smoke screen in laid. The moon is in its first quarter. A couple Boogies shot down far out from us. Condition (3) maintained through out the night and I have the 6-8 watch which gives me all night in the sack. It was wonderful.
MAY 17th
Up anchor and underway for Nakugusuku Won, 40 miles south then west, The SAN FRANCISCO (CA-38) and WICHITA (CA-45) are here. Condition Two (2) Able set at 0800. Net layers are stretching anti-submarine nets across the entrance. This will probably be the future Naval operations and Anchorage for the larger ships and immediate supply base for future operations. A beautiful day and peaceful. Condition (2) is maintained in all stations. Affirm is set most of the night an it was as hot a night as any we spent in the Solomon. Bombarded all night.
MAY 18th
Today is fair and fairly hot, but there is a peculiar haze laying up to two hundred feet. Air defense set several times but not air attacks.
The 6th Marines have entered Naha. The Navy has shelled Okinawa with 35,000 tons of explosives since the beginning of this operation. We got a dispatch from CTG51 complementing us and seventeen Destroyers for such an excellent job of shooting down attacking planes. The ST. LOUIS (CL-49),is laying in close, putting up a terrific 5" and 6" barrage on enemy pill-boxes, gun emplacements etc. The Destroyer LONGSHORE was hit by Jap artillery in Naha area. It was reported in grave condition and abandon ship was about to be given. The Jap shell hit one of her 5" magazines and set off the other forward magazines. Her bow was blown off almost to the superstructure.
Up to-date, 52,000 Japs have been killed and approx. 1052 prisoners have been taken. Their losses, compared to ours have a ratio of 11 to 1. The LONGSHORE was eventually sunk by the Navy. Condition (1) set for evening alert, but Condition (2) was maintained through out the night for illumination and harassing fire.
MAY 19th
Condition (3) set after general Quarters, a light, slow rain all morning but the latter part of the day was fair and cool. Condition(2) set a couple of times for Air defense. No bogies come in. The SAN FRANCISCO (CA-38) and TUSCALOOSA (CA-37) are now our only major fleet units in Nakugusuku, both ships have just returned from Ulithi, the cruisers getting a new paint job.
Condition (3) set at 1800. To-day is the ship anniversary; six years old, but the anniversary meal will be given tomorrow. The WEST VIRGINIA was reported to be crash dived, but was later reported to be a near miss. She had just pulled into Nago after an absence of several weeks. It is reported that the CL's VINCENNES (CL-64), VICKSBURG (CL-86) (CL-86) and CA PITTSBURGH are now in the area. We are scheduled for re-gunning shortly, but when ???? and where ????
Condition (2) set at 2000 for night illumination and harassing duty. A squadron of LCI's made a rocket run on target at the southern end of Nakagusuku Wan last night, they started numerous fires with 40mm's fire on one of the small island blocking the entrance of the Bay. Never did find out what whey were shooting at. It was bum dope we found out about the SAVANNAH (CA-42) and the BROOKLYN (CA-40) arriving here, as we soon found out.
MAY 20th
Third time the ship has not gone to morning General Quarters, but as usual Condition (1) set in AA battery. Underway and proceeded out of Nakagusuku Wan at 0700. Presumably for Nago Bay. A beautiful moon light night, opens into a fair and comfortable morning. One of the small island is under bombardment by Destroyers and LCI's. There is strong and convincing scuttlebutt that we leave for Leyte either Monday or Tuesday. The ST. LOUIS (CL-49),has fired more rounds per gun [ 11,774 6" projectiles , 11,842 5" projectiles, from March 26th to May 18th ] than any other ship in the Okinawa campaign. 3918 tons, that is 3% of the 35,000 tons total ship firing. It is said the ST. LOUIS (CL-49),may have set a new record for any Naval Bombardment in any single campaign. The WICHITA (CA-45) and the ST. LOUIS (CL-49),are the only two major fleet units that have remained in Okinawa throughout the operation without being relieved. The WICHITA (CA-45) ran aground a few weeks ago.
We pulled in at Naga Wan. Condition (3) maintained and during evening alert several Boogies were shot down about 20 miles west of us. One Destroyer transport was hit and Destroyer took a near miss. A mine sweeper took a crash diver. This is an odd evening for Okinawa. It is hot, humid and no wind and a low ceiling. When the smoke screen was laid the smoke went straight up and finally began to spread out. I have all night in; the 6-8 watch. Rumors have it we go to Kerama Retto to rearm our 5" ammunition. Then probably for Leyte the day following.
MAY 21st
After GQ, underway for Nakagusuku with the PORTLAND (CA-33) condition (2) set at 0900. A slight rain during the night. But today it is fairly windy with overcast. The "FRISCO" and TUSCALOOSA (CA-37) still here. As evening approaches it gets more windy and during the night it begins pour. A few Boogies were splashed during evening alert with a few more alerts during the night. They do this more to keep us awake and on alert than to inflict damage. Condition (2) is maintained.
MAY 22nd
No General Quarters, which makes the 4th time. This is due to the heavy rain. Condition (2) is still set and it is still pouring rain. The VICKSBURG (CL-89) pulled into Nakagusuku this morning and took a few hundred rounds from us. Demolition charges have been going up a few miles north of us where transports have been steaming in to reinforce our men on the west flank. They are re-constructing a pier or something or are in the process of making a new one. Up to May 17th 43,000 Japs have been killed, (1100) captured since L-Day.
After the evening alert Condition (2) is continued. At lest six planes are shot down during the evening alert alone. It has become such common talk to hear of Japanese planes getting shot down, that doesn't seem important enough to record. Except on a large scale air strikes. Our C-A-P has shot down 90 to 100 planes trying to reach our shipping area around and in Okinawa. The night is clear with a very high overcast which is strong and steady and a cool breeze from the southwest.
MAY 23rd
After our routine General Quarters the day runs parallel with yesterday's activities. We are in turn to re-arm but due to the lack of 6"ammunition we have rationed out fire, so to speak, until there is a supply at Kerama Retto. The morning is clear and cool with a cool breeze and a very high overcast which provides good protection from the air. The Boogies can dive through the clouds and still be high enough to be noticed in time to fire. Organized resistance has diminished to only "pocket" resistance. But even as such, our lines have had no major or outstanding changes. The Americans continue to steam roller the Japs. No large air strikes on the Japs positions for the last few days.
A steady rain begins at 1330. It has been extremely cool for the last few days. We up anchor at approximately 1600. It continues to rain. Condition (2) set at 1500. Deck sentries posted. Mail came aboard prior to leaving Nakagusuku. No evening air alert. We snake dance tomorrow. Condition (1) set in AA battery at 2015 Condition (2) resumed at 2100. "Make Smoke" No wind and has slacked off raining at 2130.
MAY 24th
No General Quarters, this has been the most peaceful day since Ulithi. Condition (2) has been maintained all day and with not a single alert up to 1630. We are to get under way at 1730 we are still at Nag Wan, just a mile of Point Bolo. The weather is warm and with plenty of sun. I have the 6-8 watch and unless something turns up — all night in the sack. Condition (2) set for evening alert followed by GQ. Condition (2) set in all stations after the alert by condition (1) maintained in the AA battery. Plenty of nocturnal air activity. The Japs took advantage the beautiful moonlight night but constantly keep the AA personnel on alert. Several air attacks on ship in Okinawa. Fifty seven "Boogies" are shot down was the final count for the night.
MAY 25th
Condition (1) in AA battery maintained and still. To make it more miserable for the lack of sleep, rain begins to pour about mid-morning. Counting last nights bag, and up through 1200 to-day, 57 Japs have been shot down. Condition (2) set at noon. The VINCENNES (CL-64) is now here and the MOBILE (CL-63) has returned. We are supposed to re-arm tomorrow at Kerama Retto. Condition (2) maintained through out the night. We illuminate and bombard as yesterday night but without the air activity. Still raining a little.
MAY 26th
No General Quarters as its still raining and with a thick overcast. Condition (3) set at approx. 0700 and is maintained except for one air alert. Four Japs splashed 40 miles to the north. From March 18 to May - 3490 Jap planes have been shot down. Yesterday tow pilots of F4U's attacked a formation of 30 "Zekes" and shot down seven and sent the remainder into a terrifying attempt to get back. Rain all day. The MISSOURI is now in Nago Harbor and it is said Admiral Halsey is aboard with his staff.
Routine evening air alert. It has ceased raining at this time but rain clouds hover over us. We have remained at Nago since this morning Condition (3) is set and I have the 12-4 watch. Again. We are to go to Kerama Retto. Cruisers and Battleships have been harassing south of us near Naha.
Major Fleet units now in this area, are the IDAHO, MISSISSIPPI, MISSOURI, TEXAS, NEW YORK. The NEW MEXICO hasn't left for repairs and she remains at anchor in Nago Wan. The cruisers VINCENNES (CL-64), MOBILE (CL-63), VICKSBURG (CL-86), ST. LOUIS, WICHITA (CA-45), NEW ORLEANS (CA-32), FRISCO, TUSCALOOSA (CA-37) and maybe the DENVER (CL-58) which is supposed to just come in.
MAY 27th
More rain commencing just before reveille. Cmdr. Smith came aboard from the MISSOURI as our new Executive Officer. Condition (1) set at 0830 followed by Condition (3) at 1200. Still raining. About seven boogies shot down. A "DMS" shot down two and was crashed dived by the third. I can't keep track of all the ships that get hit. What I write is only in the immediate vicinity of Nago and Okinawa. We leave tomorrow for — Leyte ??? Six months ago at approx. the exact time (1210) we were catching hell at Leyte Gulf. An LCI brought out mail bags at 1100 Approx. two full bags. As we are completely out of 6" Ammunition forward and with a little left aft, we haven't had the duty. No telling when 6" ammo. Will be brought into Kerama Retto. But with the VICKSBURG (CL-86), QUINCY and VINCENNES (CL-64) we can rest for awhile as they have full magazines. We have been at Okinawa two months and two day to date.
Condition (1) set in AA battery for evening alert. Several Boogies shot down. One destroyer was hit by Jap shore batteries south of here toward Naha. All ships in that area BB's and CL's and CA's open up with all they have to knock it out. Tracers from the main batteries can be seen arching from the ships to the target. The MISSOURI is down there throwing a few in also. Condition (2) set at 2030. We definitely leave for Leyte to-morrow. Word came over the PA system.
MAY 28th
After General Quarters was sounded, Boogie #17 came in off out port beam. It was a "Pete" and also the first plane I've seen shot down by a direct hit 5" hit. The boogie completely disintegrated into a million pieces. It wasn't quite daylight so the flack was brilliant. The ST. LOUIS, WICHITA (CA-45) and a Destroyer and a couple of cargo ships claimed it. Later on an "Oscar" dived thru the clouds at us, but missed and was shot down by a destroyer. The Japs sent thirty different raids to strike the shipping and bomb Yonton airfield. A couple nights ago one Jap transport landed at Yonton and 20 Japs jumped out and with themselves made up as human bombs destroyed six of our transports.
The ST. LOUIS, WICHITA (CA-45), and SALT LAKE CITY (CA-25) leave at 1100, we are underway for Leyte. We are due to arrive there Thursday. This is Monday. Now for a little piece and quiet. Field day today. Clean up. Remained at condition (1) all morning. The Destroyers HALL, LEARY, and FOX make up our screen. I have the 6-8 watch.
MAY 29th
Reveille at 0420. The weather is already changing, and the temperature of the water alone has increased 6 degrees. We left Okinawa just as the Summer Monsoon arrived. AA firing and drill this morning — as if we haven't had enough. Field day again to-day. The ship is really in need of a good going over. We still have some of the Okinawa flies hanging around. I have the 8-12. A beautiful, clear moonlight night but entirely to hot for sleeping below decks. I saw "My Favorite Blonde" with Hope and Carmel ??? in the wardroom.
MAY 30th
This is going to be a busy day. AA firing and "air bedding" in the morning with Quarters in afternoon for presentation of awards. Oh man, its hot.
MAY 31st
Pulled in at San Pedro Bay on the Island of Leyte at approx. 1030; They maintained Condition (3) as we pulled in we went alongside a tanker for refueling we are scheduled to be here from 10 to 14 days to "renovate" the ship. Painting, welding etc. Maybe new guns.
JUNE 1st
Commenced re-arming and re-provisioning at 0700 and knocked off at show call. Went ashore at "San Antonio" recreation on Samar. 15 miles from the ship. Sow the picture "Follow the Boys" w/ Geo. Raft and Vera Zorina. In this area we have occasional rain squalls. Its extremely hot.
JUNE 2nd
Still bringing on provisions which was provided an the night of June 1st . Condition (4) set in all stations, but at dawn and dusk Condition (3) will be set in the AA Battery. They had an air attack here sometime in March. The major fleet units here are the battleships, COLORADO, TEXAS, SOUTH DAKOTA, WASHINGTON and the cruisers
ST. LOUIS, WICHITA (CA-45), SALT LAKE CITY (CA-25), MOBILE (CL-63), ASTORIA, PASADENA (CL-65), WILKES-BARRE, and a few more "Cleveland" class CL's. The CV9, ESSEX is also here. One CVL the BATAAN. The crew has been working all day long. Painting, "renovating" and re-provisioning.
JUNE 3rd
Ditto work schedule; Movie shown aboard. "Here Comes the Waves" Betty Hutton
JUNE 4th
Ditto work schedule; Movie shown aboard "Tahiti Nights" Jinx Falkenburg and Dave O'Brian.
JUNE 5th
Went to "Samar" for recreation. Saw picture "Sensations of 1945" E. Powell - Dennis O'Keefe on the focscle
JUNE 6th
Still painting and ("triturating"???) Saw picture "National Velvet" 4.0 with me.
JUNE 7th
Ditto yesterdays work. Saw picture "Roughly Speaking" R. Russell, J Carson. Painted all day.
JUNE 8th
We leave Leyte on about the 13th. The ship is now just about all painted. Yesterday and Army P-38 crashed into the carrier RANDOLPH starting a huge fire on the forward flight deck. All ships here sent their fire and rescue parties and the inferno was put out in about an hour. The CVL's BATAAN and MONTEREY are here now. Saw "Rainbow Isle with D. LaMour, E. Bracken on the focscle.
JUNE 9th
Paint - Paint - Paint Saw the movie My Reputation B. Stanwick and G. Brent.
JUNE 10th
Finishing up paint work. We're just about ready to shove off. Commander Briggs left yesterday.
---
Data on the Okinawa Operation:
NAVY ACTION BULLETIN JUST RELEASED
In a 70 day tour of duty, 61 of the days were spent in the Okinawa area where the cruiser ST. LOUIS (CL-49),was on the firing line 50 days and 38 nights. The 5 and 6 inch battery's blasted Japanese caves, pill-boxes, shore installations, fuel and ammunition dumps and troop and vehicle concentrations. The ship began what was probably the longest bombardment in Naval History March 26th and except for 8 days devoted to replenishment of stores and ammunition was subject to bombardment and illumination call fire for the ensuing two months.
The three days that the ST. LOUIS (CL-49),was not actually firing, arming or replenishing supplies were supposedly dedicated to resting, but the Japanese were extremely un-cooperative. They were responsible for 52 day air alerts, and 35 night air alerts or which 11 materialized into actual attacks on the ST. LOUIS (CL-49),force. She shot down four enemy planes unassisted and assisted in the destruction of 6 more to raise her total bag for the war to 16 enemy aircraft (unassisted). The claim is being made that the ST. LOUIS (CL-49),pounded a new page into the history of Naval Gunfire during the Okinawa campaign.
The ST. LOUIS (CL-49),belabored territory on the key Ryukyu Island with a total of 26,265 rounds, possibly to break all existing Navy records for rounds fired by a single surface vessel in any one operation . Of the 2,116,985 lbs of metal the ST. LOUIS (CL-49),pumped into enemy territory, the greatest expenditure was made on D-Day, April 1st, when the cruiser fired 1500 rounds Shore fire control parties congratulated the ST. LOUIS (CL-49),and another cruiser the USS MOBILE (CL-63) on the accuracy of their fire, stating the marksmanship of the two CL's was the most consistent shelling of the campaign. However, the other cruiser had just fired 12,000 rounds. Less than the ST. LOUIS (CL-49),when the two ships retired from the Okinawa area.
Saw the picture "The Princess and the Pirate" Bob Hope, Virginia Mayo. The battleships, MASSACHUSETTS, ALABAMA and NEW YORK and carrier SHANGRI-LA just pulled in.

---
JUNE 11th
All painting finished except for a few old holdover's. We shove off to-morrow for a little drone AA shoot with Kamikaze status. The "Lou" looks very nice with her new coat of paint. Our next operation ??? — Kyushu ? Sakishima ? China Coast ? Or where ?????
JUNE 12th
Now we shine all brass work — thanks to the new Exec. Movie "Song of Bernadette" 4.0
JUNE 13th
Ditto yesterday. Movie " Three's a Family"

JUNE 14th
Ditto yesterday. Movie "Varieties of 1941"
JUNE 15th
Underway for Okinawa at 0900. WICHITA (CA-45) and five Destroyers are with us. Passed the ARKANSAS as we left Leyte Gulf. AA fire at 1202. On Okinawa the Marines and Army have the Japs compressed into a 19 sq mile area. Movie " The return of Madame Currie"
JUNE 16th
Held off set practice and exercises with the WICHITA (CA-45). Its still too hot for comfort. We are now in the 3rd Fleet. TF 30.9.24. Work, paint etc. all day except when on watch. I have the 12-4. From Leyte to Okinawa is a distance of 1050 miles. At 0700 this morning we have 666 miles to go.
JUNE 17th
We arrive at Okinawa tomorrow morning about 1000. This heat hasn't slacked off as much as hoped and expected. The Japs are forced into a smaller area now. About 9 square miles. Any day now and that campaign will end. Kamikaze attacks are gradually diminishing in Okinawa area. The 3rd Fleet under Admiral Halsey is making to do something big very shortly.
JUNE 18th
Arrived at Okinawa at approximately 1000. No air attacks in this area in three days. Sow the picture "Together Again", Irene Dunn and C. Boyer in the Mess deck area. On this cruise we have gone approx. 9900 miles. Evening alert.
JUNE 18th
So far the weather has been very comfortable. Simon B. Buckner (Army Lt General) was killed yesterday by enemy action (Artillery). The TENNESSEE, MISSISSIPPI, WEST VIRGINIA and a few other Battleships are here. So far we haven't been assigned to fire support.
JUNE 20th
We are due to push out at 1220 to ???? It is partially confirmed we are in force with the WEST VIRGINIA, CALIFORNIA, WICHITA (CA-45) and TUSCALOOSA (CA-37) with a destroyer screen. Supposedly for a couple or three day maneuvers. Mostly AA firing. We are heading East. In Okinawa the Japs have been split into two pockets of resistance. Equaling about 2 ½ miles. Maybe a little more. The weather is fairly comfortable. As we continue out to sea the wind increases and the water is becoming choppy with about 5 foot swells.
JUNE 21st
Enemy resistance at Okinawa has been officially announced to have ended, except for mopping up and clearing out troops that have in filtrated our lines. They call what we are doing "Tactical Maneuvers" but I can't se what we are accomplishing. The day is fair and brilliantly clear with high thick clouds.
This next one will be with Admiral Halsey, Commander of 3rd Fleet. There is a lot of speculation about when and where it'll be. Some say in the Japanese home island of Honshu. Since 0200 this morning 27 Jap planes were splashed at Okinawa. Eleven during darkness hour proving that the Japs took advantage of the moon light nights. The majority were "Betty" bombers.
JUNE 23rd
Condition (3) fires AA practice. We deploy from this force, either tonight or tomorrow with the WICHITA (CA-45) and two Destroyers. It is said we go to refuel and replenish all provisions that need such. At 0800 our position was 25º W Longitude - 129º N. Latitude which puts us about 150 miles southeast of Okinawa. Two light fleet units were sunk form yesterday Kamikaze attacks. It is disclosed the Japs have lost approx. 95,000 troops killed or captured , compared to our total of 35,000 troops killed, wounded and missing. Of that total approx. 9500 were killed, giving statistics of 11 to 1.
JUNE 24th
AA alert An enterprising Boogie as we pulled into Kerama Retto at approx.. 0730. These summer months at Okinawa aren't any to comfortable. Brought on two bags of 2nd class mail. Magazines and Newspapers. We refuel later on today, and then probably go out again as before. The WICHITA (CA-45) and two Destroyers came in with us.
On Okinawa Army Engineers and Sea-Bees are working around the clock building new airfields for future air operations. This new Exec. is certainly trying to make life difficult for us. Took on stores and a few rounds of 5" and 6" ammo. Underway from Kerama Retto at 1845. Supposedly to join the same force of a few days ago. This has been a bustling day. I have the 12-4 watch.
JUNE 25th
AA drone firing this morning. Group (1) shot down the only one that came over. Saw "Eyes in the Night" E. Arnold and A Hardesty and liked it very much. In our force (TF 32) are the Battleships: CALIFORNIA, TENNESSEE,
WEST VIRGINIA, Cruisers: WICHITA (CA-45), TUSCALOOSA (CA-37) and SAN FRANCISCO (CA-38) with about 10 Destroyers screening outside. The day is very warm and clear. Two snooper boogies can be seen making vapor trails miles off our port beam. General Hap. Arnold is on Okinawa forming his future strategic air operations against Japan.
JUNE 26th
Saw "Paris Calling" R. Scott, Elizabeth Burgess, pretty good. About the same type of day as yesterday. School every day now, and AA drill, shooting, tracking and simulated air attacks.
JUNE 27th
Saw "Gorilla Man" with John Loder. The "FRISCO" left us heading for Kerama Retto at approx. 2100. The WICHITA (CA-45) and St . LOUIS (CL-49),with three Destroyers ( HUDSON, WALKER and WEBER) form a separate task force (32.15.1) to intercept a possible "Skunk" to the north. 32.15.1 speeded at 27 knots, but no "Skunk" on radar or contact in proposed position. Headed back to rejoin. 32.15
JUNE 28th
Simulated Damage Control problems in afternoon, followed by Abandon Ship drill. We have re-joined 32.15. I have the 12-4 watch. Spasmodic air attacks routinely occur to keep the Okinawa defenders on the alert. This is nice weather, but still to hot to be ideal. Not a cloud in the sky and at night we have a beautiful radiant moon.
JUNE 29th
Got (4) letters today. We have the night "Skunk" patrol. This patrol duty is certainly becoming monotonous. Summer is here and its very hot. Usually not much wind to cool things off. DD 551 JOHN W. TAYLOR is our COMDESRON 49
JUNE 30th
Saw "Yellow Canary" at the movies.
JULY 1st
Got more letters today. Pulled into Kerama Retto to refuel and replenish all stores. Pulled out at 1700 and headed south. This new ......??............ has us ......??.............
JULY 2nd
Saw : "Gung Ho" in mess hall movies. All Cruisers and Destroyers leave Battleships for high speed tactical maneuvers. But return a few hours after.
JULY 3rd
Its certainly hot AA firing this morning and 5" in the evening. Tactical maneuvers almost every day. The rumors say we leave the 5th with our present Task Group escorted by four CVE's In our force, the TENNESSEE, CALIFORNIA, W. VIRGINIA, CHESTER (CA-27), WICHITA (CA-45),ST. LOUIS (CL-49),(CL-49), SAN FRANCISCO (CA-38), TUSCALOOSA (CA-37). It is said we will have a total of eight CA's alone. One that is to join us is the SALT LAKE CITY (CA-25). Got a good dose of sun today. More talk about us going home in August or September. Where the talk originates, no one knows.
JULY 4th
Tankers and CVE's can be seen on the horizon as daybreak approaches. All ships including the CVE's refuel. The present "Task Group 32" consists of the TENNESSEE, CALIFORNIA, NEVADA, Cruisers WICHITA (CA-45),ST. LOUIS (CL-49),(CL-49), and CHESTER (CA-27). And a Destroyer screen. The CVE's SANTEE, CAPE GLOUCESTER, LUNGA POINT and FANSHAM BAY. Rear Admiral Oldendorf on the TENNESSEE is the flag. We (TG.32) are to cover a series of mine sweeping operations west of Okinawa in the middle of the East China Sea and is estimated to take about two weeks.
The heat hasn't slacked up except for the little rain we had earlier in the day.
JULY 5th
Saw "Pardon my Rhythm" (Child stuff) The only good thing about this operation is that we have excellent air coverage.
JULY 6th
Patrolling as directed. Our main duty is supporting and supporting the mine sweepers.
JULY 7th
This far approx. 8 mines have been exploded. These mines are believed to be ones that have drifted from Okinawa. A few alerts from "Snoopers" but none have been sighted by our TG. The C-A-P has splashed only three. There is a Cholera epidemic threatening on Okinawa, but it now seems to have been checked. Reports of numerous cases of Dysentery. The days are still hanging hot, and with the cool nights almost the entire crew have colds and few scares of "Cat Fever". This new watch gives me four 12-4 watches in a row. Watch one is certainly in need of some good sleep. There is now scuttlebutt that we leave the 27th for "Stateside" We'll wait and see how that turns up. More than likely another "Major Operation"
JULY 8th
One definite submarine contact. All ships made an emergency right turn. One Destroyer dropped several depth charges but submarine mysteriously disappeared from screen. It was thought the Submarine settled to the bottom. Two air alerts; one which was a proven Jap. The C-A-P could be seen right behind him, but the "Boogie" went west into the clouds. Of all the air alerts this time out, only two were actually boogies and only one of them was splashed.
JULY 9th
The weather has become quite comfortable due to a thick high overcast and steady breeze a little rain the morning and last night.
A couple days ago an F4U crashed on the flight deck of one of the CVE's destroying two others planes and causing several casualties. The SALT LAKE CITY (CA-25) joined our force this morning. In this force we have four Admirals. One Vice Admiral on the TENNESSEE, a Rear Admiral on the WICHITA (CA-45), SALT LAKE CITY (CA-25) and another one on one of the CVE'S. A Destroyer off our port quarter at 12,000 yards sank one mine but it failed to explode. This ship is certainly getting "PEACETIME" Our new Executive Officer is hated by all hands for some of the stupid and unnecessary rules he has brought into force.
JULY 10th
Conducted Condition (3) AA firing. DD722 brought out 105 bags of mail and nine passengers. Most of them were men left behind for treatment or hospitalization. One man has just now caught up with us after 7 ½ months (Since Leyte Gulf). Saw "Thousands Cheer" with Gene Kelly and Kathryn Gracy....? 4.0 Several flotsam were shot at but they were either empty oil drums or driftwood. More scuttlebutt — "We head for Stateside" in 15 days, presumably for Mare Island.
JULY 11th
Still patrolling, Our position is approximately 250 miles north of Formosa, 120 west of Okinawa, and 210 miles from the China coast. The days are becoming scorching again.
JULY 12th
Held tactical maneuvers all morning. 4 mines were sighted and shot at. Only one exploded, the others merely sank. Rumors say we finish up this operations Sunday.
JULY 13th
Air alert at 0400. More tactical maneuvers. DD 723 brought out 14 bags of mail 1st class mail. AA firing for mounts 3-1 and 3-3 US Warships bombard Japanese homeland.
JULY 14th
C-A-P, shot down one "Betty Bomber" during dawn alert. Saw the picture "Desperate Chance " was OK
JULY 15th
The CALIFORNIA, NEVADA, TENNESSEE, WICHITA (CA-45), SALT LAKE CITY (CA-25),ST. LOUIS (CL-49),(CL-49), CHESTER (CA-27) and a few Destroyers leave for "Buckner Bay" to replenish supplies, re-ballast and refuel. All night it has been extremely windy with rough water. Pull in at approximately 0700. Heavy overcast all day. No work done as water is too rough. Scuttlebutt says we leave in three or four days to bombard area previously raided by a unit of TF 38. MAIL CALL
JULY 16th
Working parties all day. The weather is clear. Refuel and replenish stores and ammunition. The ALASKA, GUAM, CLEVELAND (CL-55), COLUMBUS, MONTPELIER (CL-57) and DENVER (CL-58) pulled in today, but were underway later that evening. Rumors say we would go out as before for a couple weeks and then head north. TF 38 continues to pound the Japanese homeland around Hokkaido.
JULY 17th
Our force Task Group 32 with the four CVE's (which arrived yesterday) pulls out to high seas. Reason— A Typhoon is due to arrive in Okinawa about 0800 to-morrow with winds up to 35 knots. The new CA PITTSBURGH lost 100 foot of her bow in such a typhoon on June 6th. After the Typhoon we don't know where we are to go. Some say Borneo, some say the Japanese homeland and some say to go back out as our recent patrol and minesweeping operation.
One air alert at noon but it is a phony. Buckner Bay is full of ships now. This is the fleet harbor of operations in Okinawa area. A little rain during the night.
JULY 18th
Task Group 32 has maneuvered to a position about 200 miles southwest of Okinawa to evade the on-coming Typhoon. We've had a few short squalls to-day but otherwise it has been atypical tropical summer day. AA firing at 1330 to 1510. The majority of the crew has from a slight to a bad case of prickly heat. But fortunately I've gotten around it.
JULY 19th
Water is becoming very rough. We are at 0500, 40 miles south of the typhoon circling it clockwise. This evasive maneuvering has put us 300 miles south of Okinawa. Saw "Sing a Jingle" A. Jones and June Vincent.
JULY 20th
Water has been extremely rough with occasional hard showers yesterday and last night. But has gradually come back to normal by late this morning. AA firing in afternoon. We are about 100 miles from Okinawa. On the horizon to the west can be seen the ALASKA, GUAM with her CLEVELAND (CL-55) class light cruisers. The dope says they are on their way to bombard Shanghai. We arrive in Buckner Bay to-morrow ? We have run into occasional rain squalls about twice today.
JULY 21st
Pulled into Buckner Bay early this morning, Refueled from a tanker and then dropped anchor. Deck sentries still being posted. We are scheduled to get underway sometime to-morrow. Rumors say we leave for Leyte in about 10 days.
JULY 22nd
At about 0200 air defense was sounded. Twenty five miles away the "MARATHON" (an APA) was sunk by an Arial torpedo meant for a CVE in the same force. Bogies come within six miles, our C-A-P shot down a few only a short distance away. Underway at 1330 to resume operations interrupted by last weeks typhoon.
JULY 23rd
One NICK and a DINAH shot down by our C-A-P. The DINAH being a reconnaissance type plane was with out a doubt taking photo shots of our group to estimate numbers and fleet strength . The pilot of the "NICK" parachuted at about 18,000 ft.
Four of our Destroyer screen left us today to go to Leyte. It is rumored we'll follow suit in a few days and remain at Leyte during the month of August. Battle problem exercise from 0800 to 1030 overcoming problem of several Marines killed. One mine exploded to-day.
JULY 24th
The TENNESSEE left us today. Destroyer 553 is now with the Task Group.
JULY 25th
One air alert. Turned out to be two of our "Corsairs" Very exciting day. Blah!
JULY 26th
Surface contact. A large unidentified craft making smoke, surrounded by several lesser craft has been sighted approximately 25 miles from out present position. Never heard any more about it. The ALASKA and GUAM are with us again with their cover and escorts. AA firing in the afternoon. The "Lou" did some beautiful shooting..
JULY 27th
One of the CVE's left us with a couple escort vessels. Destroyers dropped off some mail but I didn't get a thing. Our position is 124 W. Longitude, 28 N. Latitude. Which puts us about a 150 miles of the China coast. Incidentally, the China Coast was picked up on our Radar. We are almost directly east of Shanghai. Field day for Saturday's inspection.
JULY 28th
Our position is about 100 miles off the China coast and approx. 145 miles southeast of Shanghai. Thirty five TBF's and 30 fighters launched an attack on the Shanghai area. At this time 1300 airplanes are carrying on the strike with at full blast. Everyone is betting the Jap's will surrender, not later than November or December of this year. But no one will bet against it.
The water is becoming quite rough with occasional hard rain squalls, which by the way, makes it quite comfortable. If the dope is right we will rate another battle star for the last month and a half operation and this air strike on the China Coast. Still scuttlebutt going around that we will be in Leyte by the 2nd or 3rd of August and then stateside a little later on, say around September 15th or 16th.
No mines or flotsam sighted for the last five days, although we are still maintaining the mine lookout. As the planes returned from the strike, most of them hadn't even unloaded their bombs or rockets. "Reason"! The pilots couldn't find enough suitable targets. TG 95.2 (ALASKA, GUAM, CLEVELAND (CL-55), COLUMBUS) can clearly be seen off our Port beam, but we soon lost them.
We now are returning from the area. It is said the SALT LAKE CITY (CA-25) and CHESTER (CA-27) are to go North to Alaska to operate from there. At one time we were only 35 miles from the China Coast. That was at the time of the air strike.
JULY 29th
Saw the "Saint meets the Tiger" Ugh! Bad. We are approx. 150 miles from Okinawa. We are to resume previous operations. The TENNESSEE and MAKIN ISLAND are now with us, which gives us 3 CVE's, one other left behind, not know to me.
AA firing in Condition (3) Machine Guns and 5" mounts.
JULY 30th
Two air alerts today but they were presumed to be only the "weather" (rain squalls). We are about 50 mile off Okinawa. The Destroyer CALLAHAN was hit on the fantail a couple miles ago by a slow flying boogie (95 Mph). The crew begin to abandon ship, but later it was later reported underway.
Up to date 20mm Gun 5 has fired more rounds than any other gun on the ship. From last count we have fired 2600 rounds. Approx. cost of $2900.00. We may go in tomorrow ??? More scuttlebutt, "We won't get back to the States until next spring" When we were further north we had a certain amount of comfort from the weather. But now it is blazing hot again. A few squalls now and then to cool us off a little.
JULY 31st
We are now termed at TG 95.3. Saw "Hers to Hold" Deanna Durban, Joe Cotton. Pulled into Buckner Bay at 0735 TG 95.2 is already here. Another Typhoon is threatening this area. One Air defense this evening.
Water is getting rough as the devil, this strong breeze makes it very comfortable but the frequent squalls puts us in a disadvantage at times. We are put on a one hour notice. We are due to pull out at 1100 tomorrow. Rain and stiff winds all night.
AUG. 1st
T.F. 95.3 and 95.2 get underway at approximately 0700 to evade the coming typhoon. One air alert with several potential raids but were later found to be the weather. The water is extremely rough by now with lots of spray and rain. In spite of the comfort on topside it remains hot below decks. Scuttlebutt says we are to proceed to the China coast very soon and carry out a few bombardments.
SALT LAKE stays in Buckner Bay.
AUG. 2nd
It is PLENTY rough. We are on the edge of a terrific Typhoon. AA battery fired at a weighted sleeve dropped by a TBF. We are making as much as 27º list. This is suppose to go on for 2 ½ days. The force couldn't quite make it out of the way of the typhoon. Wind velocity is dam fast. Saw "Buffalo Bill" in the mess hall, with Joel McCrea, M. O'Hara.
AUG 3rd
Saw "Days of Glory" with Gregory Peck. Water is terrifically rough. Rumors say we go to Anchorage on the 6th.
AUG 4th
AA Battery fires at a weighted sleeve. Weather is calming down. We have made 28º lists in this rough water regularly. We almost hit a mine head on but we saw it just in time. All ships did an emergency turn. An AA blew it up when the force got far enough away. Saw Dr. Kildair's Wedding Day, Lou Ayers, Lorraine Day.
AUG 5th
This is pretty straight dope going around that the USS INDIANAPOLIS was sunk between Leyte and Guam last night. It is said she broke in half and about 8-900 men perished. Their "Condition II was supposed to have been broken and it sunk in 22 minutes. This hasn't been officially announced as of yet. Lots of rain this morning.
AUG 6th
In the last few days a couple bogies have been shot down near us. A "Dinah" and a "Nick" and probably one or tow more. Tow air alerts today. About noon today we were within 81 miles of the China Coast. Task Group 95.2 have come within sight several times during the last few days operation. The F4U's from the LUNGA POINT made a raid on several small ships off the coast but no data was available on their return (This was yesterday). At about 1800 we form to go back to Buckner Bay. One mine exploded.
AUG 7th
Pulled in at approximately 1130. Several BB's of the MARYLAND class are in here. WEST VIRGINIA, etc. One air alert late at night. Mail call, got seven letters. "Flash Red" in Buckner Bay all night. We refueled and took off empty brass shell cases and powder cans. We may stay here about four days. It is very hot again.
AUG 8th
The CHESTER (CA-27) and SALT LAKE CITY (CA-25) have left this area about two weeks ago. — to head North?. Saw "Hail the Conquering Hero" Eddie Bracken, Ella Raines in the mess hall. We have had a few rain squalls now and then, but has no effect on our comfort. The "Cruiser" PORTLAND (CA-33) and the " B. Wagon" COLORADO is here. Lots of talk about the Atomic Bomb. Everybody is all for it. Worked all morning on 40mm mount.
AUG 9th
They dropped another Atomic Bomb on Nagasaki. There are bets that Japan will surrender even in less time than two weeks. "Rumors" say we will head North pretty shortly to Russia. Russia declares war on Japan (FINALLY). We got the word at 0515 this A.M. Dam! Its hot below decks. Wrote home.
AUG 10th
Went on recreation to Tasukin in Buckner Bay. Got quite a nice sun burn. The water was best I've found in the Pacific. Later that night we heard Japan had surrendered. More whiskey accumulated from somewhere than we ever though existed. I got a few swigs of medical alcohol. AA guns and search lights pierced the sky for the information.
AUG 14th
Two air alerts, both were later identified as friendly's. Arrive in Buckner Bay. Japs still haven't answered out counter peace offer. Everyone is working up quite a sweat. The ships in our force for the past couple days - NEVADA, TENNESSEE, COLORADO, cruiser's PORTLAND (CA-33), WICHITA (CA-45) - DD's 551 and 553 still with us. Underway for night precaution maneuvering, Moon is becoming more and more beneficial. Saw movie "Crash Dive" in mess hall.
AUG 15th
Pulled into Buckner Bay at 0807 we got the word the Japanese sent an answer. Now the war is officially over. It now belongs to the peace time Marines. Underway again at 1630 as usual. Saw movie "Andy Hardy's Double Life". The moon is going to waste, too bad it is going to waste. CONFIRMED: The INDIANAPOLIS (CA-34) was sunk, its casualties were almost 100%. Terrible.
AUG 16th
Pulled into Buckner Bay approximately 0830. Quarters for muster. We were scheduled to leave for Leyte two days ago, but orders have been changed temporarily. They say we have been assigned to the 7th Fleet. Rumors say we head for Leyte to-morrow then up to Honshu. All our mail has been routed to Leyte so we'll wait for a while before we get any, although a few letter were brought on to-day. Underway at 1630 as before. We always have occasional rain squalls. Helps cool things off.
AUG 17th
Pulled in Buckner Bay at 0815. Refueled and brought on five bags of 3rd and 4th class mail. Underway for Subic Bay at approximately 1715. We have one escort, the DD "BOYD". We are scheduled to reach Subic Monday Morning. Rumors say we are to escort "Occupation" troops to Japan. Saw "Life begins at 8:30" in the mess hall. M. Wavley, Ida Lupino, C. Wilde.
AUG 18th
This is the first day I have nothing to record except the Marines fired small arms off the fantail. There is "Constant" talk about getting to hell out of the service by everyone. I have 83 points towards separation.
AUG 19th
At 0718 this morning the Jap envoy, flying in two white planes with green stripped wings took off a Tokyo air field to meet Mac Arthur in Manila. We steamed over the deepest waters in the world this morning- approximately 35,000 feet deep. We are steaming off the Luzon coast from a distance of about 14 miles. Until we reach Subic our course will follow that position.
AUG 20th
Pulled into Subic Bay at approximately 0800. The cruisers SAN FRANCISCO (CA-38),
NEW ORLEANS, MINNEAPOLIS (CA-36), TUSCALOOSA (CA-37) and NASHVILLE (CL-45) are here. We refuel and dropped anchor. No Mail here. Rain all night.
AUG 21st
The Admiral off the "Frisco" leaves for a short while. We are now, SOPA and CTF 74. Saw movie "Happy Land" with Don Ameche, Ann Rutherford. Still raining. Brought on stores and supplies. Some men make a recreation party. Bataan Peninsula borders the southern end of Subic Bay.
AUG 22nd
More rain. Skipper makes a trip to Manila for 48 hours. Got word that American occupation forces hit Honshu next Tuesday in Tokyo area. I guess we'll just sit here and read about it. Nice sleeping.
AUG 23rd
Rain everyday and night. Friday inspection. A few British ships pulled in. The CV "INDOMITABLE", two cruisers, and one DD.
AUG 24th
Personnel inspections and Saturday routines. Another "Limey" carrier, with escort just pulled in. There are now two carriers, the larger being about 650 ft long, two cruisers, and five destroyers and a few tankers and merchantmen flying the British ensign. Saw "Devotion" with Ida Lupino. It was another deep but excellent picture.
AUG 25th
Commenced an all over paint job. A dark grey color. All the guys are disgruntled. We should belong to the Occupation forces that enters Tokyo Bay on the 31st, Today is Sunday. Finished reading the biology of "Studs Lonnigan" not very good. Its to common and cheap.
AUG 26th
Made liberty on Grande Island. Mail call, got five letters. Saw "Tonight and Everywhere" with Rita Hayworth. All cruisers and "Cans" pulled out. NASHVILLE (CL-45) and ST. LOUIS (CL-49) are the only ones left. Painting all day long. Rain again.
AUG 27th
Made liberty on GRANDE Island (PI). Mail call, got 4 letters. Saw movie "Tonight an Every Night" Rita Hayworth, J. Blair. Hmmm. boy!!! All cruisers and escorts pull out today. ST. LOUIS (CL-49) and NASHVILLE (CL-45) are the only ones left. Painting all day long. More rain.
AUG 28th
More painting. Jap hospital ship surrenders upon pulling into Subic Bay. Rumors say TF 74 we'll go to Shanghai and Yangtze area.. Rain stopped for a change. Its not too hot for considering the season of the year.
AUG 29th
Showed two movies this evening. Not much change. Nothing except work.
AUG 30th
Recreation on Grande Island today.
AUG 31st
Movies and paint ship, general cleaning and work parties.
SEPT 1st
Rain most of the day. A storm is headed this way. Ships have taken the necessary precautions to handle the expected severe weather. The "Landing Force" from the "Lou" is being fully equipped. Rumors say we land in Shanghai. We have heard enough to almost confirm it. Movie "Its in the Bag" F. Allen. Personnel inspection.
SEPT 2nd
Landing force fired weapons today. Hard down pour throughout the entire operation. We came back to the ship in sloppy attire. We shove off tomorrow. Probably Okinawa then to Shanghai.
SEPT 3rd
Prepare to get underway at 1700. Underway at 1715 with NASHVILLE (CL-45) and Destroyer screen. Water is awfully rough. Today is Labor Day.
SEPT 4th
Water is very rough, but calms down a trifle later in the day. Commencing today, censorship compliance has been completely and thoroughly lifted. Headed for Okinawa Shima. Japanese Island Empire is rapidly surrendering to warships and territory heads.
SEPT 5th and 6th
Underway. Pulled into Buckner Bay. The bay is jammed with "magic fleet" units and auxiliary units. The IOWA, TENNESSEE, CALIFORNIA, TEXAS, ARKANSAS, cruisers COLUMBIA (CL-56), CLEVELAND (CL-55), DENVER (CL-58), BIRMINGHAM (CL-62), MOBILE (CL-63), SANTA FE (CL-60), WICHITA (CA-45) , are all here. All flying "homeward bond" pennants. Movie "Man from Frisco" M. O'Shea. Refueled and provisioned.

SEPT 7th
Field day all over the ship. Pulled out at 1730 and underway with NASHVILLE (CL-45). Rear Adm. Frey. No let up on intensity of heat. Nights are generally comfortable.
SEPT 8th
This has been a beautiful day. One mine sighted and is exploded by one of the four screening Destroyers. Clocks set back one hour to +8 zone time. At about 1830 AFFIRM MINUS set for precautions against mines. This is the area swept by our force in July, but there are always a few that aren't found. Movies on "Top Side"-incredible, this is the first of such since prior to Pearl Harbor and beginning of the war. This is the farthest west we have been so far. No dope yet on our actual assignment. That is no specific details as to our duties other than just patrolling. Our task force number is TF 73 , Two cruisers, Two DD's, with another moving beyond the horizon.
SEPT 9th
Four SC1's (cruiser planes) 2 from each cruiser, launched for recon. purposes. We maneuver back and forth all day in the same area. Planes only come in long enough to refuel and go out again. In the small islands near us, several Jap planes and approx. 30 suicide boats are sighted but doubtful if they are operational . No hostilities. Another beautiful day. The water is green, probably fresh water flowing in from the Yangtze and is infested with sharks. Only two DD's with us now. Rumors are we are to go back to Okinawa in a couple days. No mines sighted lately to the best of my knowledge.
SEPT 10th
Water is becoming extremely rough with stiff breeze. Refuel DD's at sea. Painted part of A-318L (compartment). Landing force drill. Weather: Heavy overcast, and very cool ,although below decks it is fairly comfortable. There are four DD's in our force. Two stay out beyond sight for scouting and picket duty. Two of them are the SAVELY, and the WALLER.
One of our SC's was sunk by 40mm fire after it turned over during recovery during the previous evening. Pilot was OK. This plane was piloted by Ensign Eichoff.
SEPT 11th
Paint, Paint, Paint, Paint. Improving weather.
SEPT 12th
Arrived at Hagushi beach at approximately 0700. This place has changed considerably. The Sub-Tender DIXIE is here. Incidentally, the DIXIE has not been back to the "States" since 1942 when she left after being commissioned. Refueled.
SEPT 13th
More painting in A-318L. Hagushi beach is comparable to Long Beach in night illumination.
SEPT 14th
Mail call, but none for me. took advantage of the hot afternoon sun and got a slight sunburn. Field day and inspection of living quarters. Yesterday got word that our "Point" systems had been lowered to 70. That makes 13 marines eligible for discharge. One hundred and fifty four sailors eligible since "AlNav." gave credit for overseas duty. Previously 31 left for the "States" while in Subic Bay.
SEPT 15th
Personnel inspection. Saturday inspection routine. Nice day. They say our mail has been routed to Guam. CRESCENT CITY (ex DD ORLEANS) is in here.
SEPT 16th
Typhoon # three, returning to this area. We get underway at 0910. We are in force with the DD PHILLIPS and the CV ANZIO. Water continues to get rougher. The waves are at times 30 to 35 feet high. The heart of the storm is approximately 90 miles east of Naha.
SEPT 17th
Storm increases in fury during the night. The barometer begins to rise at 0400 but winds increase to 35 knots. Not much sleep. Plenty of spray from the winds and occasionally a slight rain. These Typhoons are quite a sight. Comfortable (fairly) below decks. We'll more than likely go back to Hagushi when the storm passes. ST. LOUIS (CL-49), gets order to proceed to an area approximately 24 miles to the south east to tow an APA (68) that hit a mine and was in trouble. This operation went on through late evening and night. Swells were as much as forty feet high. Typhoon begins to die down.
SEPT 18th
During the night we ( ST. LOUIS ), ANZIO and the PHILLIPS head back for Hagushi. We drop anchor in Hagushi, just off Point Bolo, at approximately 0700. Weather is very clear and swells are rapidly disappearing. Waters are back to normal by noon. This turned out to be a beautiful day. Another cruiser (CL) is here. Tankers, APA and other ships are steadily streaming in from the sea after the storm. Saw movie "The Lady in the Window" Edgar G. Robison, J. Bennett.
SEPT 19th
Drill day, Fire Call, Fire and Rescue, Visit and Search Party, Prize Crew. A very nice day except for a little rain in the afternoon. Got word (Unconfirmed) that the NASHVILLE (CL-45) has pulled into Shanghai. Will be getting underway for that area very soon.
SEPT 20th
The other cruiser in here is the MOBILE (CL-63), it is said she is taking our place. Small craft around us are being given a lot of our equipment. A.S. says we won't need it any more. Heard on the ships radio, that the 3rd Fleet is coming to Okinawa. Saw movie "Broadway Rhythm" George Murphy, G. Simms
SEPT 21st
Field day. BILOXI ( CL-80) pulled in this morning, but pulled out again in the afternoon. Got seven letters last night. WC is bringing on a number of passengers for Shanghai and to NASHVILLE (CL-45). Friday inspection routes. A very nice day. Movie: "Wilson" J. Fitzgerald, A. Knox, C. Coburg
SEPT 22nd
Quarters aft for awards. Underway to refuel, then back to berth. Movie: "Sherlock Holmes and the Voice of Terror" B. Rathbone, C. Ankers.
SEPT 23rd
Hard rain in late afternoon, and evening came with pleasant breeze.
SEPT 24th
Rain most of the day. But no one complains. Movie: Marriage is a Private Affair" L. Turner, J. Craig, good but a little dull in places. Rain hasn't let up.
SEPT 25th
146 sailors, and 2 marines (Johnson and Luther) were sent to an APA for transport to PSC for discharge. Movie: "His Butlers Sister", P. O'Brian, pretty good. Four new marines brought aboard. Three more immunization shots (Small Pox, Typhus, and Tetanus), Five already taken, three to go. A big disappointment today.
SEPT 26th
Underway at 1300 with twelve LCI's. Scheduled to arrive at Hangchow Bay the morning of the 28th at approximately 0800. Our speed is 10 knots, the cruising speed of our LCI's. I dread this operation. Set mine watch for precautions against floating mines. The East China Sea will be dangerous spot for a long time to come. It was heavily mined by the Japs. Today I wrote my 42nd letter to Mom.
SEPT 27th
General drill today. Abandon ship, collision and fire, landing force muster. In the Corps 31 months today. Reach out destination to-morrow before noon. Water is becoming a little choppy. Speed down to 8 knots for LCI's advantage. Beautiful weather turning very cool. We broke out our "Greens" today. Eighty points to my credit today. More trouble with my ears. New prescription to be tried, others don't help.
SEPT 28th
We approach Yangtze river from the south between Vedeo and Cape Yangtze. This is a weird looking place. The Islands are similar to Kerama Retto, only larger and more open. These islands are inhabited. Chinese Sampans and fishing boats are all around us.
Looking through binoculars a man could be seen sending semaphore messages, but to far away to recognize characters. One large village seen. Water is extremely shallow and very muddy. PHILLIPS joins us early in morning. Transfer mail and passengers to PHILLIPS by LCI. We drop anchor to await flood tide so we can proceed past the barriers and up the Yangtze.
Field day. A blanket is needed at night now. Very comfortable weather and pleasing at night. Another Destroyer and a Cargo ship is anchored several miles from us. A British ship passed us in opposite direction early in morning.
SEPT 29th
Quarters and inspection. A civilian pilot (American) came aboard yesterday to take us up the Yangtze to the Huangpu. "Bumboats" all around us. I've heard of romance and romantic cities, now I can see the real thing from the deck of our ship. I rate liberty to-morrow. Pulled into Shanghai at approximately 1770. So much to write about, I'd better stop before I fill all the pages in my book.
"MAN OVER BOARD" was called. So far he hasn't been found. Some say, many deck hands can't swim. Money value 8.5¢ to a dollar. Silks , whiskies, and jewels offered and sold dirt cheap. The real stuff too. And we don't get paid until the first. Four dollars is all I have. I wouldn't miss this for the world. Practically a paradise one dreams of .
SEPT 30th
Made liberty in Shanghai. Rode rickshaws, walked, shopped, ate, and tried everything. BEST liberty I've had, even on West Coast. Left at 1300 got back at 2400. Spent $25.00 on Chinese RB's (425,000 in exchange) Hmmm!!! Gosh but there are beautiful white women here !!!! Almost makes a guy think he is home. Shanghai is strictly a modern city. We are anchored about five miles up the Huangpu River from the Yangtze and about three miles from the "Bund" and "Jetty". Scuttlebutt says we leave for Formosa on Friday. Some new men transferred for DE's say we are to be back in the "States" by Thanksgiving. One more liberty and I will have to be satisfied. Ate supper at the Pacific Hotel. Its comparable to one of Mobile's best. Ditto for Shanghai Palace, Majestic hotels.
OCT 1st
Weather: Rain and much water. A Chinaman floated by, his hands and feet were tied behind him and his throat was cut. (Our standby whaleboat inspects all bodies that float by)
OCT 2nd
Whew!!! Gosh but it is turning cold. Marines wore winter clothing ashore. Rumors say we shove off for Nanking or Formosa to-morrow.
OCT 3rd
Miller's body was found about 26 miles down the river. Funeral services held on the beach. Made liberty in Shanghai with Fountaine, G. Goodwin, Allen. Wonderful snappy brisk weather.
OCT 4th
Liberty in Shanghai with Gintsch and Copeland. Shop at 45 Museum Rd. Ate a delicious two course supper at Jimmy Woos. Three marines and two soldiers . Prices are constantly going up. At least 20% since Sunday CRB down to 140,000 - CNC 700. I'm flat busted! BROKE.
OCT 5th
Field day. Friday snipe routes. Leave Sunday or Wednesday ??? More men leave under ALNAV discharge bulletin. approximately 35 sailors. Movie: "Affairs of Susan". J. Fontaine, G. Brent, Dennis O'Keefe
OCT 6th
Liberty in Shanghai. As I got back to the ship there was an order to transfer 5 men to the INERTIA for transportation to the States. We leave the 8th Yippee!!!
OCT 7th
Secured from watch at 0900 to pack. Holiday routine. Leave to-morrow. Movie: "Sally O'Rourke" A. Ladd, G. Russell. We leave the ST. LOUIS (CL-49),tomorrow at 1300. Scuttlebutt has it that ST. LOUIS (CL-49),leaves for the States on the 20th.
OCT 8th
Word on our PA system, that the ST. LOUIS (CL-49),will get underway for the "States" via Mariana's (to pick up passengers) Panama Canal and then to the east coast. We are going to stick with the "LOU" No complaints from any of us. The crew is jubilant about us heading home.
OCT 9th
We commence stripping. Big Chinese celebration to-morrow. We are dressing the ship for the occasion. I rate liberty also. Eight of our lowest point men, relieve eight men from the NASHVILLE (CL-45), but they have only about 50 points. I can't say why there was a change made.
OCT 10th
Full dress ship, in honor of Chinese National Holiday. We pull out in the morning for Formosa, definite if orders are not changed.
OCT 11th
Underway at 1330. Have feeling of regret to have to leave Shanghai. As for going to Formosa, its not certain , only fairly straight dope. Drop anchor as when first coming in. All guns watches secured. Fleet Post Office at Okinawa destroyed by a typhoon. Probably no mail for a few days. In this area we witnessed only a stiff breeze. Weather has continued being comfortably snappy. Eighty CB's (SEABEES) brought on yesterday as passengers. Pick up more passengers at Okinawa and if we don't get enough (600 total) we go to the Mariana's. I saw movie "Greenwich Village" D. Ameche, C. Miranda. on the fantail. Large swells causes us to roll heavily. The "DD" PHILLIPS is again our escort.
OCT 12th
Underway at 0800. Came back same route as before. Rendezvous with five smaller vessels (YMS- Mine sweepers) to be our escort. We now are once again in clean water. Test fire Machine gun Battery and starboard 5" mounts. Field day in morning. Mine watch is resumed. Executive officer says we will be home in time for Army-Navy Football game. About November 25th ??? Thanksgiving ??? and that we make a liberty in Panama. Speed 8 knots, very slow. Arrive in Formosa Monday: today is Saturday.
OCT 13th
Battle problem. 6" battery fired during exercises. Talk is that a Jap captain will come aboard and take us through mine field. Resistance could be expected. Twenty Jap planes, sighted last month over Formosa. South of Formosa CTF 74 maneuvered with CVE's. A large group of LCI's and LST's are to rendezvous with us in the near future (Rumors only). Speed still 5 knots, as a precaution against mine fields. A beautiful day growing steadily warmer. This last Typhoon at Okinawa leveled practically everything, including the Fleet Post Office. Record breaking winds of 137 MPH were recorded. Battle gear is broken out. Dawn alert in the morning, It is said we will land Chinese Troops. 3rd Amphib. landed in China about four or five days ago. Good operational weather forecast for the next five days.
OCT 14th
Dawn alert. Land sighted as dawn approached. We go in tomorrow. YMS sweepers leave us to make sweeps. We maneuver slowly and keep lookouts for mines. A few radar contacts by air. Mine sighted late in the evening, but darkness fell to fast for us to fire and explode it. The two YMS's can't be picked up by radio. Jap tracking is to be expected.
OCT 15th
YMS's came out to us with six (6) Jap interpreters - two pilots. Marines were posted around decks with small arms to use. — Pulled into "KIIRUN" at about 1300. A Chinese welcoming party followed us in an old decorated barge towed by a small tug. Warehouses, wharfs and large ships have been destroyed by air raids. Several larger tankers have their decks awash. What a bastion this must of been. Beautifully set up defenses. 12" shore guns the largest with bunkers and pill boxes by the hundreds. Buildings adjacent to ships berth emptied and sentries posted on deck and wharf.
US Army paratroopers have been here over a month. All kinds of surprises. KIRUN has all the facilities, electric lights, fresh water etc. Units of Chinese Army are here. More came in the 18th. Rumors say we won't get underway the 20th. Army P-38 is overhead. No bumboats or peddlers annoying us. The civilians are kept at a distance. Marine search party goes ashore to have a "look-see".
OCT 16th
Rain in the morning. Chinese and Japanese 4th Army officers have been visiting the ship on business. Marine dock sentries have been posted for precautions. Chinese get here the 18th . Talk is we leave after the 20th - 21st or 22nd.
OCT 17th
I have the Mid-watch 12 to 0400. Rain most of the day. LCI's and LST's arrive with Chinese troops. LST 1120 is quarantined for Cholera. One Chinese soldier dead and two expected to die. About 12 LST's and 23 LCI's make up the force. Drill day today. Various drills held , fire - etc.
OCT 18th
Rained off and on all day and last night. More Chinese troops arrive in Navy LCI's and LST's. We brought on more passengers.. Several in need of medical attention (30)
OCT 19th
Continuous rain day and night. I guess we still shove off to-morrow as no negative word has been given us.
OCT 20th
Rain-Rain-Rain. Ordered to get underway at 1300. At 1310 we get underway for Guam. Sea is extremely rough with heavy swells, strong winds and rain. Ceases raining at about 2000. Several pregnant passengers became sea-sick.
OCT 21st
Sea calms down a trifle. Pick up 200 more passengers at Guam. A beautiful day. Our position at 1300 22º N. Lat- 126º W. Longitude. We go directly to Guam ;arrive the 24th.
OCT 22nd
Maintain speed at 15 knots. A beautiful day with occasional rain squalls. Sailors have begun to "Holy Stone" the weather decks.
OCT 23rd
Small arms firing on the fantail. Arrive at Apra harbor to-morrow around 1400 or 1500 hundred hours.
OCT 24th
AA firing in the morning. Arrived at 1420. The CV ANTIETAM and CV CABOT are here. Dope that we bring on 612 passengers for WEST COAST. Marine Corp point system has been lowered to fifty. Got two letters from Mom. Leave to-morrow ??? Move: "Weekend at the Waldorf" w/ Walter Pigeon, Van Johnson, Lana Turner. Very good picture. Large working parties to bring on stores. – during the night at usual.
OCT 25th
Brought on approximately 550 passengers. Navy Corpsman, sailors and officers. Underway at 1315 and headed north between Guam and Rota. Rumors say we go as far as Pearl Harbor then back again, and I wouldn't be surprised if such did happen. Constantly running into rain squalls. Saw, " Standing Room Only" with Fred McMurray, Paulette Goddard. Very crowded. Two pictures shown. Water is becoming rather choppy. All total aboard crew and passengers, around 1650 persons.
OCT 26th
Our detachment will completely be dissolved upon arrival in the "States". In evening the sea becomes rather rough. At 1200 we have 3006 miles to go to Pearl Harbor. Passed two CVE's at dawn.
OCT 27th
Rain constantly with heavy swells. Saw movie: "Spotlight Scandal" Frank Ivy, Billy Gilbert.
OCT 28th
Rain at night and day. K rations for breakfast. Big Navy Day Celebration held yesterday. Arrive at Pearl Harbor Friday. Passed within 60 miles of Wake Island at 2000.
OCT 29th
Go back one day to west longitude time.
OCT 30th
This makes two Tuesday's. Arrive in Pearl Friday, November 2nd at about 0800
OCT 31st - Nov 1st
Nice weather for sunbathing
NOV 1st
Dickens RE3/c electrocuted. Died after a futile effort to revive him by artificial respiration. Pull into Pearl to-morrow and maybe pull out the next day at 0800. Certainly hope so.
NOV 2nd
Anchor call at 0900 at "COMDESPAC". Exactly the same place as the last time in Pearl. Saw movie: "A tree grows in Brooklyn" D. McGuire, J. Drum
NOV 2nd
Underway at 1618. Pull into Frisco (Mare Island) Friday the 9th . A 20mm machine gun manned for anti-mine precautions.
NOV 5th
Quarters for presentation of awards. Bitterly cold at night.
NOV 9th
Dropped anchor in San Francisco Bay at 0837. The Marine detachment is detached and sent to Treasure Island.
MY STORY AND DIARY ENDS HERE. FINIS !!!!